I think I was WAY too harsh when I reviewed the 501. This was before I started using the Blue Book for bus ridership, so just because MY bus didn't have a lot of people on it, I didn't realize that the 501 is the busiest I-90 express! My rant about the Cambridge Street routing was stupid, too – that's just so buses going in the non-peak direction can get back to Boston quicker to do a peak run! And I can assure my past self, the 57 would NOT be faster than the 501. So, yeah, consider that a redemption of a bad review. Now let's look at the 503!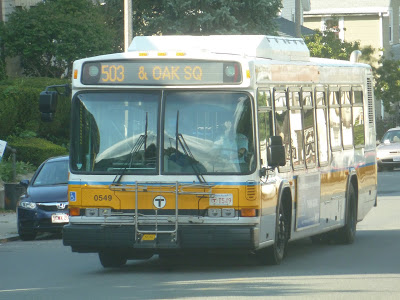 The bus coming into its terminus.
This route is the exact same as the 501, except it goes to Copley instead of downtown, and it doesn't run as often. Since I was coming from Brighton Center in the afternoon, it meant that my bus would be taking the Cambridge Street routing. When the bus arrived at its terminus, a residential area south of Brighton Center, the driver said "503?" "Yup," I replied, and we were off.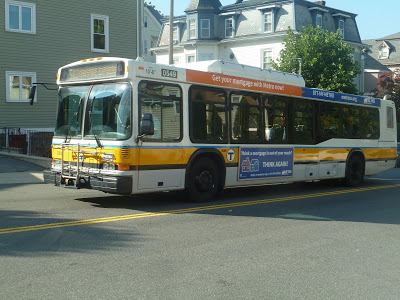 Another shot in Brighton Center. Well, south of it.
We headed up Winship Street, going by dense houses on either side. When we reached Washington Street, we turned right, avoiding Brighton's main drag. After passing a huge hospital, there was a short stretch of houses. These became businesses at Union Square, Allston, which continued all the way to I-90. Here, we entered an odd interchange, going through a toll and twisting our way onto the highway.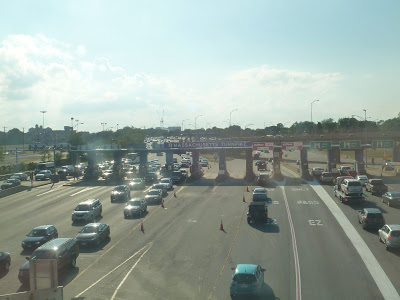 Hello, huge toll!
We entered the highway when it was on its elevated section, going by B.U. buildings. We returned to ground level, passing Fenway Park and entering the Copley Square tunnel. Taking the exit for Copley, the tunnel made a huge loop and we popped out onto Stuart Street.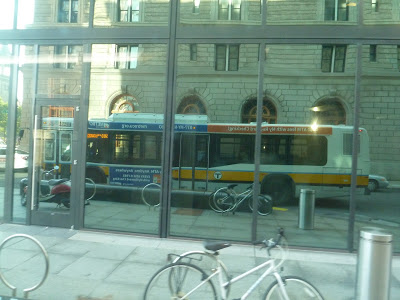 My, that John Hancock Building certainly is reflective, isn't it?
Everyone but me got off at a stop for Back Bay Station, then we continued toward Copley. We turned onto Trinity Place, going right by the John Hancock Building, then we turned onto St. James Ave. I got off here, as a group of riders got on the bus for the trip back to Brighton.
The bus at Copley Square.
Route: 503 (EXPRESS BUS Brighton Center – Copley Square via Oak Square and Mass Turnpike)
Ridership: My ride only had five passengers, but we were going in the non-peak direction early in the rush hour. Overall, the route's ridership isn't too high, either, with an average of 564 riders per weekday. That said, it doesn't make too many trips in a day, so that means more passengers per bus.
Pros: It's like the 501, except it goes to Copley instead! Assuming the highway is running quickly, it's a very fast way of getting to Brighton Center (and Oak Square) from Boston. I also like how this route and the 501 bypass the annoying Newton Corner loop, speeding up the ride just a little bit. There are already 50 million express buses that serve Newton Corner, anyway.
Cons: Another difference between the 503 and the 501 is that this one doesn't run as often. During the morning rush, it's pretty good, with every 15 minute service, but in the evening, that becomes every 25-30 minutes.
Nearby and Noteworthy: I gushed over Brighton Center in my 501 review, and though I still like it, I'm not sure if I would recommend it as…wholeheartedly as I did in that post. Don't get me wrong, it's still a nice place.
Final Verdict: 8/10
It may not run often, but for a simple commuter bus, the 503 does its job well. Consider this 8/10 to also apply to the 501, too. I don't know why I gave it such a low score in my review of that route, but here's my chance to redeem myself. Consider it…uh, redempted.
UPDATE 9/1/19: Outbound 503 trips will service Newton Corner in the evening peak now.
Latest MBTA News: Service Updates
Just to let you guys know, I'm taking a break next week, but I'll be back September 1st.