Okay, serious question: which do you prefer, the Boston Common or the Public Gardens? I'm of two minds – the Common has much more historical significance, but the Gardens are a lot nicer to walk through. Well, I'll say this…Arlington is a much better subway station than Boylston.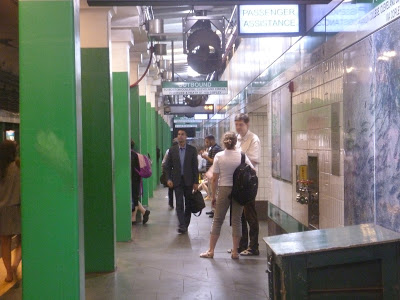 The outbound platform.
It wasn't always that way. Arlington used to be horrible until it was renovated in 2009. The platforms are still kinda meh, as you can see above, but it's such an improvement. And anyway, they're standard platforms for the Green Line, possibly even above average.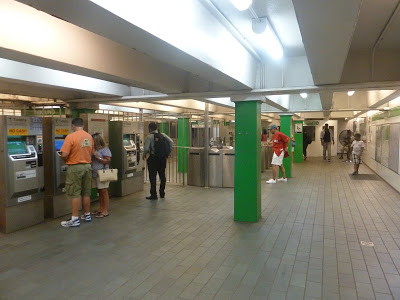 The mezzanine.
Guess what Arlington has. That's right…free crossovers! This is one of the few Green Line subway stations with those, and it's magnificent. They're connected in a decent mezzanine that's well-lit. Its ceiling is kinda low, but other than that, it's pretty good.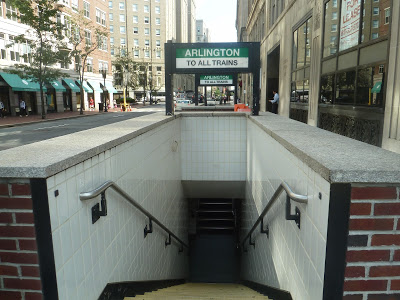 One of Arlington's many entrances.
From the mezzanine, there's a web of entrances all around the intersection of Boylston and Arlington Streets. They vary in architecture, but I like them all. Some of them are concrete and brick, like the one in the picture above, while others are glass and modern. It's great that there are so many entrances here.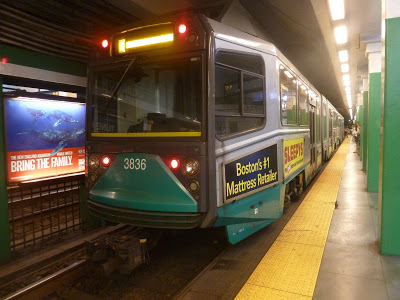 A train at the station.
Station: Arlington
Ridership: Arlington gets an average of 8,519 riders per weekday, which is pretty high. I'd imagine a lot of tourists come here, what with the Public Gardens being right nearby.
Pros: There's a lot to like about this station, FREE CROSSOVERS being one of the major points. Other than that, the mezzanine is good overall, and this station has a plethora of entrances.
Cons: Although the platform isn't bad aesthetically, it's still a typical Green Line platform, which means it could be better. In addition, Arlington is lacking in bus connections, but Copley is one stop away and that's a major bus hub.
Nearby and Noteworthy: The Public Gardens, of course! What else is there to say?
Final Verdict: 8/10
I would probably call this my favorite Green Line station along the cluster from Boylston to Kenmore. I mean, what's not to like (aside from the bland platform)? The fact that it has so many entrances is great, and though the mezzanine's ceiling is low, I like how there is one. A lot of Green Line stations lack proper mezzanines. Oh, and also, free crossovers!
Latest MBTA News: Service Updates