It was a complete coincidence that I had about 20 minutes to kill in downtown Waltham on a Thursday night and happened to notice a sign for the Tick Tock Trolley. What is the Tick Tock Trolley, you may ask? Well, I had no idea it even existed until seeing a laminated piece of paper taped to an MBTA bus stop about it. Apparently, it's a free downtown shuttle service meant to transport people who park their cars to the main drag of Waltham. Let's take a look, I guess.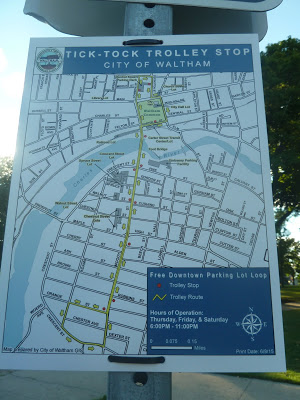 The service was only started on June 8th! This thing is brand new.
The "trolley" used on the route (there's only one that shuttles back and forth) is an old-fashioned replica trolley. I've never been a fan of these kinds of buses, but I guess they have tourist value. When the trolley pulled up, I asked the driver how long a loop would take. "About 15 minutes, hop aboard!" She said. She must've been excited to see actual riders, since on the whole loop, my friend and I had the bus to ourselves. The inside of the trolley was fine, but the wooden benches were so uncomfortable. The ride was only 15 minutes, but it was unbearable.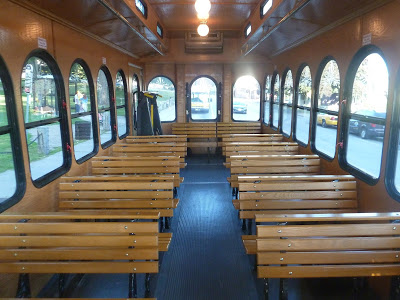 Looking toward the back of the bus.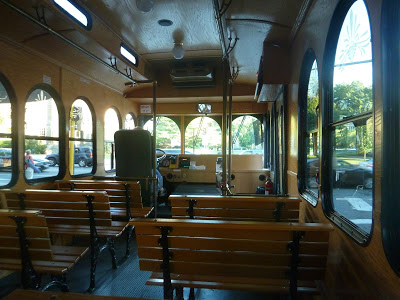 And toward the front.
So, the ride. It was pretty simple – from Waltham Common, we turned onto Moody Street and crossed over the Charles River. As I mentioned, this is the main drag of Waltham, and thus the street was lined with businesses. It got more residential as we got further south, then we turned onto Orange Street. This was a loop through a residential area, but it was mainly just to get back to Moody Street -the trolley doesn't make any stops on the loop.
Speaking of the stops, every time we came to one, the driver would expectantly open the doors then close them when no one wanted to get on. It was kinda sad, but maybe more people use the trolley on Fridays and Saturdays. By "more people", I mean anyone. Because, you know, it was empty the whole time. Well, it was still a nice little ride, I guess.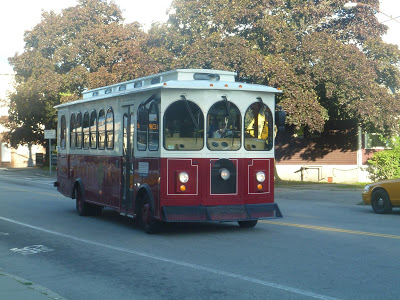 The trolley at Waltham Common.