Although no actual MBTA services serve this station, the CapeFlyer does. And yes, I know that's run by the CCRTA, but hey, the trains it uses have MBTA logos on them, so I count that. So, let's take a look at the CCRTA's main hub and the terminus of the CapeFlyer, the Hyannis Transportation Center.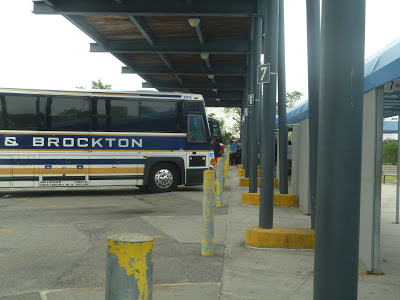 The bus boarding area.
The place where you board buses is nothing more – you just board buses there. I mean, it's sheltered, I guess, but it's not a good place to wait for the bus, since there are no benches. I will say that it's easy to find the bus you're looking for, since they board in a line, and the signage is very good.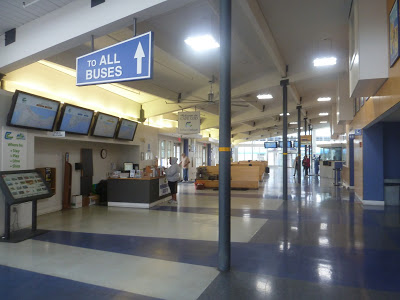 The waiting area.
The place where you wait, on the other hand – now that's nice. It's very well-lit and clean, with lots of benches. There are surprisingly clean bathrooms and vending machines, and even countdown clocks for CCRTA buses. It seems like a great place to wait, or even just hang out! Well, no, I wouldn't go that far, but it's a good place to wait.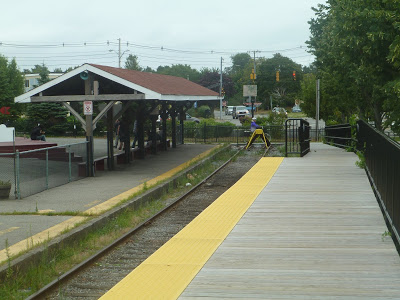 Ignore that shelter, you don't actually get on there.
The CapeFlyer boards on a pretty generic platform. It's entirely high-level, but that's about the only interesting thing about it. Although it has a shelter, it doesn't have benches, and the waiting room is so much more comfortable. Really, this platform is just a place to get on the train and nothing else.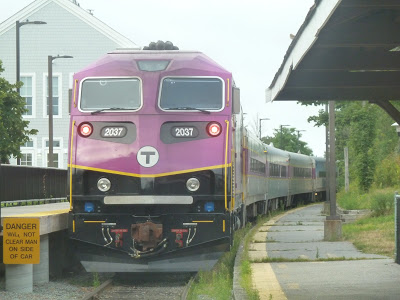 A CapeFlyer train at the station.
Station: Hyannis Transportation Center
Ridership: Well, I don't have any numbers for the station itself, but I do know that the CCRTA as a company carried 550,000 passengers in 2010. That's…not very much. As for the CapeFlyer, it carried about 12,600 passengers in 2014, which is great, considering its schedule.
Pros: The waiting area is fantastic, and the bus boarding area is semi-fantastic. That said, when the former is so good, I don't think the latter needs benches. All it really needs is good signage, and that's what it has.
Cons: The CapeFlyer platform is barebones, but again, you can just wait in the waiting room. Plus, it's high-level, which is a good thing.
Nearby and Noteworthy: Hyannis is probably the biggest business center on the Cape, except maybe for Provincetown. The downtown is a short walk from the station.
Final Verdict: 8/10
This place is pretty nice! Well, the station, at least (I didn't actually walk to downtown Hyannis). The waiting room is by far the best part, with its high ceilings, plentiful lights, and many benches. The bus boarding area has good signage, which is all you need, and though the CapeFlyer platform is bland, it is high floor. Overall, this is a good little terminal.