A while ago, I walked the whole Mattapan High Speed Line, going to every station along the way, and now I've finally gotten around to reviewing them. Let's do this.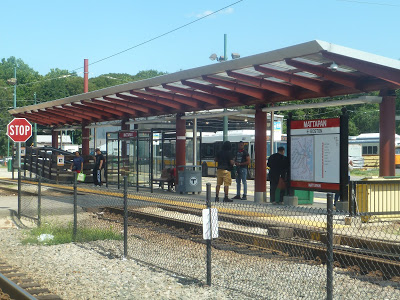 We're starting at by far the most used of the bunch.
Mattapan is the last stop on the trolley, but it was the first stop for me. Since it was renovated in 2007, this is a spiffy new station, with some nice platforms. The outbound one is simply to disembark people, but the inbound one has a glass shelter, a wastebasket, and a wheelchair ramp.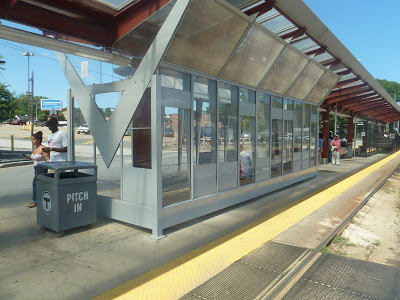 A fancy shelter in the main busway.
The main busway is what takes up the outbound MHSL platform. It has a few more shelters, as well as some wastebaskets. Aside from some peeling paint, this busway is fantastic. It's served by the majority of Mattapan's nine routes, and it's not to hard to find where each one boards.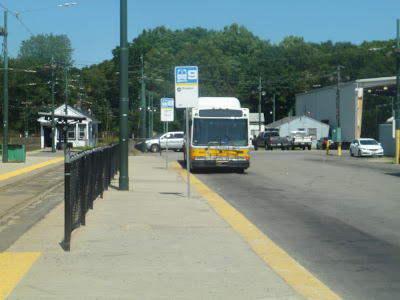 Well, turns out all my pictures of this busway were blurry. Oh, well, there isn't much to see, anyway.
However, it takes a bit of exploration to discover that this station has a second busway. This is where the Blue Hill Ave routes board, and I really have no idea why they get their own busway. Well, anyway, there's a significant drop in quality with this one, in that it's just concrete. No shelters. No benches. Nothing. Really, there's a perfectly fine busway right across the tracks, if you Blue Hill Ave routes want to try it out…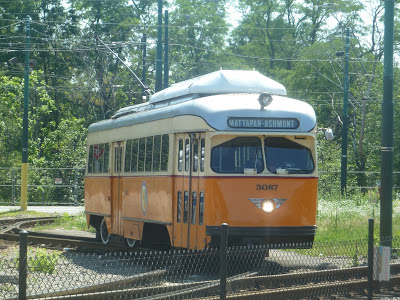 Prepare for lots of PCC action in the upcoming posts.
Station: Mattapan
Ridership: Aside from Ashmont, this is the busiest station on the MHSL, and probably the only one that gets non-local ridership. There are a number of bus routes here that people come from, all amounting to an average of about 1,500 riders per weekday. Don't expect these somewhat high numbers to last as we travel further down the line.
Pros: This is the most…advanced, shall we say, station on the MHSL. It has a bunch of shelters as well as two busways serving nine buses (including a Key Bus Route), so there's lots here. It even has a 100-space parking lot, though not too many people actually use it.
Cons: There's some peeling paint that can be found around Mattapan, but that isn't too bad. I really do hate the second busway, though, partly because of its lack of amenities and partly because of its existence. Why do there have to be two busways in the first place?
Nearby and Noteworthy: There are lots of businesses in nearby Mattapan Square, but I have nothing specific.
Final Verdict: 7/10
Although the second busway is horrible, one has to consider Mattapan in context. The stations along the rest of the line are basically small D Line stations, so this big facility is a nice change. And honestly, everything else about it is great, from the platforms to the main busway. All right, on to Capen Street.
Latest MBTA News: Service Updates