What a lovely station name. Gosh, what do you think Greenwood's surroundings are like? Rolling green hills, extending way out into the horizon, covered in beautiful trees…or perhaps a few houses and the back of a bank. The second guess was better…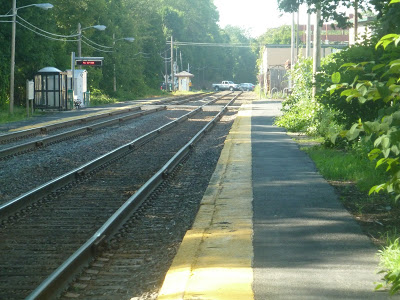 Well at least there are some trees.
The outbound platform is extremely simple – it's basically all asphalt. There is a bike rack on one end, but that's it for amenities. The station's not accessible, so there are no boarding platforms. On the outbound side, there's an exit that leads into the parking lot of that aforementioned bank.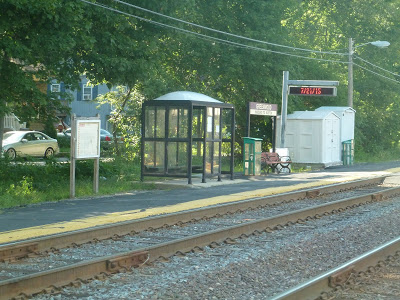 And the inbound platform.
The inbound side has more in the way of amenities. For one thing, it has an actual shelter – it's pretty much a bus shelter, but a shelter regardless. There's also an open bench, right next to a newspaper box with no newspapers in it. On this side, there's an exit to a leafy residential area (perhaps that's where the "green woods" are).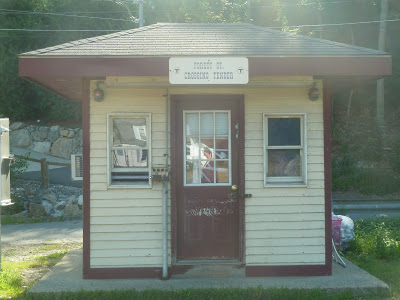 Woah!
It's worth noting that at the level crossing with Forest Street (technically not part of the station), there's an old…crossing tender. I don't know what that means, but it's a nice little house…thing. Maybe it was used before the level crossing was automated? Perhaps the woods were a little more green back then…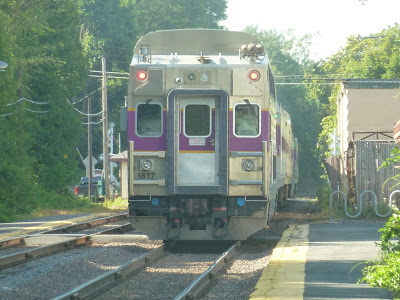 A train leaving the station.
Station: Greenwood
Ridership: This is one of the least-used stations on the Haverhill Line, and actually one of the least-used on the whole Commuter Rail. It only gets 146 riders per day, with most to all of them being locals from the residential areas around.
Pros: Hmm…actually, there isn't too much to like about Greenwood. Well, there's ample parking here (76 spaces), and the crossing tender is cool.
Cons: Accessibility is the big issue, of course. I suppose it's more important to make the next station north, Wakefield, accessible, since it gets more riders, but still. More of an annoyance is the fact that the station's parking is actually paid street parking that stretches far up Main Street. I can't imagine it filling up too much, but it can be a long walk to the station from the further spaces.
Nearby and Noteworthy: There's a business block along Main Street right near the station. Although small, it does appear to have a few restaurants and shops.
Final Verdict: 5/10
I'm sort of giving this station a break, since its ridership is low. Well, "break" as in it gets a 5 instead of a 4. Accessibility shouldn't be too much of a priority here, since Wakefield is much busier, but Greenwood just isn't the best station, anyway. And though the surrounding trees are green, I want to see proper green woods, darn it!
Latest MBTA News: Service Updates