After our Staten Island adventure, my father and I wanted to take one more ride. Well, I wanted to take one more ride. Okay, anyway, we decided to take the 1 up to Van Cortlandt Park in the Bronx. Problem was, the 1 is a slow local train. The solution was taking the A part of the way up, then changing to the 1 at 168th Street. We got on the train at 59th Street, which was actually a pretty nice station.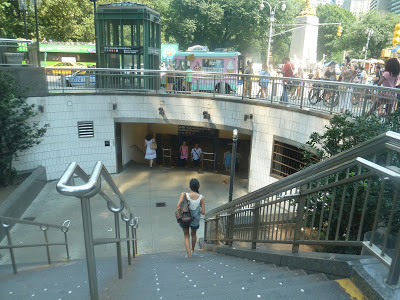 Look! An elevator! This station is…gasp…accessible!!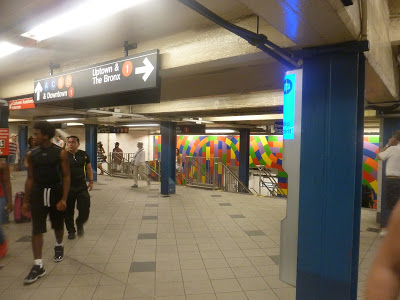 The mezzanine.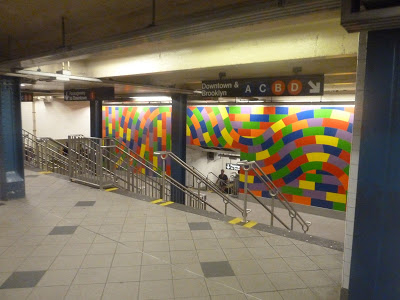 That wall is great.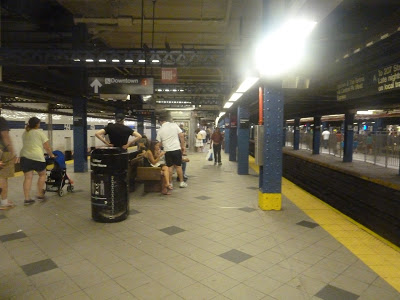 Not a bad platform…
The A has the greatest express portion in New York. Local trains make 14 stops from 59th Street to 168th Street – the A makes three. The best part is a huge section between 59th Street and 125th Street without any stops. Thus, we reached 168th Street in no time and transferred to the 1.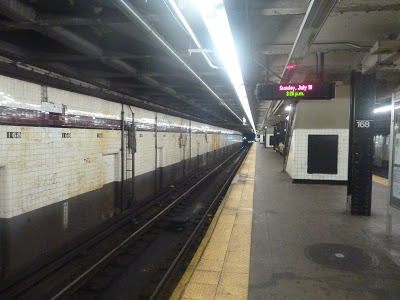 Ew…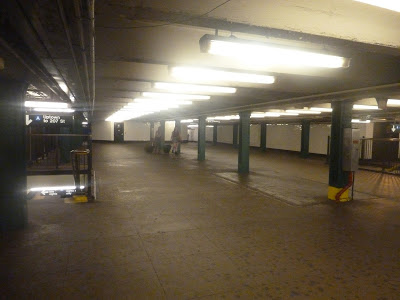 Ew again…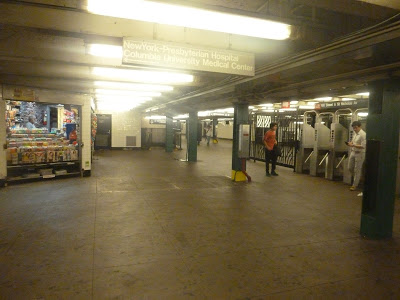 Well, at least there's a convenience store.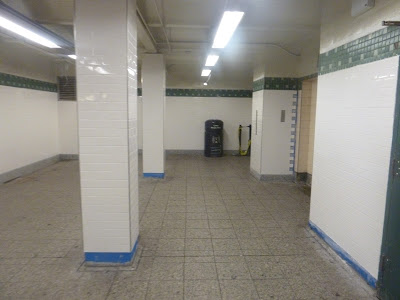 The only way to get to the 1 was via an elevator operated by an MTA employee.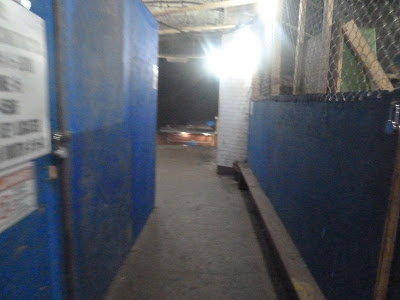 Bit of construction going on…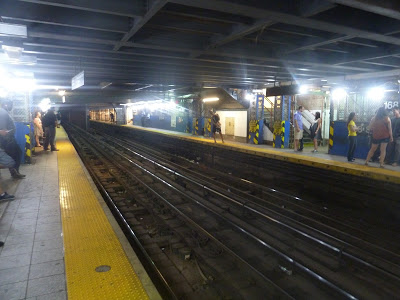 The 1 platform.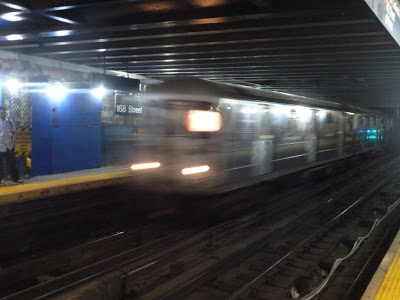 A 1 going the other way.
Heading up the 1, the first place of interest was 191st Street Station. It's the deepest station on the New York Subway, at 180 feet underground. Interestingly, the next station, Dyckman Street, is elevated! And yet it's at the same level at 191st Street, just because of how Manhattan's elevation is. We headed down Nagle Ave, going by lots of apartments.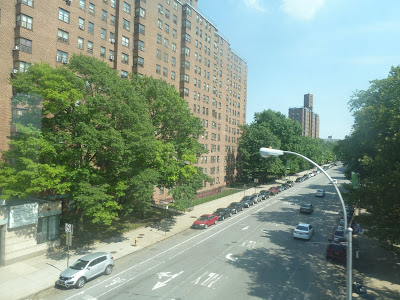 Some tall apartment buildings.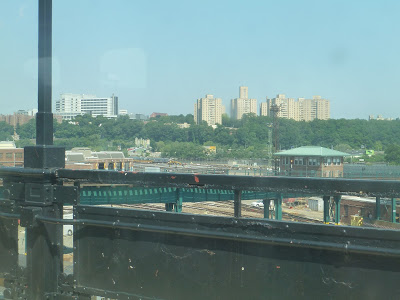 The view across the Harlem River.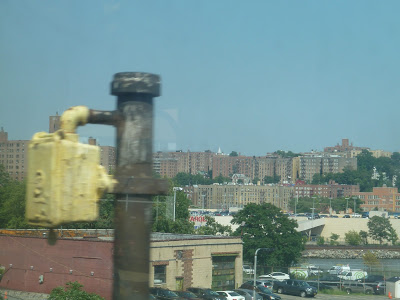 Look! Some buildings! And a…thing.
We turned onto 10th Ave and went past a sprawling train yard. We then turned onto Broadway and went over the bridge of the same name with a pretty nice view. The next stop, Marble Hill, had an interchange with the Marble Hill stop on the Metro-North Railroad. The surroundings for the rest of the line were mostly businesses, and we reached Van Cortlandt Park a few stops later.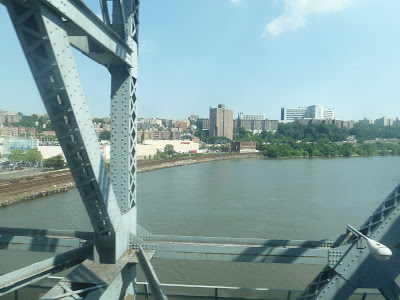 Nice view from the Broadway Bridge.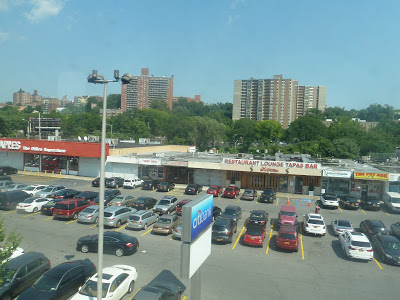 A mall and some apartment buildings.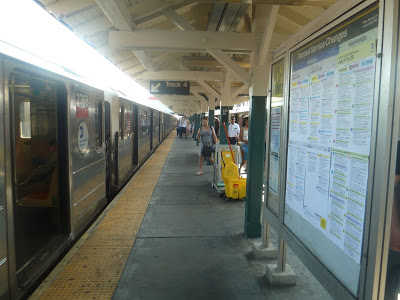 A quick glimpse at Van Cortlandt Park.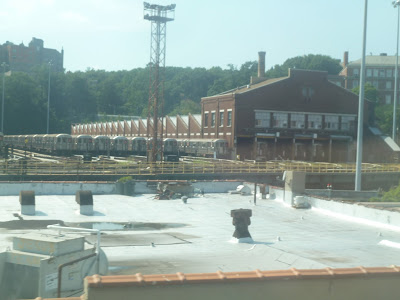 Heading back the other way, there was a view of another train yard.
A side street.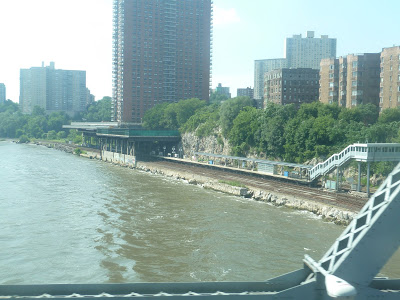 That Metro-North station looks really nice!
Going the other way, we decided to stay on the local 1 rather than switch to the A again. The trip was underground and not particularly noteworthy…until 125th Street. Here, the train actually came out of the tunnel and had an elevated stop! After that, we went back underground like nothing ever happened. I assume it was built like this because of Manhattan's geography, and it was certainly a nice treat on a mostly underground line.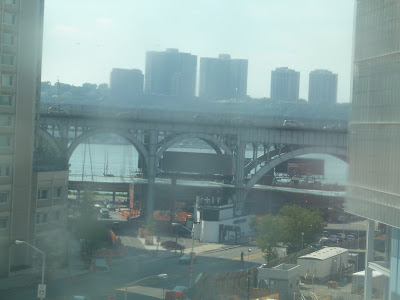 Nice view! Too bad we're going underground soon.