Heading south along the Orange Line, Jackson Square is kind of the "last frontier" before the big hub of Forest Hills. But in between those stations, there are two quiet, local stops with no bus connections. I've already done Green Street, but what about the other? Well, let's take a look at Stony Brook.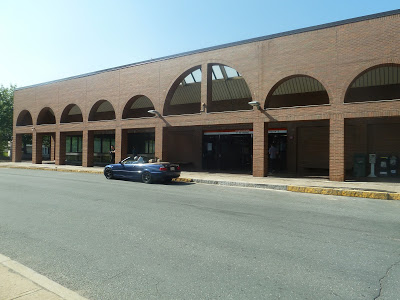 The brick entrance.
The station's main entrance is on Boylston Street, which seems to have ripped its name off from the street of the same name in Boston. It's a quiet, residential street, with lots of trees and a park opposite the Stony Brook entrance. I'm really not sure what to think of this entrance. I mean, it's interesting architecturally, with cool brick arches, but does it seem like a subway station? Not really – the Stony Brook sign is small and not visible from a distance. Good thing there's a T logo down the road to let people know that random brick building is an Orange Line station.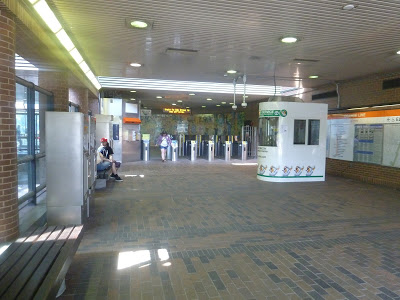 The mezzanine.
My parents are always talking about feng shui, "a Chinese philosophical system of harmonizing everyone with the surrounding environment." Basically, it's how energy flows. And Stony Brook flows incredibly well into its mezzanine – it's just a straight line. It may be a little bland, but functionally, this is a great mezzanine, with a good amount of fare machines/gates to boot.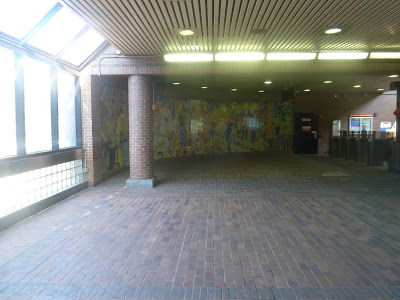 The hallway from the mezzanine.
Right after the fare gates, there's a cool mural that goes around a corner. I tell ya, these Southwest Corridor stations have boring architecture, but they never skimp on art. This hallway also has a big window, which is nice. From there, a set of stairs, an up escalator, and an elevator all lead down to the platform.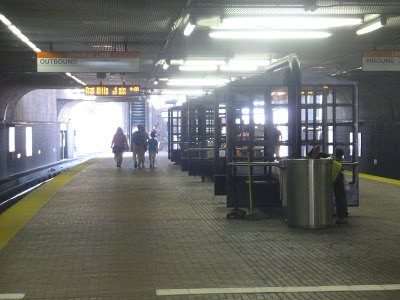 The platform.
The platform is pretty much the same as
Jackson Square's
. Once again, it's a center platform and it's "underground", but the tracks do go above ground on either end of the station. The benches still look ugly, and there are a few wastebaskets here. Oddly, Stony Brook's platform is really dark, even with natural light on
both
ends! I don't know how that works, but it was really dark down here.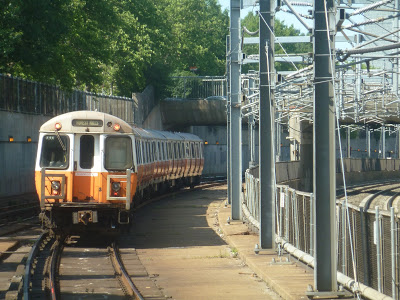 A train leaving the station.
Station: Stony Brook
Ridership: This is the second least-used station on the Orange Line, with only 3,652 riders per weekday. It's very close to Green Street (the least-used station) in terms of ridership, which makes sense. As I've mentioned, both of these are very quiet stations.
Pros: Stony Brook is very straightforward, which is great. The entrance flows right into the mezzanine, which in turn flows to the center platform. Also, it may not have a Jackson Square level of artwork, but that mural after the fare gates is pretty awesome.
Cons: This station doesn't feel as brutalist as others on the Southwest Corridor, but I still have some problems with its architecture. It feels bland throughout, especially with the dark platform. Also, the entrance could stand to be a little more obvious, though it does look good. Stony Brook doesn't have any bus connections, but that's not too much of a problem for me, since Jackson Square is one stop to the north.
Nearby and Noteworthy: It requires a bit of a walk to the south, but there's an interesting-looking clump of businesses on Bismarck and Germania Streets.
Final Verdict: 7/10
Why do I keep finding myself liking these Southwest Corridor stations? Yep, despite the fact that Stony Brook has a dark platform, bland appearance, and semi-hidden entrance, I still like this place. It's straightforward, and that mural is fantastic. Why do I have to like you, Stony Brook?