I've never thought about if "Arlmont" had a meaning to it or not. It's always just seemed like an odd name for a neighborhood to me. Then I realized that it's actually a combination of Arlington and Belmont! Because it straddles both towns! I love that!
…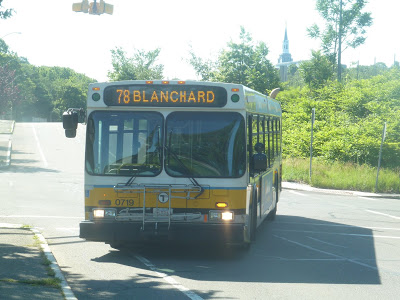 The bus at Arlmont.
We left the Arlmont bus stop and soon after turned onto Appleton Street, going by a MassDOT office…thing. That was about the extent of landmarks here, as Appleton Street was all houses. They were very nice houses, don't get me wrong, and the street was pretty windy. At a huge six-way intersection, we curved onto Wachusett Ave, coming close to an elementary school.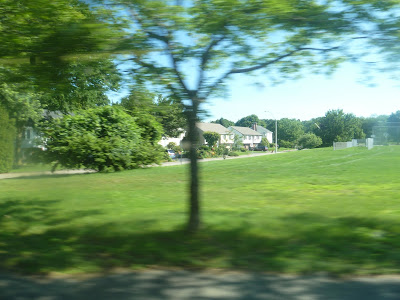 Zooming past a park at Arlmont.
We then made a sharp turn onto Park Ave and came to Park Circle. Here, we looped around a water tower, merged back onto Park Ave, and went back the way we came. It was a bit odd, and no one got on or off during the loop. Anyway, Park Ave continued south, and we reached Route 2 eventually. Here, we turned onto the East Service Road, speeding alongside the highway on a big hill.
Reaching Pleasant Street, we left the Alewife buses behind and headed south. There were a few businesses on Pleasant Street, but when we turned onto Brighton Street, it was once again residential. After going by a housing development, we crossed over the Commuter Rail tracks and went by some fairly industrial-looking buildings.
After a few more houses, we turned onto Concord Ave, joining
the 74
. With a park on one side and industrial buildings on the other, we went around two rotaries, continuing down the same street. We passed a school, then it became dense houses. There were a few non-consecutive business blocks, then it got more leafy, and the road started to get lined with apartments.
Concord Ave merged into Garden Street, then we turned onto Waterhouse Street. We curved around the Cambridge Common (which is being worked on right now), and dodged around some buses that were laying over. From there, we merged into Mass Ave, then into the Harvard bus tunnel, arriving at the station soon after.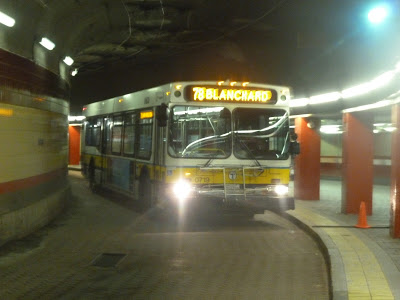 Oh, wow. Simply beautiful.
Route: 78 (Arlmont Village – Harvard Station via Park Circle)
Ridership: On my trip, there were a little over 10 people who rode. Most of them got on along the Concord Ave portion, which is shared with the 74, anyway. Only about three or four people got on before Concord Ave. Overall, the route's ridership is pretty low – an average of 1,488 riders per weekday, 532 per Saturday, and 462 per Sunday.
Pros: I consider this bus to be sort of a link between the Alewife buses and the Harvard buses, which is great. It also provides most Arlmont service (because let's be honest, the 84 barely runs), and creates a nice link from Harvard to Route 2 and Arlington.
Cons: Turns out I actually have a lot of problems with this route! Firstly, the schedule isn't the best. Every 35 minutes during the day is okay, but it runs every hour on weekends. The 78 may run about every 20 minutes during rush hour, but instead of Arlmont, it runs to Arlington Heights. I get that the 84 provides Arlmont service during that time, but shouldn't there still be at least a few rush hour 78 trips there to accommodate for people who may be commuting to Harvard? I also think it's unnecessary for the route to serve Park Circle when it's coming from/going to Arlmont. It's kind of a pointless deviation, and it doesn't really serve much extra.
Nearby and Noteworthy: Had it been a few weeks ago, I would've said the Pepperidge Farm store, but that closed recently. Um…Harvard Square, I guess?
Final Verdict: 5/10
Wow! I was expecting to give this route a higher score. But really, look at the cons section compared to the pros. I would say the base route of the 78 is good, but it has some annoying quirks that make me dislike it. Also, the schedule isn't the best, but maybe the ridership just isn't there to increase it. Still, I can't say I'm a big fan of the 78, when all's said and done.