I have a friend who once had to use the 67 for some reason or another. He told me that the bus only had a few old people on it. After that, I was sort of interested in taking this seemingly odd little route. Well, I did, and though the people who rode it weren't especially old, they were certainly few.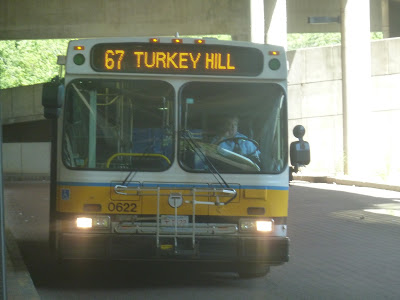 The bus at Alewife.
We made our way to Route 2, and of course, I'm obliged to mention that we did indeed skip past the stop at the pedestrian walkway. As usual. We made the first exit, then headed back onto the highway, but at the second exit, we left the other Route 2 routes by turning onto Pleasant Street. This was a very leafy residential neighborhood, and it was quite nice. There were even some short glimpses of Spy Pond down side streets.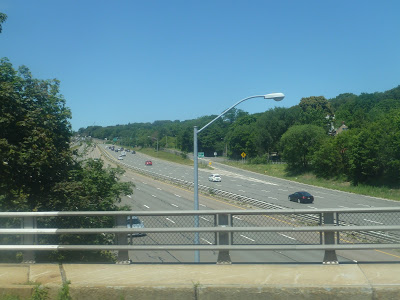 This, however, is Route 2. It is not especially nice.
Eventually we reached Mass Ave, which we turned onto. We passed lots of businesses and restaurants in Arlington Center, as well as Arlington Town Hall, before turning onto Mill Street. This street was a bit industrial, but it went back to houses when we turned onto Summer Street. After passing the Arlington High School, we turned onto Symmes Road.
This is a deviation the route makes going outbound only. Going up a hill, we went by an assisted living building, then entered a development with identical houses. After looping around the development, we headed back down the hill and continued down Summer Street.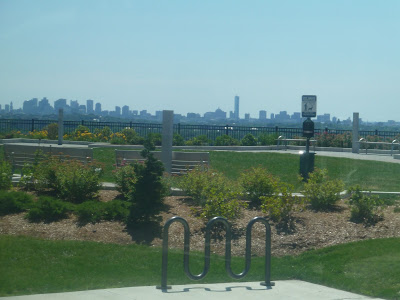 A skyline view from the top of the hill! The Prudential is blocked by a sign, unfortunately.
We then turned onto Washington Street, now back in a normal residential area. It became Clyde Terrace, and then the bus stopped. I was the only one on it, so it was really awkward when the driver turned the engine off. I tried to be as quiet as possible, hoping the driver wouldn't notice that I was planning on going right back to Alewife. After a few minutes, luckily, we started up again. It certainly wasn't as bad as the pen-personifying driver from the 451.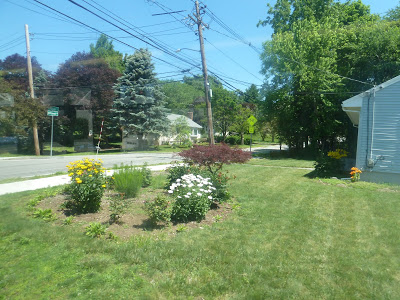 You're looking into Winchester, my friends.
We turned onto Forest Street, basically at the very tip of Arlington. The route doesn't make it into Winchester, but it pretty much goes right up to the border. We headed down Forest Street, which was entirely residential, then turned back onto Summer Street. After going by some fields and an ice skating arena, we rejoined the outbound route and headed back to Alewife.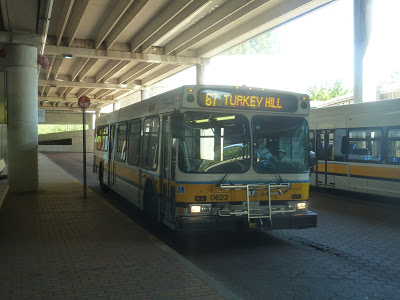 Have I ever mentioned that the Alewife busway is a dank place? Because it is.
Route: 67 (Turkey Hill – Alewife Station via Arlington Center)
Ridership: On my ride, there was only one other person going out of Alewife, while on the way back, there were about six. Clearly not a very high ridership route in the late morning – or in general, in fact. The route only gets an average of 588 riders per weekday, which is low.
Pros: This is a north-south route that cuts right through central Arlington, and it's pretty much the only cross-Arlington MBTA route. It also has a large chunk of northern Arlington all to itself, and even southern Winchester, if people are willing to walk.
Cons: It's an Alewife route – thus, the schedule. The 67 runs weekdays only, every 27 minutes during rush hour and every 50 minutes during the day. I guess since it's mostly a commuter route, the fact that it even has midday service is good, but still. Also, this is a nitpick, but the route's map on the schedule card doesn't show the section on Symmes Road.
Nearby and Noteworthy: I've mentioned Arlington Center before, so that's out. Um…there was that ice skating rink…
Final Verdict: 6/10
Schedule-wise, the 67 reminds me of the 84, except the former gets the bonus of midday service. Infrequent midday service, sure, but midday service regardless. Also, the 67 certainly serves more, and that makes me wonder if limited Saturday service would do it well. Overall, the 67 is still pretty meh, but slightly less meh than the 84.
Latest MBTA News: Service Updates
Tomorrow the MBTA is getting rid of the "honor box" system at parking lots. Passengers will have to pay for parking with their phones now.