All right, a ferry! And a ferry with some excellent views at that. The Hingham/Hull ferry used to be two separate routes, but after ferries stopped running to Quincy (the Hull ferry was part of that route), the MBTA combined the Hull and Hingham routes. The ferry is the fastest way to get to Boston from all of its destinations, and it's a really great ride. But first, here's a bit about the terminal in Hull.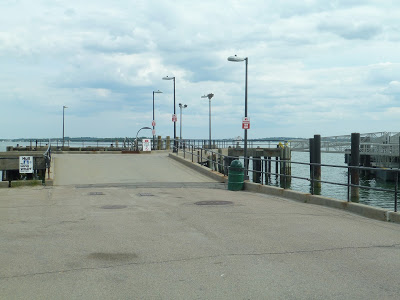 Pemberton Point.
I feel like generally, ferry terminals don't pride themselves on aesthetics too much. I mean,
Pemberton Point
is just concrete, then a metal ramp to a dock. It has a few "no parking" signs and a wastebasket, but there really isn't much here to talk about. There is, however, one restaurant –
Pemberton Bait and Tackle
, which offers some pretty good fried food for lunch. The terminal also has 100 parking spaces, which…seems like enough? I don't know, I'm not sure how much ridership the terminal itself gets.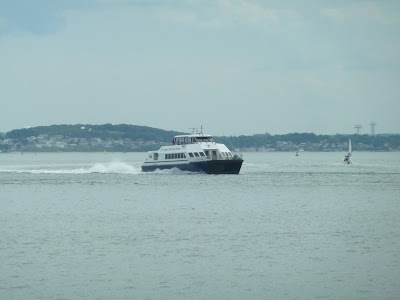 A boat coming in.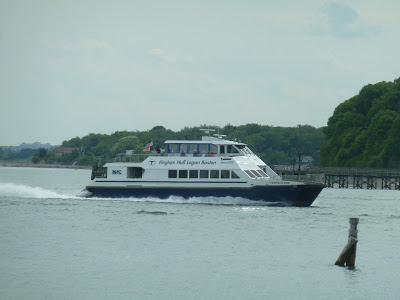 This wasn't my boat – it was going directly to Boston from Hingham.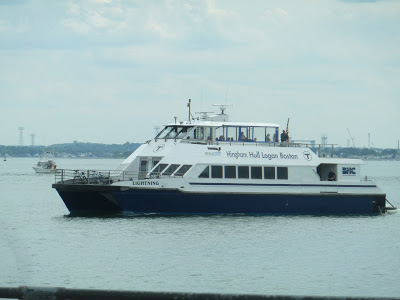 The boat I wanted coming in. "Lightning" is a pretty reassuring name.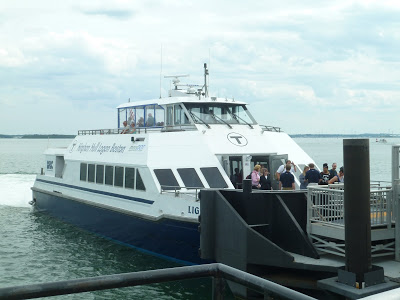 People getting off the boat.
The boat pulled up to the dock and a bunch of people started getting off. I wasn't really sure how this worked – was I supposed to wait for everyone to get off or was I able to squeeze past them onto the boat? Eventually I decided on the latter, since if it left without me it would be an hour until the next one. As I went by people, they kind of looked at me angrily, so maybe I should've waited. Too late now, I guess.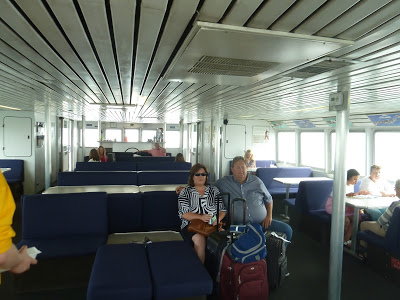 The inside.
I didn't spend too much time inside the boat, but I had to wait to buy a ticket. The inside was nice, though, with seats in groups of four by the windows and groups of eight in the middle. They looked like they'd be really comfortable, but they were only semi-comfortable, unfortunately. The ferry had bathrooms on it, but I didn't get to see how nice they were. There was also a concession stand in the back of the boat, which is a nice touch.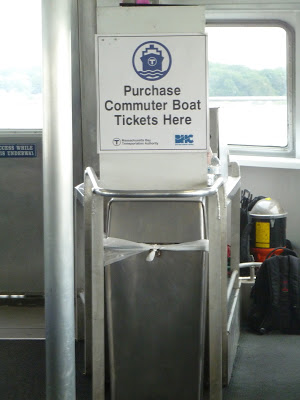 Here's where you buy the tickets.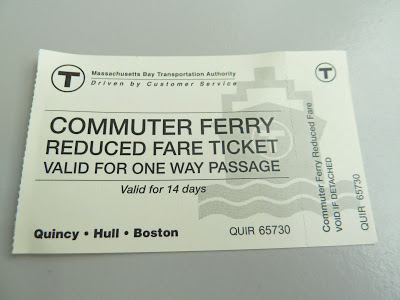 The ticket I got. For students, it's $4.25 from Hingham or Hull to Boston, and $8.50 for adults.
After getting my ticket, of course I went to the upper deck! Its main section was sheltered, with hard sideways-facing benches lined up. There were also ones outside, closer to the edge of the boat. They were better for seeing views, but I went a step further by standing up the whole time. It's more fun.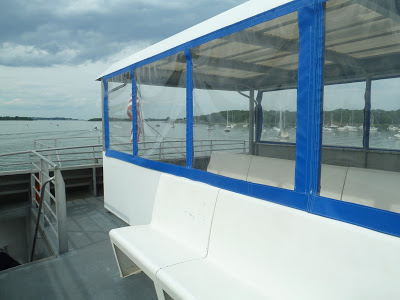 The outdoor portion.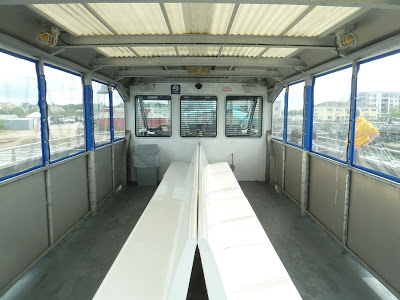 The sheltered part.
The first section of the ride was from Hull to Hingham, and it was pretty slow. Sometimes ferries make an additional stop at
Grape Island
, of all places. What the heck is even on Grape Island? The
Wikipedia page
makes it seem like it's just woods. Anyway, we got into Hingham, and pretty much everyone on the boat got off, with only two or three people who boarded here. After that, we were on our way to Boston.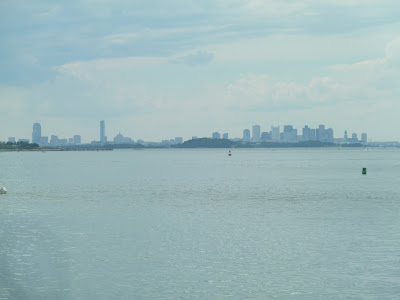 Nice skyline view.
Some identical condos.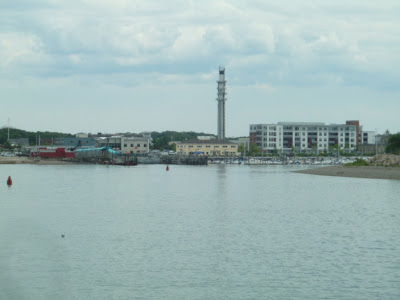 The view of Hingham.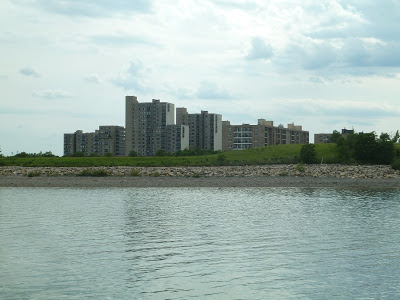 Some apartment towers.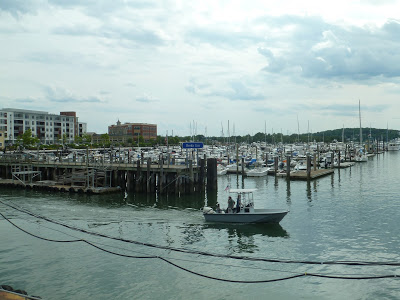 The busy Hingham shipyard.
We actually headed back the way we came, this time bypassing Hull. The driver gunned the motor, and we went by Georges Island (where ferries occasionally stop). We then passed Deer Island in Winthrop, and then it was mostly open from there. Finally, we came to the Logan Airport Ferry Terminal. I think maybe one person got out here, and no one got on. From there, it was time to cross the Boston Harbor.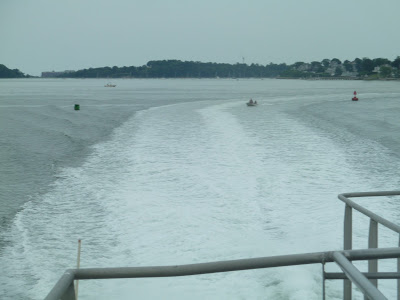 Aw, yeah, check out that wake!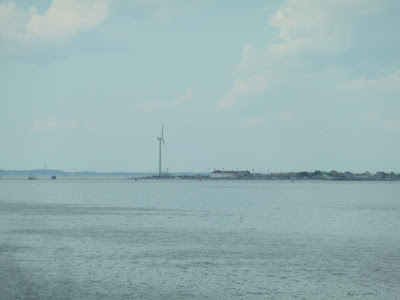 The view of Hull.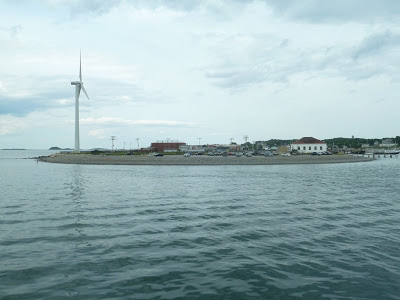 Hull from closer up.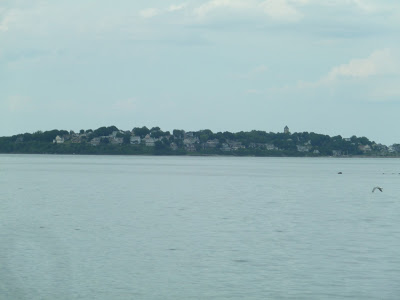 An island, I guess? I'm not sure what this is. These pictures might be out of order, to be honest.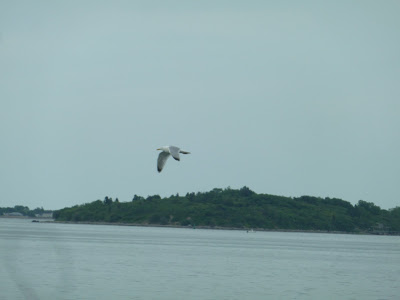 A bird that flew along with us for a bit.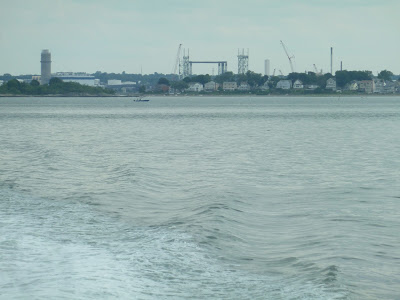 Nice view of Quincy.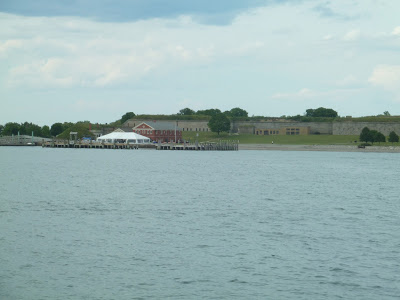 Georges Island.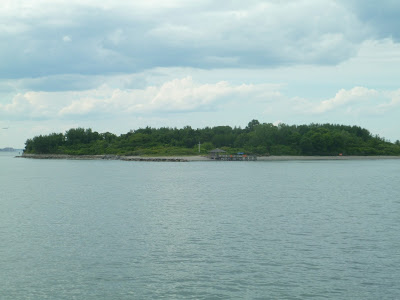 I think that might be "Gallops Island." It's an island for sure.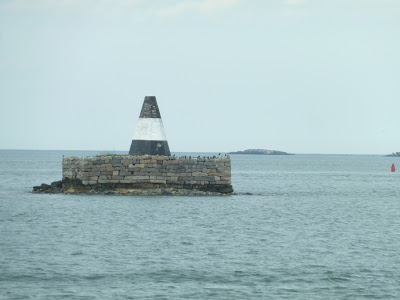 No idea what this would be used for, but it's on a little rocky island.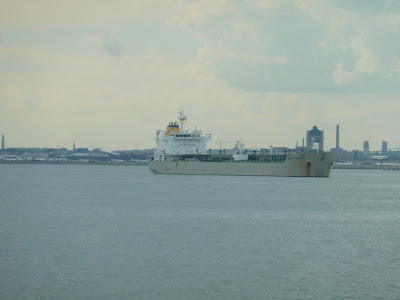 A big cargo ship.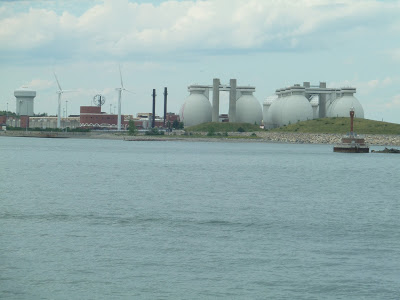 Deer Island in Winthrop.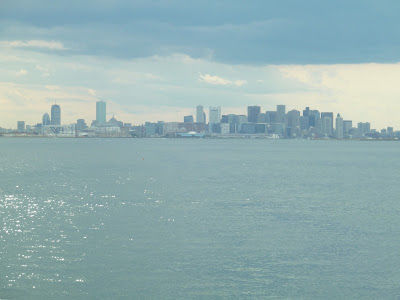 We're getting closer…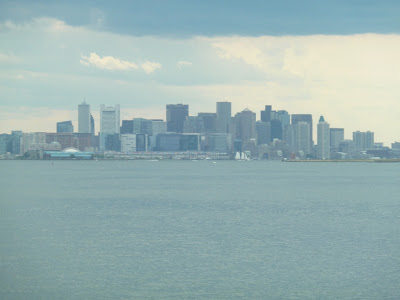 A zoom-in of downtown.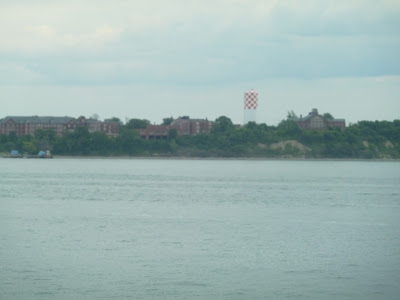 A view of Long Island (no, not New York).
Nice view of Winthrop.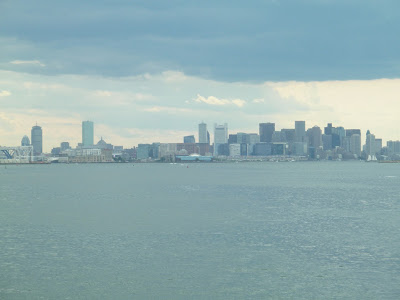 Another skyline view. I can't get enough of these.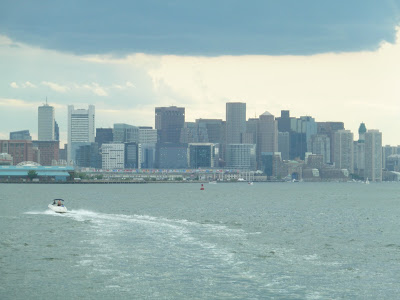 A tiny boat zooms toward downtown.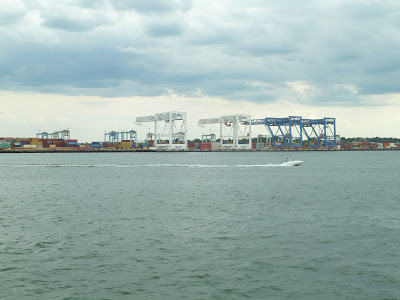 A big industrial area in Southie.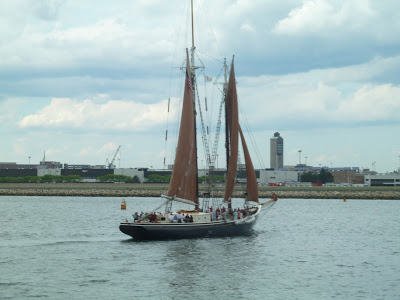 Wow, a sailboat!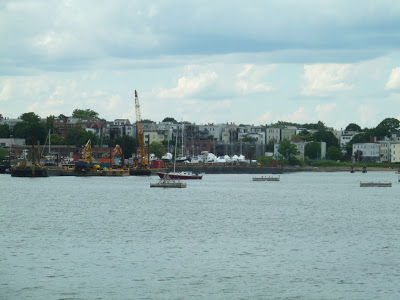 Looking at East Boston.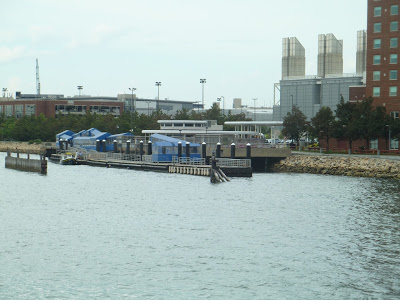 The Logan Airport Ferry Terminal.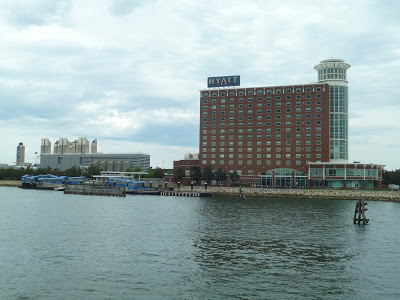 A view of the terminal and the airport hotel.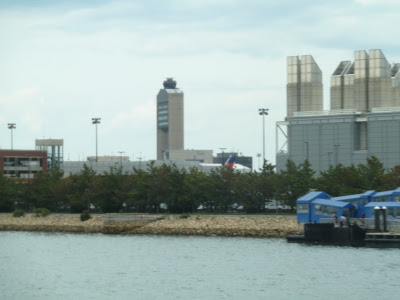 A bit blurry, but there's the control tower.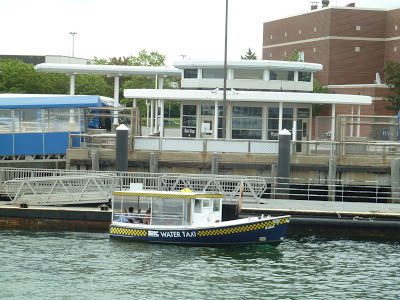 A water taxi at the ferry terminal.
The ride back to Boston was a slow one, as it was entirely within the harbor. It was also really nice, with the skyline getting closer and closer. Eventually, we arrived at Long Wharf, and I had to give my ticket to a crew member (you get your ticket when you board, then present it when you leave). Long Wharf was pretty simple, but again, what does one expect from a ferry terminal? And plus, the boat ride itself was amazing, so I could forgive Long Wharf for being a bit boring.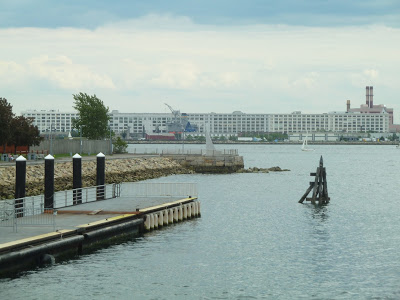 A view of the Design Center.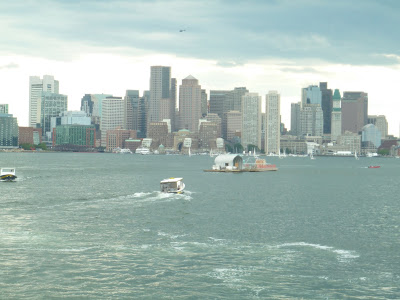 Downtown, with a boat heading toward it.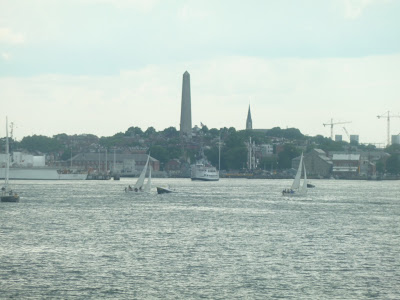 Charlestown!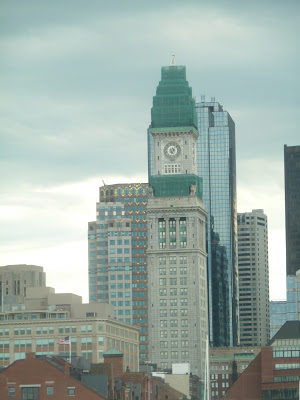 Woah! What are they doing to the Customs House Tower?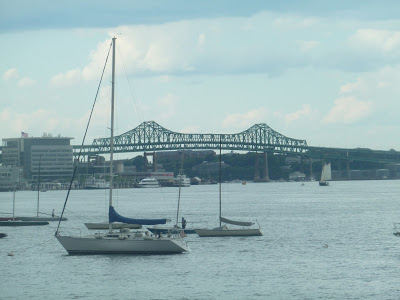 The Tobin Bridge.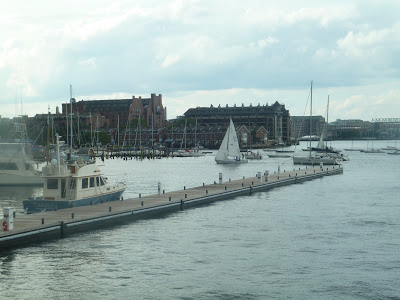 Coming into Long Wharf.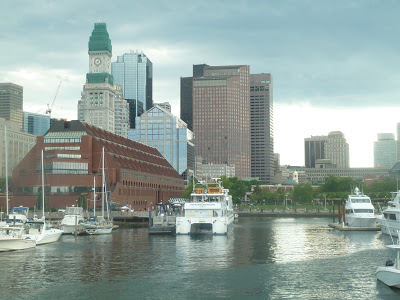 The view of the wharf.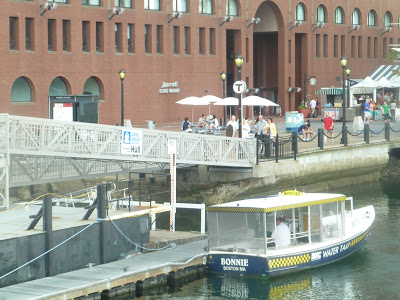 A closer look.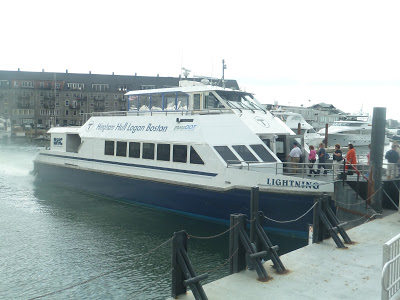 The boat with passengers getting on.
Route: Hingham, Hull – Long Wharf, Boston via Logan Airport (Ferry)
Ridership:
The ridership for these routes is a bit spotty in the
Blue Book
, as that was published when the Hingham ferry was its own route and the Hull ferry operated with the Quincy ferry. It's all a bit confusing. Plus, it's calculated in months and years – well, the Hingham ferry had 669,437 riders in 2013, while there were 106,276 riders from Hull in 2013. The ridership during the summer was
significantly
higher than in the winter, which makes sense.
Pros: Well, it's a great ride, for starters. This post was mostly just pictures of the views! Also, it's the fastest way to Boston from Hingham and Hull, and is a seemingly easy commute for those riders. Plus, the route surprisingly has a good schedule! It runs every 10 minutes (!) during rush hour, every half hour during the day, and every hour on weekends. Plus, direct service from Hingham and Hull to Logan Airport is fantastic.
Cons: Problem is, it's extremely expensive. It costs $17 to get from Hingham or Hull to the airport! And taking it from Boston to the airport is even more ridiculous – $13.75. The fact that Aquarium Station is literally right next to Long Wharf means you can just hop on the Blue Line and get to the airport in probably the same amount of time for 2 bucks. Both modes of transportation require a shuttle bus ride at the end, so no time lost there. Plus, the Blue Line runs often, while the ferry…doesn't really.
Nearby and Noteworthy: Well, I've gone over Pemberton Point already, and Boston is Boston. Georges Island is amazing, though, and if you haven't been, you really need to go. However, I recommend just using the Boston Harbor Cruises shuttle that runs during the summer. Bring a flashlight!
Final Verdict: 8/10
I would definitely recommend taking this ferry just for the ride, because it's great. The problem is, it's rather expensive – $8.50 is a bit pricy. That's enough to get you out to Framingham on the Commuter Rail! The ferry's schedule is actually pretty decent, though. I mean, not enough to warrant taking it to the airport for a small fortune, but it's a good schedule. The problem is how confusing it is. The
online PDF
is really, really complicated! But if you can figure it out, I recommend taking a trip on this ferry. You won't regret it.