On the Needham Line between Roslindale Village and West Roxbury, there's a clump of really close stops serving the West Roxbury neighborhood. Bellevue is the least-used one, and it feels very suburban in nature. But can it be considered suburban when it's still in Boston? Well, let's take a look.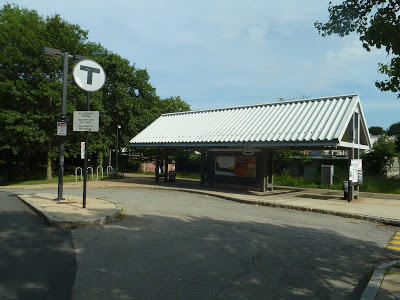 The station, as seen from Colbert Street.
Bellevue is pretty hidden – there aren't any T logos on Center Street or Belgrade Ave, so it's pretty hard to find. Colbert Street is a residential side street, and doesn't exactly scream, "Hey! There's a train station here!" Bellevue has a tiny parking lot with 37 spaces, which is actually more than enough, considering how local it is. There's even a little off-street "drop-off" area!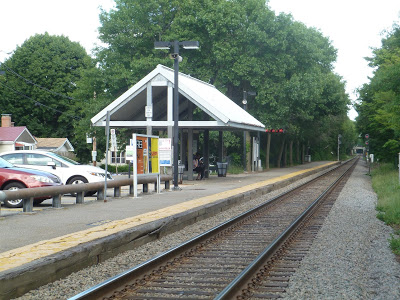 The station shelter.
There's a nice little shelter to wait at. It's modern and doesn't have much character, but it does its job well. The addition of a wastebasket is a convenient one. Waiting here is very tranquil, with mostly houses and trees for surroundings.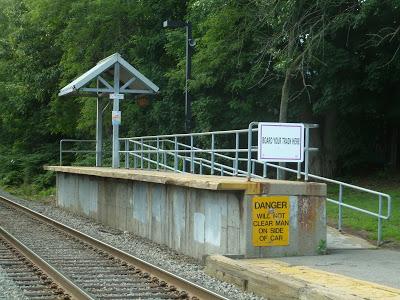 Where you actually board the train.
The rest of the platform doesn't have much of note, though there is a pedestrian crossing over to Belgrade Ave, which is nice. Other than that, there's the place where you actually have to board the trains – a high level platform with a ramp leading up to it. Note the word "have" – you HAVE to board trains here. And it's not like it has benches or anything. So if you want to sit while you wait for the train, you have to wait at the shelter, then walk over to the boarding area once the train comes. The walk isn't too bad here, but this is a common annoyance with Needham Line stations – expect it to come up again later on.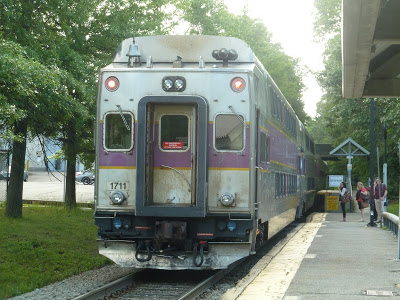 A train leaving the station. There are some people waiting to cross the tracks to the right.
Station: Bellevue
Ridership: As I mentioned, this is the least-used station on the Roslindale-West Roxbury cluster, and actually the least-used station on the whole Needham Line. It only gets about 280 inbound boardings per weekday, putting it at rank 99 for Commuter Rail ridership. That's pretty low.
Pros: It's a nice, tranquil station. It has plenty of parking, and good connections to main streets on either side. The shelter is a good place to wait, even if it is a bit ugly.
Cons: The walk from the shelter to the boarding area is annoying, but it's not too bad, especially compared to some other stations on the line (which we'll get to eventually). Other than that, I wish signage was a bit better on the main streets, and as I said, the shelter isn't too pleasant to look at.
Nearby and Noteworthy: There are restaurants and stores on Centre Street to the west of the station, but I don't know anything specific, as usual.
Final Verdict: 7/10
I sort of feel like I'm reviewing a D Line station here. Bellevue has nothing that makes it stand out from the crowd (though that little drop-off area is great), but it's functional despite having a few bad features. I wish they could at least put a bench on the high-floor area so people could wait there instead.
Latest MBTA News: Service Updates