There's a clump of bus routes, numbered 35-37, that basically parallel the Needham Commuter Rail from Forest Hills to West Roxbury. The 36 is the one in the middle, both numerically and geographically. Also, for a short route, it's incredibly confusing. It can terminate at the Charles River Loop, the V.A. Hospital, or the Rivermoor Industrial Area on weekdays. We (my two friends and I) originally grabbed the bus from Bellevue, and that one terminated at the Charles River. From there, we weren't able to make it to the Rivermoor Industrial Area in time, so we settled for a trip from the V.A. Hospital.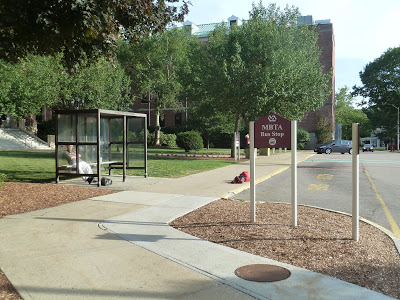 This stop was fairly well-marked, but it took us forever to find it, anyway.
We headed north on VFW Parkway for a bit before making a u-turn and going south again. It was basically a forest, paralleling the Charles. We reached a massive intersection with the narrower Spring Street, which we turned onto. After passing the Charles River Loop, it became a mix of businesses and houses.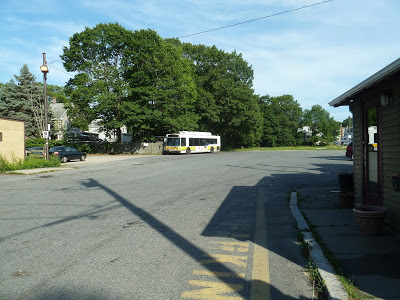 A bus laying over at the Loop.
The 36's solo section lasted for about three stops before we merged onto Centre Street, joining the 35. And a few blocks later, the 37 joined us, making a trio. We crossed over the Commuter Rail tracks, and it became entirely businesses on Centre Street. Eventually, we turned onto Belgrade Ave, crossing over the Commuter Rail tracks again and going by Bellevue Station.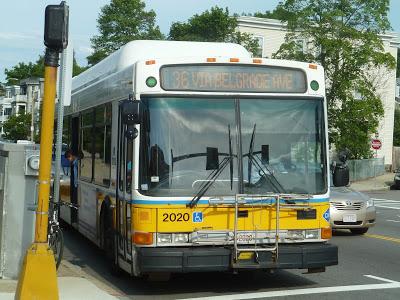 The 36 on Belgrade Ave.
From there, it became densely-spaced houses and apartments. Eventually we reached Roslindale Village, where we turned onto Corinth Street. This was a lovely, narrow street lined with businesses on both sides. We then headed up Washington Street along with the 50 million other routes up to Forest Hills. It was mostly dense apartments, right up until we reached Forest Hills Station.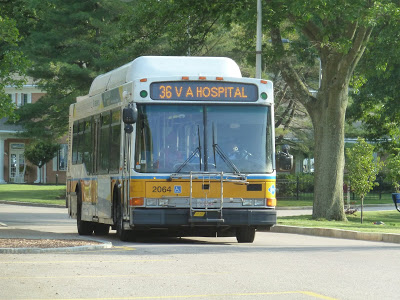 The bus at the V.A. Hospital.
Route: 36 (Charles River Loop or VA Hospital – Forest Hills Station via Belgrade Ave and Center Street)
Ridership: The ride I took from Bellevue to the Charles River was fairly crowded, with about 25 people on board – plus, there were probably more people who rode between Forest Hills and where I got on. The ride from the hospital back to the Orange Line was less-used, with only about 15 people who rode. Overall, of the three Belgrade Ave routes, the 36 is the most popular, with 3,323 riders per weekday, 1,759 on Saturdays, and 1,587 on Sundays.
Pros: The Belgrade Ave corridor is clearly a busy one, as this route's ridership is to judge. I doubt too many people use the route for its independent portion, but it still provides frequent service along Belgrade Ave. The schedule is great – about every 10-15 minutes rush hour, every half hour during the day and at night, every 35 minutes on Saturdays, and every half hour on Sundays.
Cons: Why does the 36 have to be so complicated? It has three different termini on weekdays, and it can get pretty confusing reading the schedule. Plus, they're all fairly close together, making them even more indistinguishable.
Nearby and Noteworthy: Lots of businesses along Belgrade Ave, but there wasn't much on the 36's solo portion.
Final Verdict: 8/10
This is a nice, frequent route that serves the Belgrade Ave corridor. On its own, it's not too unique, as all the Belgrade Ave routes kind of supplement each other. My one problem with the 36 is that it can be rather confusing on weekdays, but overall, it's a great route.
Latest MBTA News: Service Updates