Most of the buses downtown stop at Otis Street and/or Franklin Street. The 11 decides to mix it up by terminating at Bedford Street @ Chauncy Street, south of Downtown Crossing and more or less in Chinatown. Thing is, the 11 technically doesn't technically terminate there. To be honest, I'm still pretty unsure of where the heck it terminates. But we'll get to that…
The bus making the turn onto Bedford Street.
There were already about 15 people on the bus when I got on. I was expecting them to get off, since this is, according to the map, the terminus of the route. However, everyone stayed on, and we just continued down the route. We turned onto Kingston Street, then onto Essex Street. Going by the SL4 South Station stop (but without stopping ourselves), we turned onto Atlantic Ave, then onto Summer Street, going around the South Station building. At the South Station stop used for standard buses, a few people left the bus.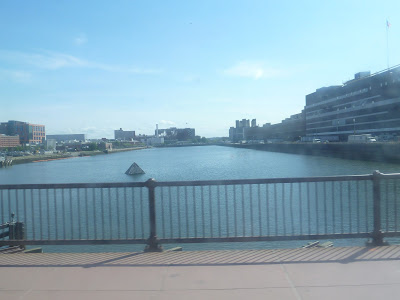 The view from the Summer Street Bridge. (I love that triangle thing in the water!)
Summer Street went onto a bridge over the Fort Point Channel, where there was a nice view. Immediately upon entering Fort Point, we turned onto Melcher Street, going by lots of brick buildings. Then we turned onto Necco Street, which curved around to A Street, which we then turned onto. The surroundings were industrial now, with huge parking lots and factories along the road.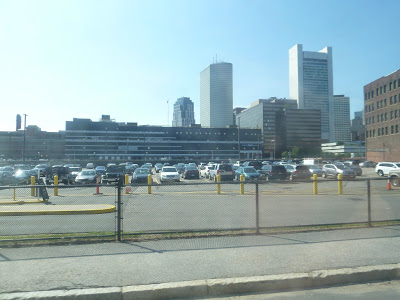 The view from Necco Street.
We turned onto West 2nd Street, then onto Dorchester Ave, and right after that onto West Broadway. A few passengers disembarked for Broadway Station, then there were businesses on either side of the street. We crossed over the South Boston Bypass Road, after which we turned onto B Street, going by some apartments. Turning onto West 7th Street, it became entirely residential, with nice three-story houses on either side of the street.
Going by a school, we turned onto the wider Dorchester Street, then onto the nice and narrow East 8th Street. It was so narrow, in fact, that we had to pull over to let another bus go by the other way. There was an apartment complex on one side, then we got some views of the water looking down side streets. We went by a tall, out of place residential building, then it became three-story houses again.
These continued all the way to the end of 8th Street, where we turned onto Columbia Road. There was an okay view of the water, but for a large portion of the short seaside section, there were trees and buildings in the way. We then turned onto Farragut Road, with big houses on one side and a park on the other.
The best picture I could get of the view.
It started to get industrial, then we turned onto East 1st Street. I hit the stop request button and got off at P Street. This was more or less industrial wasteland, but it was more normal walking a bit down P Street, where I waited for an 11 back to Boston. After two 7's and two 9's went by, an 11 finally arrived.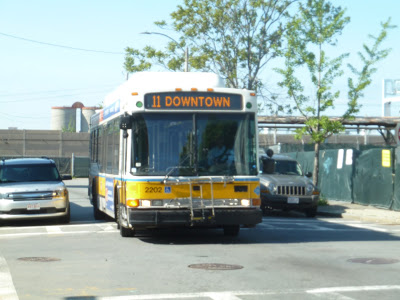 Oh, no, it's blurry!
We headed all the way down P Street, then rejoined the outbound route at Columbia Road. We stayed with it down 8th Street and to the turn onto Dorchester Street. But while the outbound route comes from West 7th Street, the inbound route travels on West 6th Street, for some reason. It had those nice three-story houses again, with some corner stores as well. We turned onto D Street, then once again rejoined the outbound route at West 7th Street.
Again we left the outbound route when we turned onto Dorchester Ave, which was industrial. Going by MBTA Cabot Yard, we reached Broadway, where another 11 was laying over. For some reason a few of its passengers got on our bus, then we did that same dumb route the 9 takes at Broadway – continuing down Dorchester Ave, going around to Foundry Street, turning onto Greenbaum Street, and then back onto Dorchester Ave. I know it offers a nice view of Cabot Yard, but I'm just gonna use the same map I used for the 9 here:
From Broadway, the 11 operates in a loop, so it was all-new territory from here on out. We crossed over the 4th Street Bridge, getting a nice view of Cabot Yard and of Boston. Going by some businesses on East Berkeley Street, we then turned onto Washington Street, joining the Silver Line. Yet for some reason, the driver decided not to use the bus lanes. Is only the Silver Line allowed to use the bus lanes? This happened before with the 170, so that might be the case, but I'm not really sure why that rule would be in place.
We crossed over the Mass Turnpike, then went through the Tufts Medical Center. From there, we came into Chinatown, and started going by lots of Chinese restaurants. At Chinatown Station, we took a right onto Essex Street. We then turned onto Chauncy Street, then back onto Bedford Street, arriving where we started.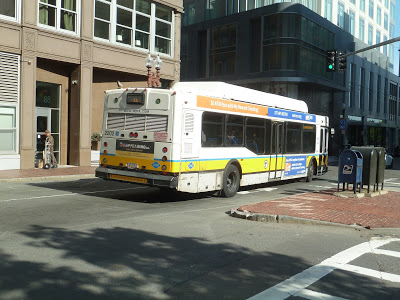 The bus leaving down Bedford Street.
Route: 11 (City Point – Downtown BayView Route)
Ridership: There were about 25 people on my ride there, and about 15 coming back. That's not bad for a Wednesday afternoon before rush hour. And the 11 gets pretty good ridership overall, with about 3,400 riders per weekday, 1,500 per Saturday, and almost 1,000 per Sunday.
Pros: This is the only route to serve the southern part of South Boston, which is where a lot of its ridership comes from, I believe. Its schedule is also pretty good – it runs every 12 minutes during rush hour, every 25 minutes during the day, and every 20 minutes on Saturdays.
Cons: It's also every 40 minutes on Sundays and at night, which isn't the best. Also, I cannot for the life of me figure out how the heck this route operates. Okay, so obviously City Point is the terminus, and I'm sure buses lay over there. But what about on the other end? Bedford @ Chauncy is just a normal stop, so it's not that. So what about that random bus that was laying over at Broadway? Is Broadway the other layover point? Because that would wreak havoc with the 11's scheduling. It would explain the 11 that came out of nowhere to bunch with us when we were heading to City Point, though.
Nearby and Noteworthy: Touchie's Shamrock Pub caught my eye when we were travelling down 8th Street. Now, it's gotten good Yelp reviews, but that's not the reason it got my attention. The reason is that the name of the bar appeared to be written in all-caps comic sans. I'm sure you guys are good, Touchie's, but comic sans? Well, it got my attention, that's for sure.
Final Verdict: 7/10
Hmm…I want to give this route a lower score, but I actually really like the 11. It serves the underserved southern part of Southie, plus it runs often for the most part. My main issue with the route is the strange way it operates, and if someone can shed some light on that, please do in the comments.
Latest MBTA News: Service Updates
I'm sorry to bring up the MBTA's past winter again, but this is a good thing. Governor Charlie Baker has an $83 million plan to better prepare the MBTA for harsh winter weather, so hopefully nothing like last winter will occur again.