Do you ever get those mysterious disappearing buses? The ones that are scheduled to come at a certain time but never do? Yeah, that happened here with the 100. It runs frequently enough so that it wasn't too much of a burden, but it was still annoying.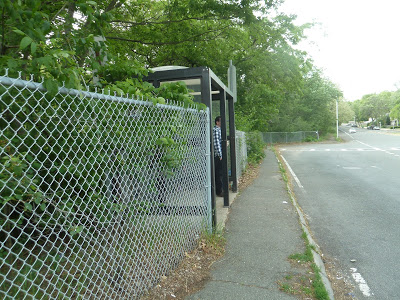 This is such an odd bus stop…
This did mean waiting for about 20 minutes at the Elm Street bus stop, which is worth talking about since it's pretty interesting. Looking across the street, there are some nice houses and a bunch of trees. But then only a chain-link fence and a small clump of trees separate the bus stop from I-93. And the shelter was a complete mess, with litter strewn around it. There was a big contrast between the two sides of the street.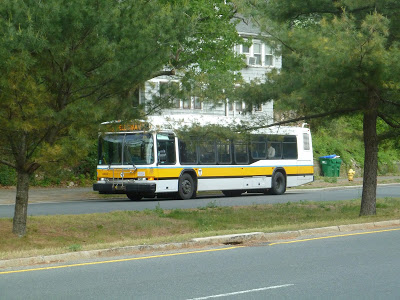 Peek-a-boo…
But there's a bus to talk about, and the next 100 came eventually. We headed down the leafy Fellsway West, which curved around and crossed over I-93. Coming round Roosevelt Circle, we then turned off and curved under I-93. We rejoined the Fellsway West, which had a tree-lined median and houses on both sides. Crossing Salem Street, we continued along the Fellsway.
The median got much narrower, but it was still lined with trees. The surroundings were still mostly residential, though the occasional auto shop came up. We went by a big storage facility, then onto a bridge over a single railroad track. There were more houses, then we passed a massive mall complex. This basically continued all the way to Revere Beach Parkway, which crossed over the Orange Line tracks, where we turned into the Wellington Station busway.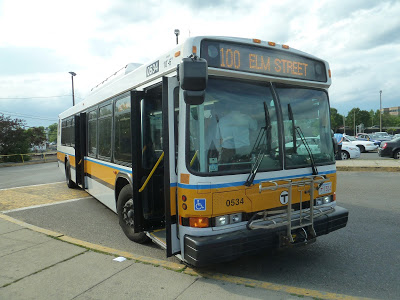 The bus at Wellington.
Route: 100 (Elm Street – Wellington Station via Fellsway)
Ridership: There were about 15 people on my ride, which seems like a pretty good amount for such a short, local route heading in the off-peak direction. People fed on as we went along, with only one or two people at each stop. Aside from two people who alighted at the big mall, everyone went to Wellington. The route gets really low ridership overall, however – 922 people on weekdays, 522 on Saturdays, and 314 on Sundays. That latter one puts the 100 in the bottom 10 for MBTA Sunday routes.


Pros: As you can probably tell by this review's length, the 100 is an extremely short route. I think this works out in its favor, since it acts as a really quick link through eastern Medford (and a bit of Malden). The route also has a pretty great schedule, running every 20 minutes rush hour, every 35 minutes during the day, every half hour on Saturdays, and every hour nights and Sundays. That last one may seem a bit infrequent, but based on the ridership it's justified.
Cons: The 100 doesn't get very high ridership. However, since it's so short, it's actually relatively cheap for the MBTA to run – only $2.31 per passenger. That means that it can basically stay the way it is in terms of scheduling, since it's not expensive to run at all.
Nearby and Noteworthy: Nothing along the route seemed too enticing. The big mall seemed to have a lot of stores, though.
Final Verdict: 8/10
This is a really nice, short little local route. It provides a link from eastern Medford down to the Orange Line, and does it really quickly. It only takes 12 minutes to get from end to end, and less on weekends! Couple that with a pretty frequent schedule and you've got a great route.
Latest MBTA News: Service Updates