The 93 cuts right through the heart of Charlestown, and it's a really nice ride that feels like you're going through a really old neighborhood (which it is). The 92 still has that feeling, but along its route, there are hints of trashiness here and there: a small shopping plaza, a little parking lot, and a suburban-style bank (including a drive-through) are some of the things you see. Also, not nearly as many people use the 92 as they do the 93. Let's take a closer look.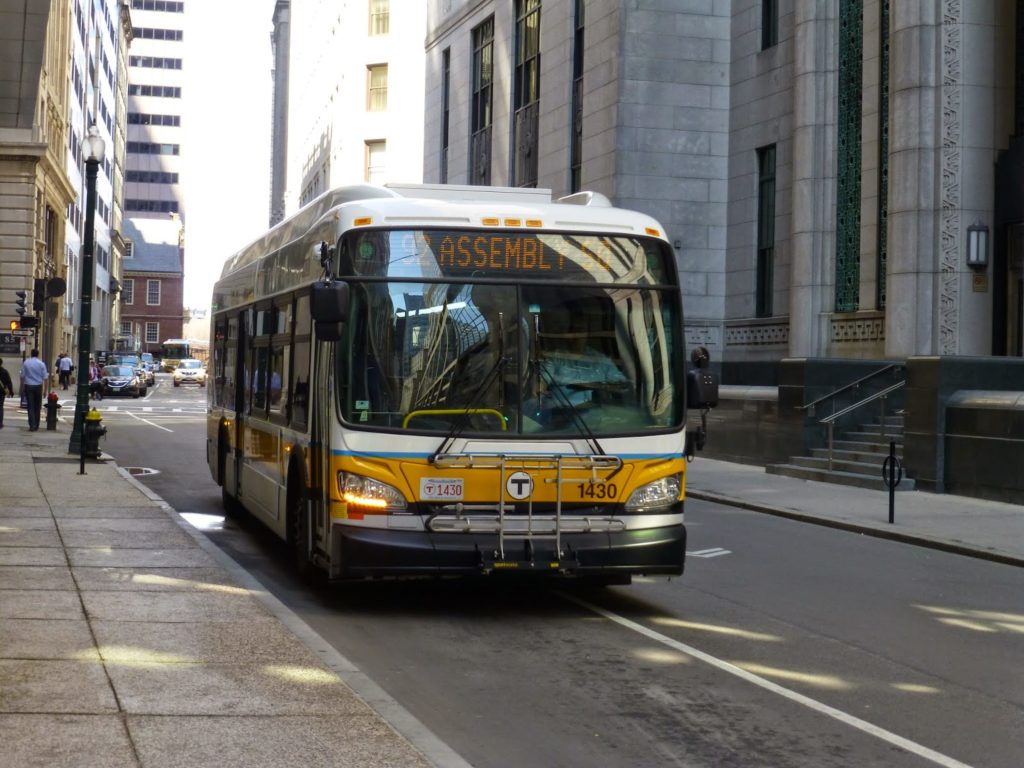 The bus downtown.
The 92 (and 93) used to go all the way to Downtown Crossing, but they were recently cut back to just south of State. Thus, I got on the bus at Devonshire Street @ Milk Street, the current terminus, along with…one other person. Wow, lots of ridership here.
We turned onto Milk Street, then up Congress Street, in and among the tall buildings of downtown. At Haymarket, the driver opened the doors hopefully, but nobody waiting got on. So, we made our way up to North Washington Street and crossed over a bridge.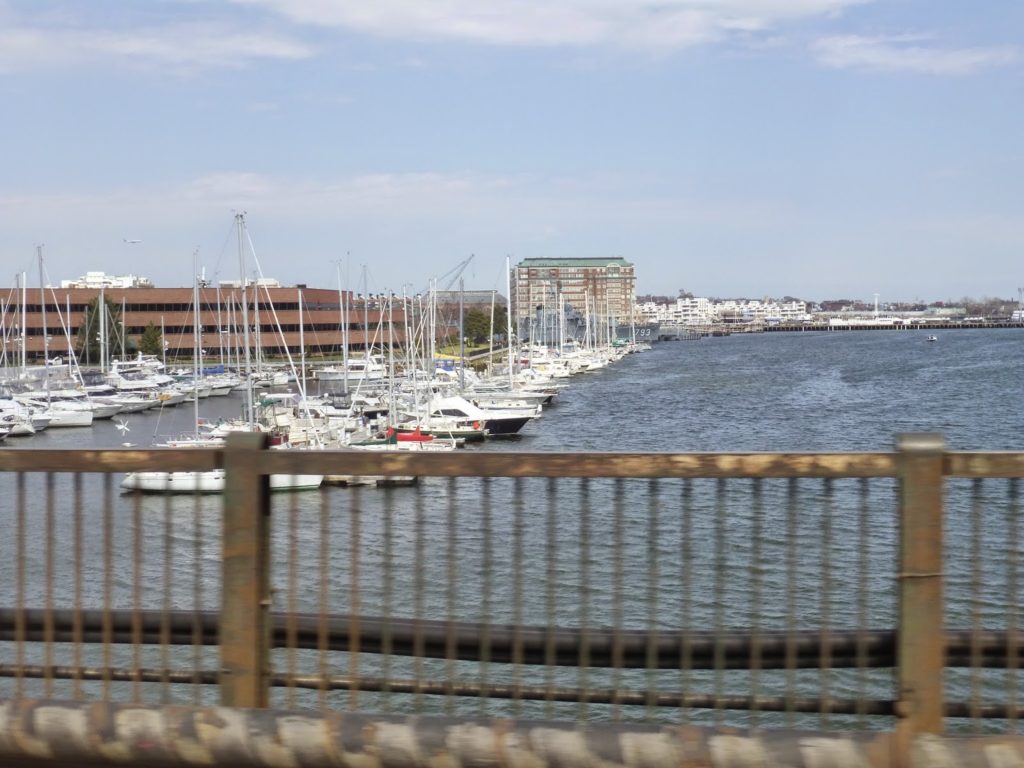 The view from the bridge.
We turned onto Chelsea Street, then Warren Street. This was a cute, narrow street with apartments on either side. Soon, we merged with Main Street, this being Thompson Square. We passed a small shopping plaza (blech), then the street became lined with small businesses and apartments.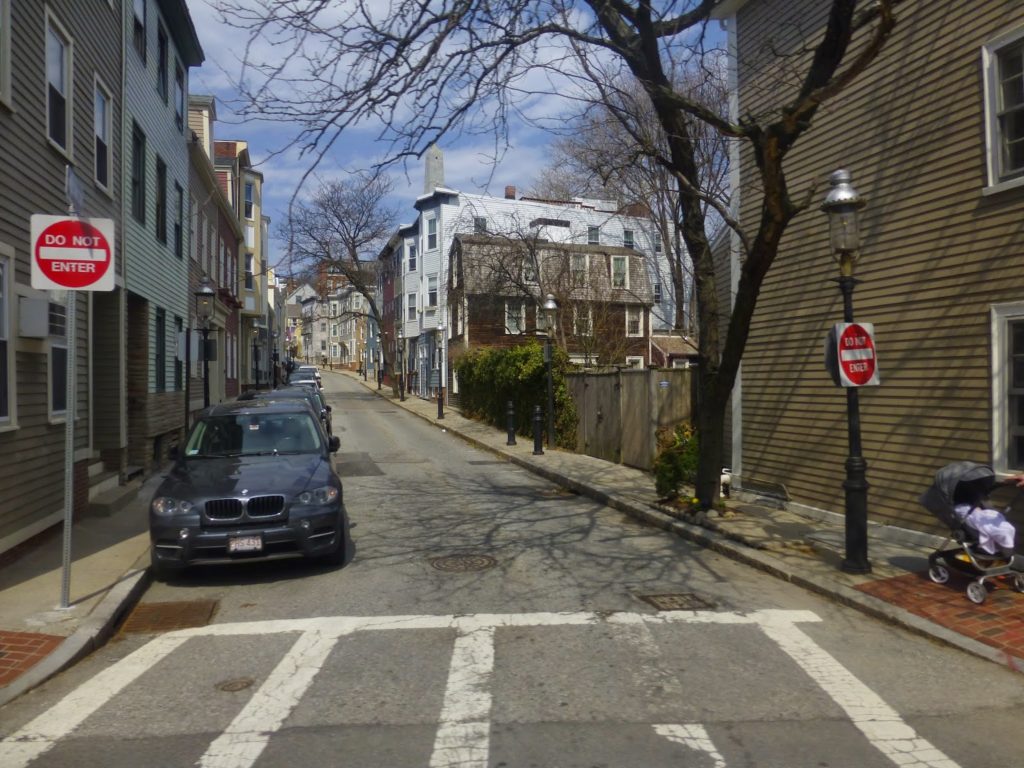 I missed the street that led right to the Bunker Hill Monument, but look! You can kind of see it from this one…
Passing a school, a playground, and the aforementioned suburban-style bank, we soon left Charlestown, merging into a big rotary. We navigated the maze of roads leading into the Sullivan Square busway, where two people got on the bus. After that, we left the busway and continued north, entering the trashiest part of the 92.
We headed up Mystic Ave, which had industrial buildings on one side and a big highway on the other. We then merged onto Middlesex Ave, which went behind the Assembly Square Mall. Heading onto the Fellsway for a block, we turned onto Grand Union Boulevard, then into the mall proper. The few people riding got off here, and I headed off towards Assembly Row and the Orange Line station.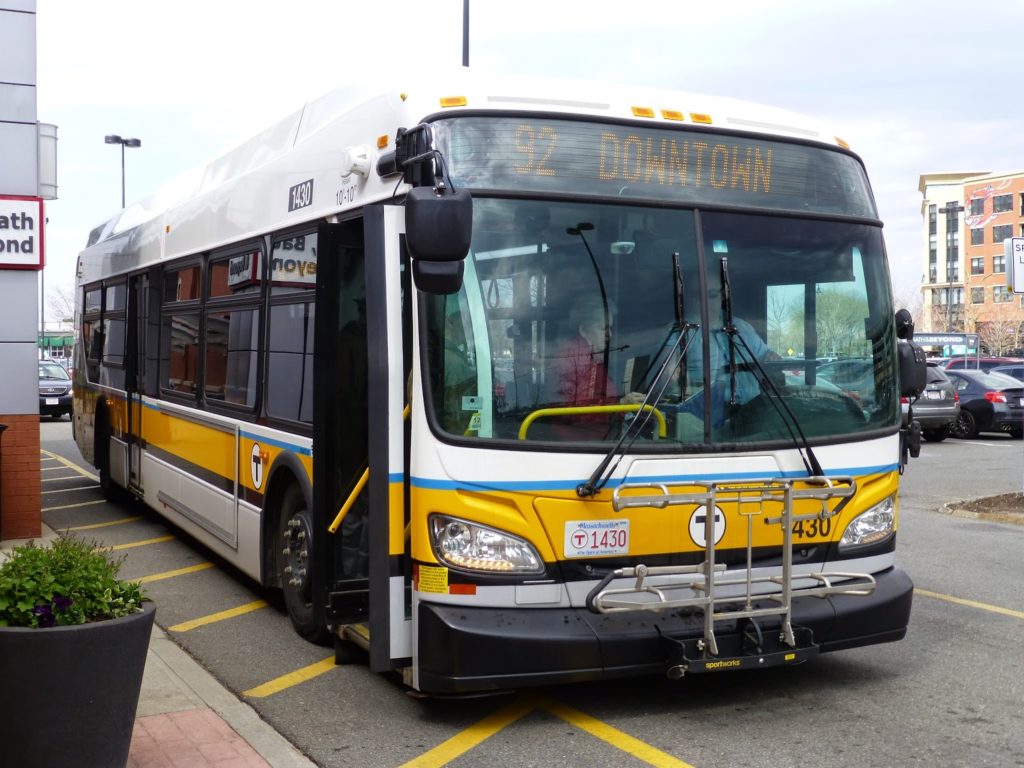 Getting ready to head back.
Route: 92 (Sullivan Square Station – Downtown via Main Street and Haymarket Station)
Ridership: There were only 5 people in total on my ride. And the last time I took the 92 (it was only from Sullivan to downtown, so I didn't review it then), there were only 3 people who rode! But then there was a time I saw the route at rush hour and it was packed. However, it would seem the 92 gets pretty subpar ridership overall, with an average 1,321 riders per weekday and 579 on Saturdays.
Pros: This is a good alternative to the 93, serving the whole of Main Street (though the 93 is a nicer ride, in my opinion). This one has the added bonus of going up to Assembly, though I'm surprised people still take it up there even after the new Orange Line station opened. I suppose the station serves Assembly Row, while the 92 is more for people going to the Assembly Square Mall. The route also has a good schedule, running every 25 minutes weekdays and every 35 minutes Saturdays.
Cons: There's no Sunday service, which is too bad. But actually, I wonder if the 92 even needs to run on Saturdays. The route only has an average of about 10 people per trip on Saturdays, which isn't very much.
Nearby and Noteworthy: I saw some small businesses along Main Street, but I've got nothing specific, as usual.
Final Verdict: 7/10
I mean, this is definitely a good route for what it's worth. It runs frequently and serves an unserved part of Charlestown. Here's the thing – on my ride, literally no one got on or off along the entire Main Street portion of the route. This could've been specific to just my ride, but if it happens often, here's a possible way to fix it. Maybe on Saturdays, the MBTA could run a combined 92/93 bus that goes up Bunker Hill Street, over to Assembly, and then back down on Main Street. That said, the 93 gets significantly more Saturday ridership than the 92, so it might overcrowd it. Well, just an idea.
UPDATE 9/1/19: This route now only goes to Sullivan instead of Assembly, a good change.
Latest MBTA News: Service Updates