As we all know, the MBTA had a rough time this winter. From outdated infrastructure to old trains, the MBTA needs to improve its winter performance for next year. But there's a more pressing concern for Boston's subway system: it's not fun enough.
"The MBTA had a rough winter, and we know that." says MBTA spokesman Joe Pesaturo, "But we thought, 'why spend billions of dollars fixing infrastructure when we can spend billions of dollars making commutes more enjoyable?'"
Certainly a bold statement. How exactly will the MBTA become more fun? It has plans to add trampolines, carousels, and ferris wheels in some of its busiest stations, and eventually the whole system. From their ad campaign: "Got 15 minutes to wait for the next Orange Line train? Pass the time by jumping on the trampoline! Just don't want to go to work today? Release your inner child on the carousel! The possibilities are endless!"
The MBTA will need to hire more staff members for this plan to be implemented. Namely, hundreds and hundreds of clowns to entertain tired commuters during rush hour! These improvements should be complete by 2020, and will make the MBTA a much more "funtastic" environment.
"Stupid, just stupid," says Karen Shmorfing, a daily commuter from Chelsea on the 111. "We're so packed in as it is, they're not gonna have any room for merry-go-rounds!"
"This is such a [expletive] horrible idea!" says Robert Trebor, who commutes from Waltham on the Commuter Rail. "They have [expletive] infrastructure, that's, like, five million years old, and they're spending their [expletive] small budget on [expletive] kiddy toys!"
"I like it," says John, 5.
The MBTA has produced an artist's impression of one of the new vehicles, as well as an FAQ.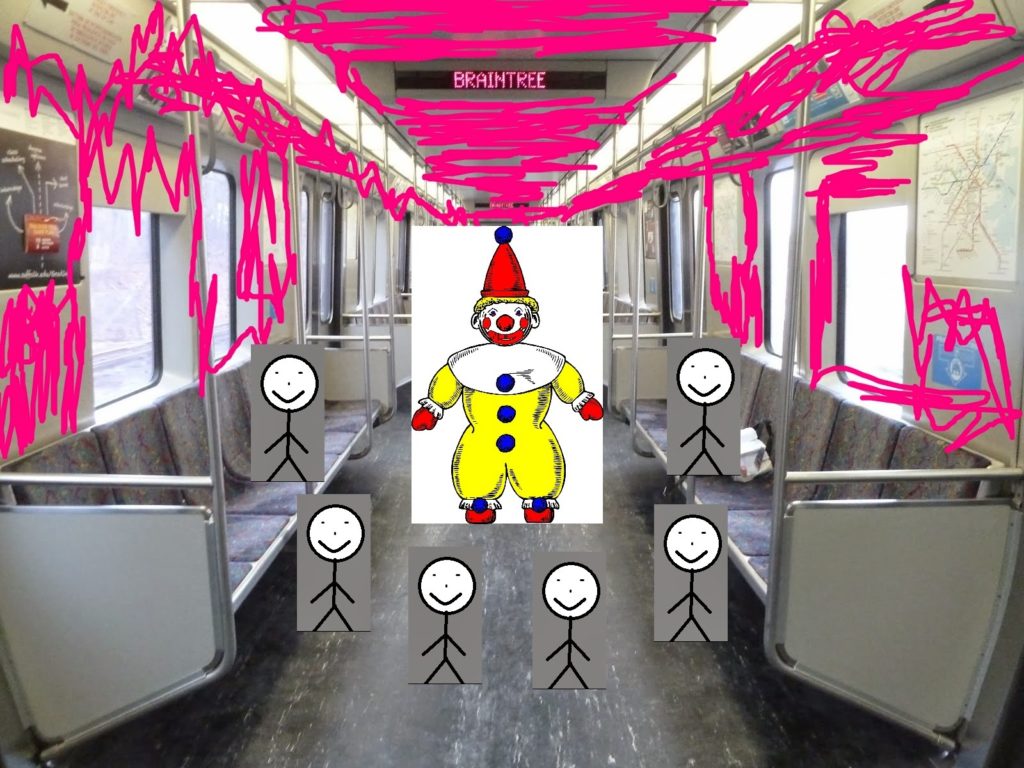 An artist's impression of a refurbished Red Line train. Note the pretty colors and the fun clown.
How will my commute be enhanced by these changes?
Your commute will be much more fun than it was before. There will be lots of fun rides at stations and many cute decorations around the system. And the subway announcers will tell jokes!
Okay, but what about when old trains break down?
Replacement shuttle buses will offer free lollipops.
How much will it cost to ride, say, the carousel?
Simply tap your CharlieCard to enter the ride. Fares are 20 bucks.
Will my monthly pass cover that cost?
No.
This isn't an April Fool's joke, is it?
Yeah, it is. Sorry about that.