Well, I got far fewer strange looks than expected when I boarded this one. The 351 is a reverse-commute route, meant to transport people from Alewife to the scores and scores of office parks up in the northwest. As it's a commuter bus, it's rush hours only, and I had to get up early in order to ride it from Alewife. Oh, the things I do for this blog…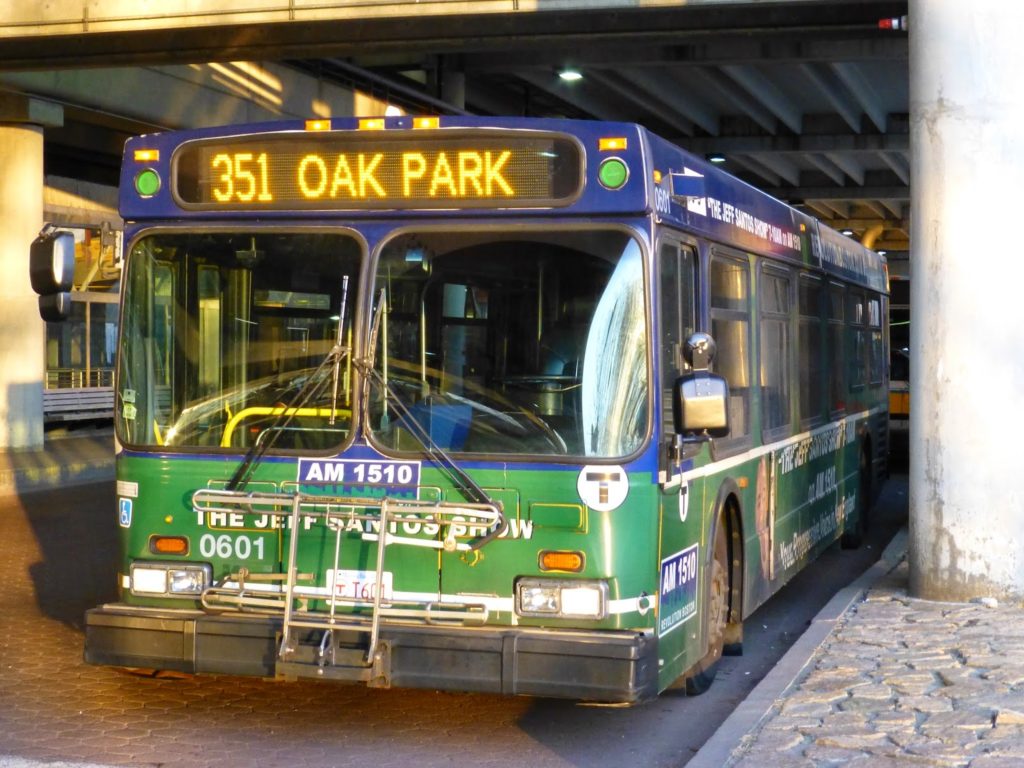 Even the vehicle itself is rare! You don't see that ad wrap too often.
We left Alewife and made our way to Route 2. We went by the stop at the pedestrian bridge, (which even the 351 stops at – has anyone used that stop ever?) and passed the developments on the other side of the highway. Whereas all the other Route 2 buses take each exit to make stops, we blazed through, remaining on the highway. The views from there were mostly residential at first, but eventually they turned to office parks (a very, very common sight along this route).
Taking Exit 52, we travelled up north on Route 128. From here, there wasn't much to see except for forest. Near our exit, there were views of a few malls, but mostly more office parks. 33 was the exit we took, and from there we turned onto Wayside Road. We passed a plaza, then turned onto South Bedford Street, which was all office parks.
After turning onto Burlington Mall Road, there were a few houses that made it into the mix, but it was primarily office parks or shopping plazas – all with massive parking lots. We crossed the Middlesex Turnpike, and the street we were on became Second Street. There were a few more offices, then we went through what seems to be Burlington's version of Assembly Row, Northwest Park.
But when we turned back onto the Middlesex Turnpike, it was once again office parks. There was a small detour to serve the Network Drive complex, and we turned onto Burlington Road soon after. But we left that to serve the MITRE Corporation complex (it's pronounced "MITE-er" apparently, but I'm still calling it "MIT-ra" – it's more fun to say), and then came back onto Cosby Drive.
This round of office parks along Cosby Drive saw all the passengers get off except for me. The driver asked me where I was going, and I told him Dawes Drive in Billerica (the last stop on the route). Unfortunately, the bus serves a few other areas before Dawes, but the driver just took me directly there. He had good intentions, but actually getting somewhere wasn't what I wanted to do…
Normally, the bus would take a left onto the Middlesex Turnpike and serve the Bedford Woods and Oak Park complexes then come back to Dawes Drive. Since it was just me, though, we took a right onto the Turnpike instead, going by a few housing complexes (everything's a complex in this neck of the woods). We turned onto Dawes Drive, going past two hotels, and the driver let me off at the EMD Serono research center. He changed the bus to "NOT IN SERVICE," and left the complex. So there I was, in the middle of nowhere with no other bus connections. Or were there? Stay tuned!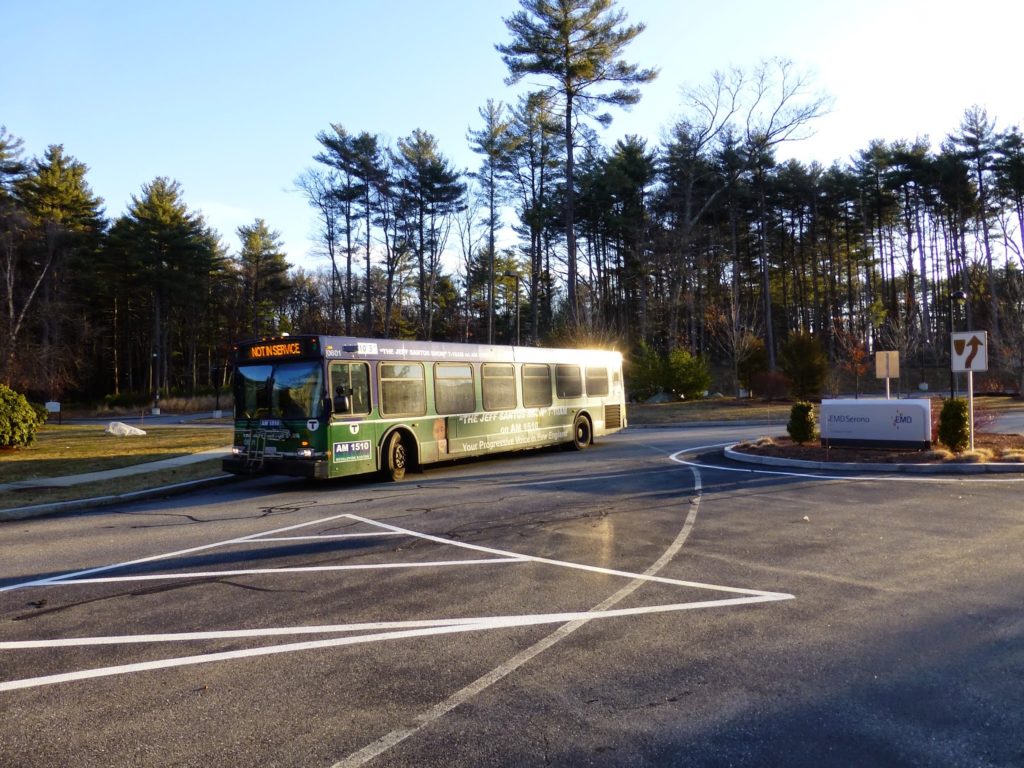 The driver gave me a strange look when he came back around the loop. So I guess that's one, then.
Route: 351 (Oak Park/Bedford Woods – Alewife Station via Middlesex Turnpike)
Ridership: There were almost 20 people who rode, all getting on at Alewife. Right after we got off the highway, the stop requests started chiming, and people fed out in ones and twos to various office parks.
Pros: It provides service to a lot of office parks. And it's quick, too – we made it up to Burlington Mall Road in only 10 minutes! The only other route to serve the office parks is the LRTA 14 bus up to Lowell, and that bypasses a few areas like the Northwest Park. Plus, it goes up to Lowell, while the 351 goes closer to Boston. I will say this, though – the 14 is pretty convenient if you're stuck at Dawes Drive…
Cons: Well, the bus only runs four times a day in each direction. But actually, that's really all you need. Unlike the 352, which had mostly shoppers on it (which would justify two-way or midday service), the 351 is just hardcore commuters. There's no reason for anyone else to ride this route, unless office parks are your thing. However, if the Northwest Park becomes the hub it's planning to be, then 351 service could be increased. Or they could just detour the 350 to serve Northwest Park, which would probably be better.
Nearby and Noteworthy: Yeah, office parks. But maybe Northwest Park will be something worth seeing in the future. And this is the only MBTA bus to serve Billerica, even if it just barely crosses over. Too bad there's nothing interesting in that small corner of the town.
Final Verdict: 7/10
This bus does its job well as a hardcore commuter route serving a whole bunch of office parks. So actually, I think the schedule is perfectly reasonable in that respect, since buses at other times would be totally empty. Though actually, the 351 was on the chopping block in 2012, so maybe the LRTA 14 will eventually be the only option. That would be a pain for those working in the office parks if they had to take the 350 up to the Burlington Mall, then change to the 14 from there. It would take longer, too.
Latest MBTA News: Service Updates
The fate of MBTA late-night service will be discussed soon. People seem to be using it, so hopefully it sticks around.