Though our hotel was right near Burlington's 1 bus, we ended up taking a ride on one of Montpelier's buses. See, we were coming back from Burlington and decided to stop off at Vermont's capital to walk around. I picked up a bus schedule at the visitor's center, and we took a joyride on the 82! Now, keep in mind that I didn't have my camera, so these pictures were taken on my mother's iPhone. The quality is still surprisingly good, though, so don't worry about any pixelated blobs in this post.
The Montpelier bus system is operated by the
Green Mountain Transit Agency
, or GMTA. They also run services to nearby towns like Berlin, Barre, and Northfield. There are long distance buses to places like Stowe, St. Johnsbury, and even Burlington, but they seem to be run by other companies.
But we're focusing on
the 82
. This seems to be a shuttle for people getting from Montpelier to Berlin, and it's pretty quick between them. As you would expect from such a tiny bus company, the schedule is…lacking. It's every hour on Monday-Saturday, from 7:16 (8:16 for the latter) to 5:16. Keep in mind that the bus operates in a loop, so the last bus from Berlin leaves a little before 6 back to the capital.
The fares are only a dollar, but there is a discounted fare for students and seniors (which the driver failed to tell us about) of 50 cents. Interestingly, students and staff at colleges in the area can ride the buses for free. Also, you can flag down or get off GMTA buses between designated stops, of which there are few anyway. You can even call 24 hours in advance to deviate the bus from its route to pick you up! That's always a nice way of operating buses.
The 82 starts at "Lane Shops," a little north of downtown Montpelier. We got on the bus at Shaw's, which is the hub of the system. And I'm not kidding, they actually call the hub "Montpelier Shaw's." The hub in Berlin is also named after Shaw's and the one in Barre is called "NAPA Auto Parts." Well, a small system like this could certainly use the extra income from naming rights.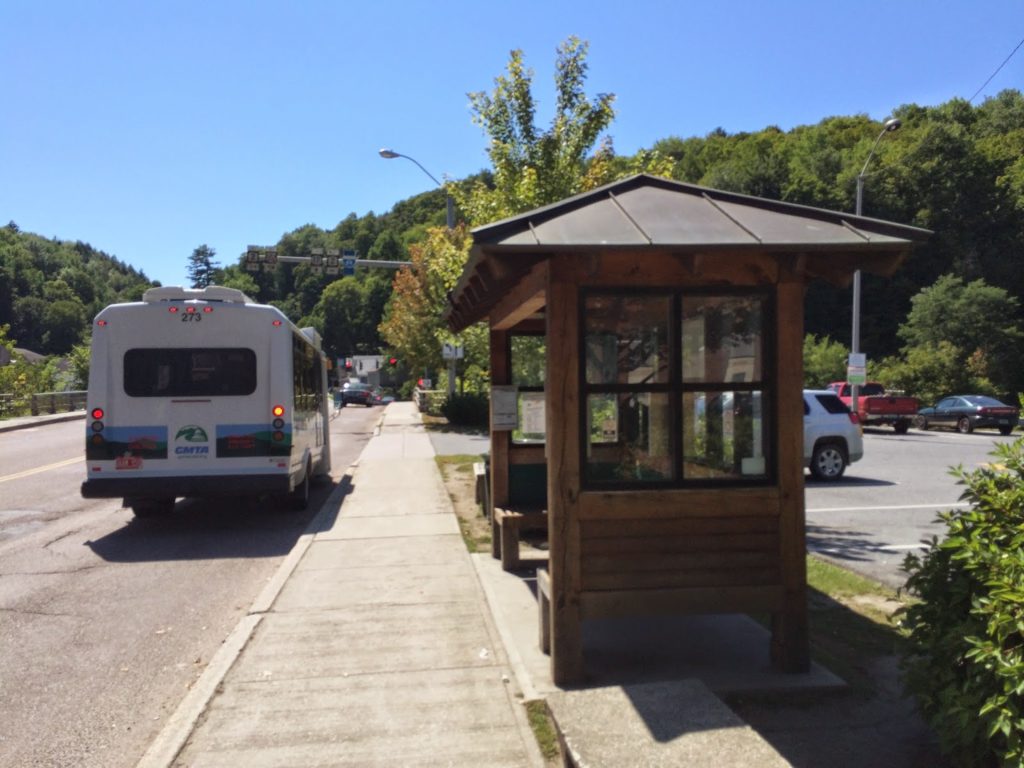 Welcome to Shaw's…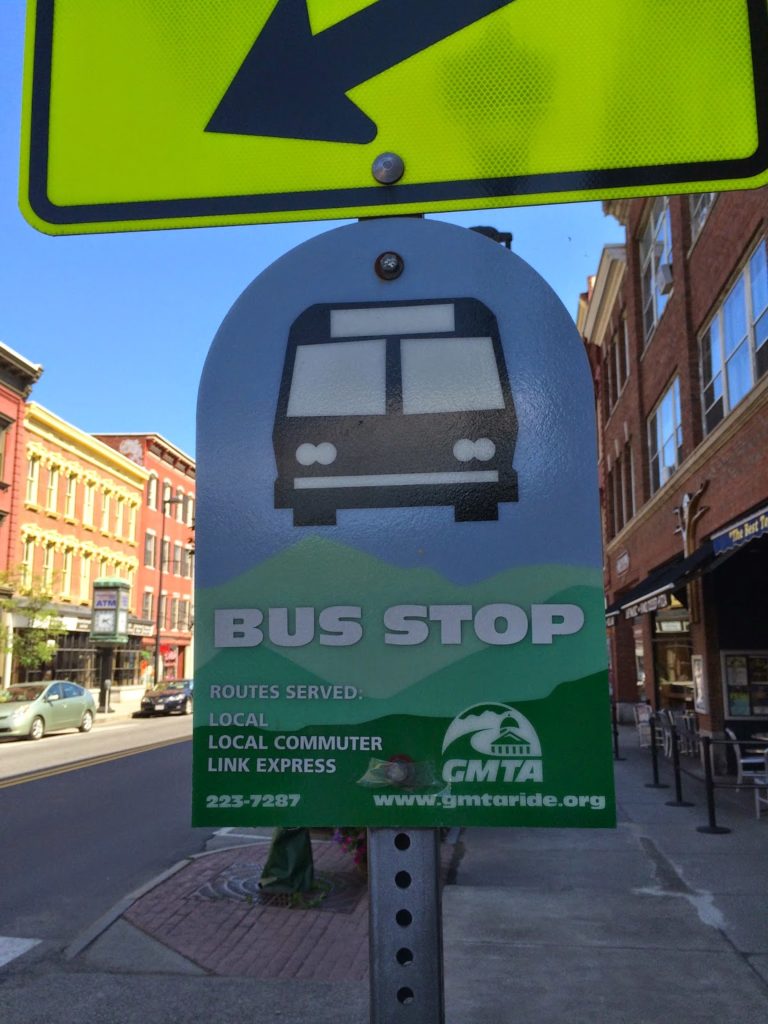 A typical bus sign, almost identical to the ones in Burlington.
The GMTA runs its services with these cute little minibuses. I can see why they would use these, since there were only six other people who used this bus on our run. The fact that they had poles for standees was kind of funny, but maybe the vehicles get busier during rush hour. The seats even had seat belts! A nice precaution, I suppose.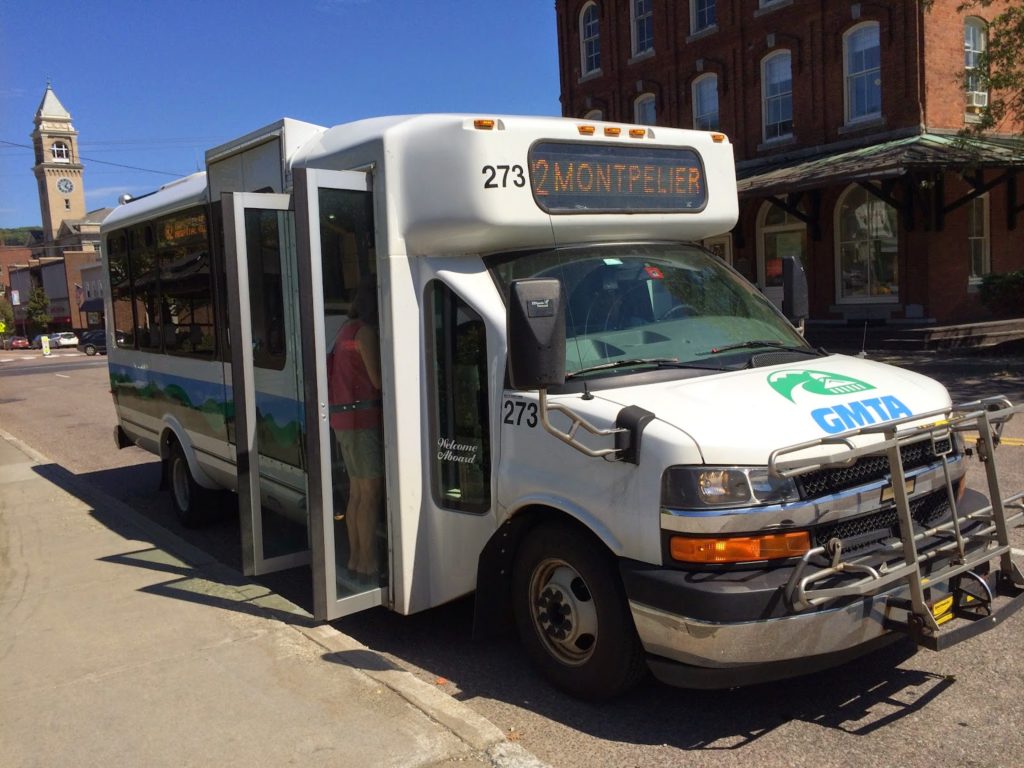 No, it doesn't say "2." It's just a bit cut off.
It's blurry, but you can clearly see how small this thing is.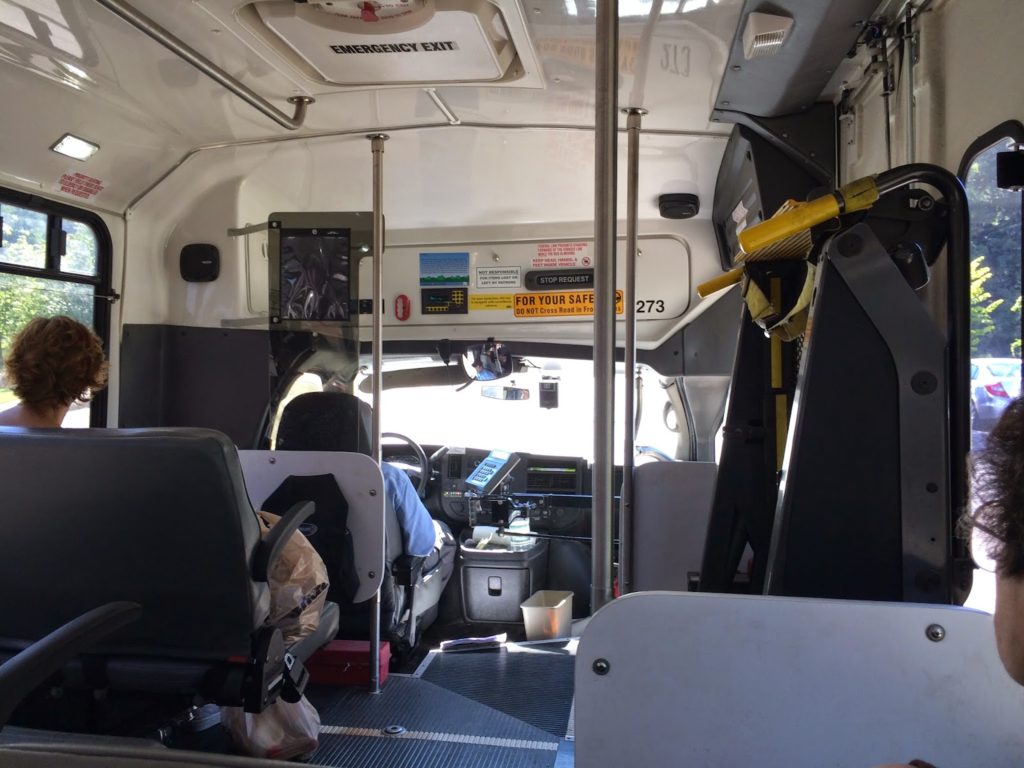 Looking towards the front.
As you would expect, there weren't any automatic announcements. They had a pull cord for stop requests, but most people would just notify the driver they were getting off, since they wouldn't be using a designated stop. We left Shaw's, heading away from the beautiful downtown area and over the Winooski River (which you can't help saying in a funny voice).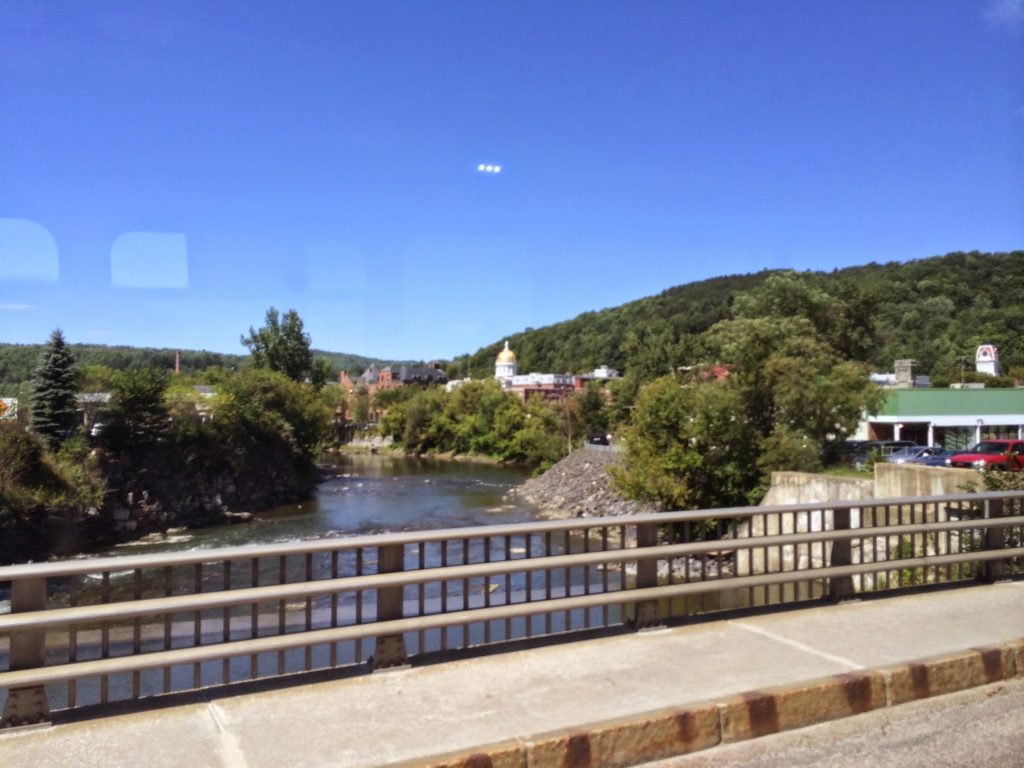 The river has a ridiculous name, but this is a lovely (albeit blurry) view.
We turned onto Berlin Street, which parallels the river. Running along with the 80 and 89, which both go to Barre, the street got residential pretty quickly. They continued to follow the river on River Street while we went up into the hills on Berlin Street, the unique portion of the 82. There was a lovely view of town coming back this way, and there were some fabulous mountain views the whole way.
Berlin Street turned into Paine Turnpike North as it got positively rural. We then turned onto Fisher Road and soon after pulled into the Central Vermont Medical Center, where two people were waiting. After navigating through a large parking lot, we then went onto Berlin Mall Road and picked up someone at the mall.
After that we turned onto Route 62 and, after going by the Berlin Elementary School, looped around the Berlin Shaw's. We went back up Route 62 then turned onto Airport Road, and then Hospitality Drive, picking someone up at Berlin Health and Rehab. The bus had to reverse to be able to pull out of there, and then it was back to Montpelier where our car was waiting.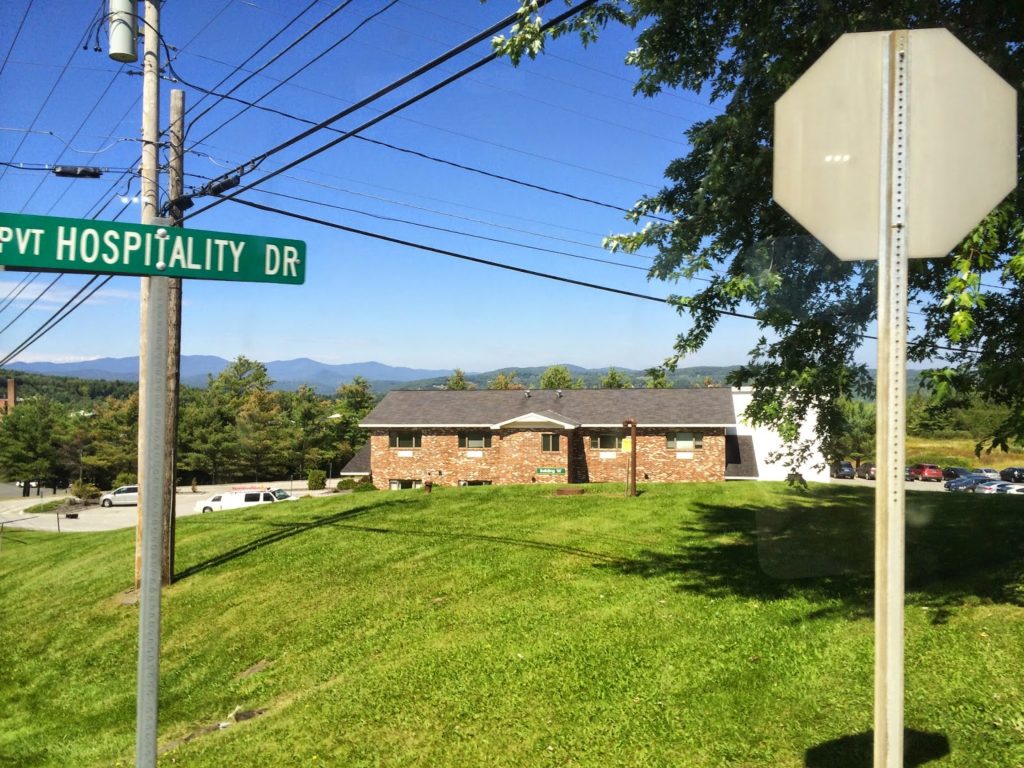 I tried to capture the view…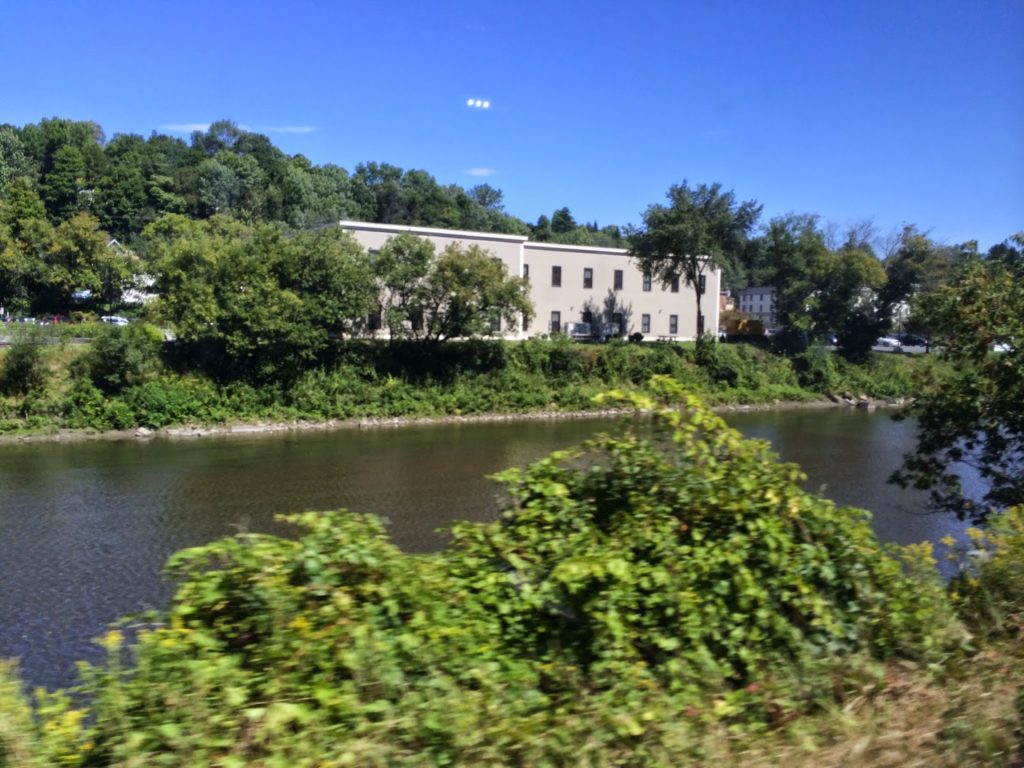 The section by the river was very nice.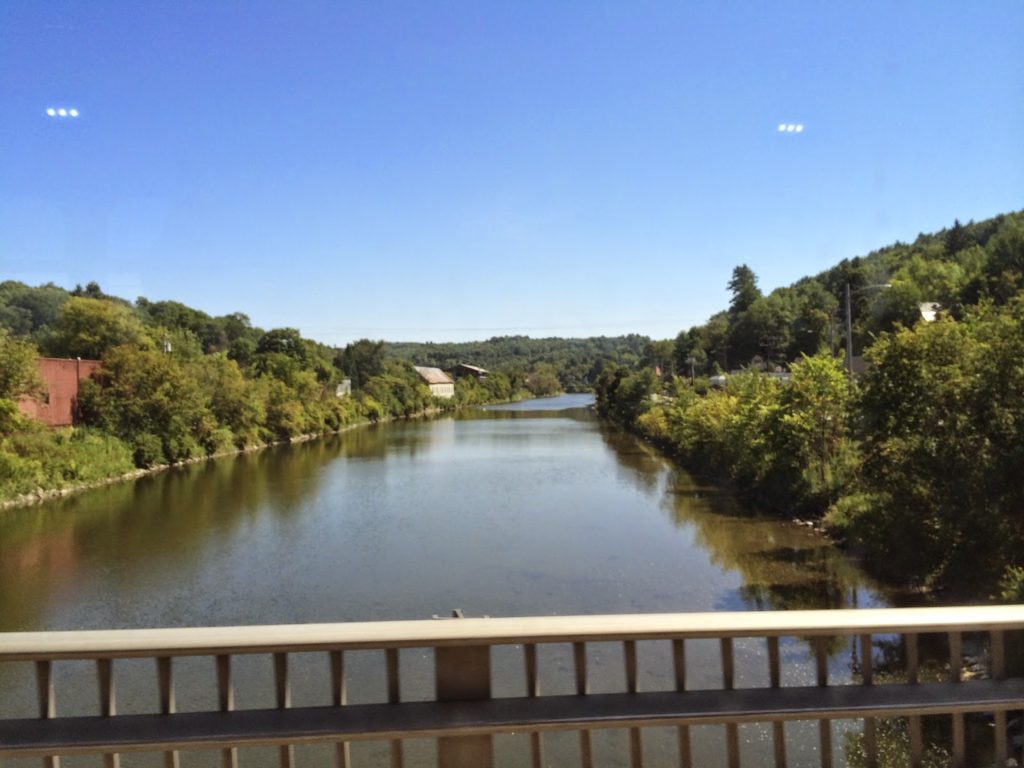 Looking the other way down the river.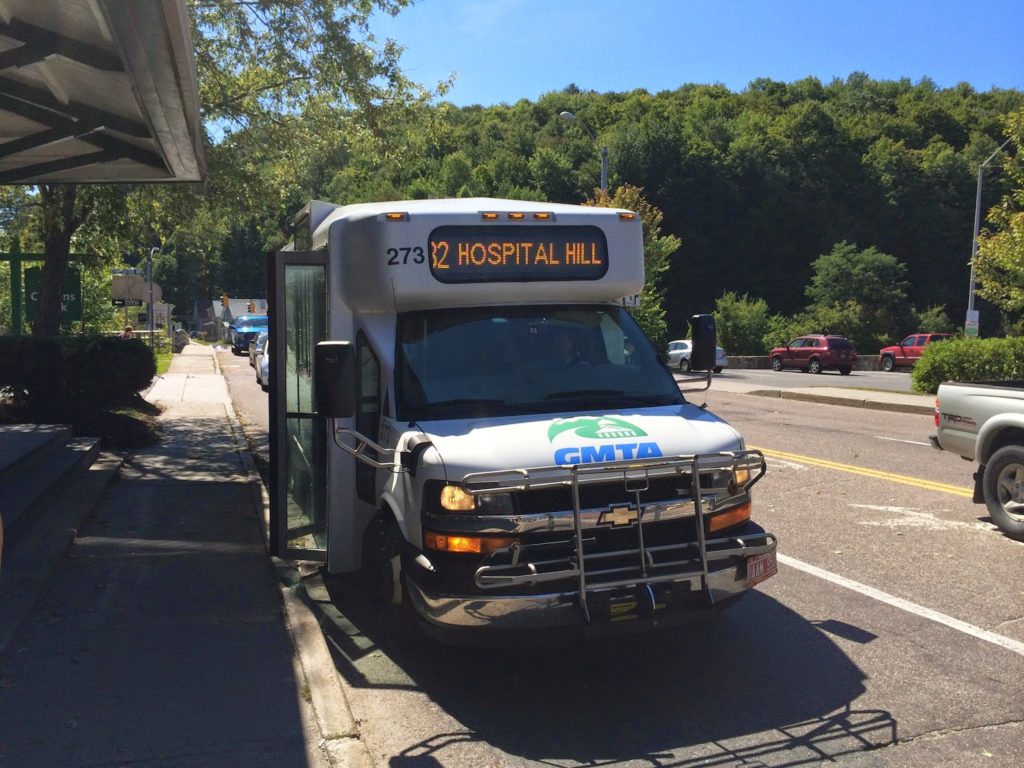 That number's still cut off!