The TTC refers to the 510 as something like "streetcar rapid transit," but I like to just refer to it as a Super Streetcar. Unlike most TTC streetcars (the 509 and 512 are the other two classified as SRT), the 510 runs in a median separated from other traffic. That means that the trains really move quickly along Spadina Avenue. The other cool thing about the 510 is that it runs through all three of the TTC's underground streetcar stations. The two by the harbor were closed, but we did take it through the other tunnel up at Spadina Station.
We got on the 510 at Dundas, right in the heart of Chinatown. Fittingly, there was a cool dragon sculpture at one end of the stop, though we didn't have very much time to enjoy it since we were running for a streetcar. Also of note is how leafy the median is: it really makes the street look nice.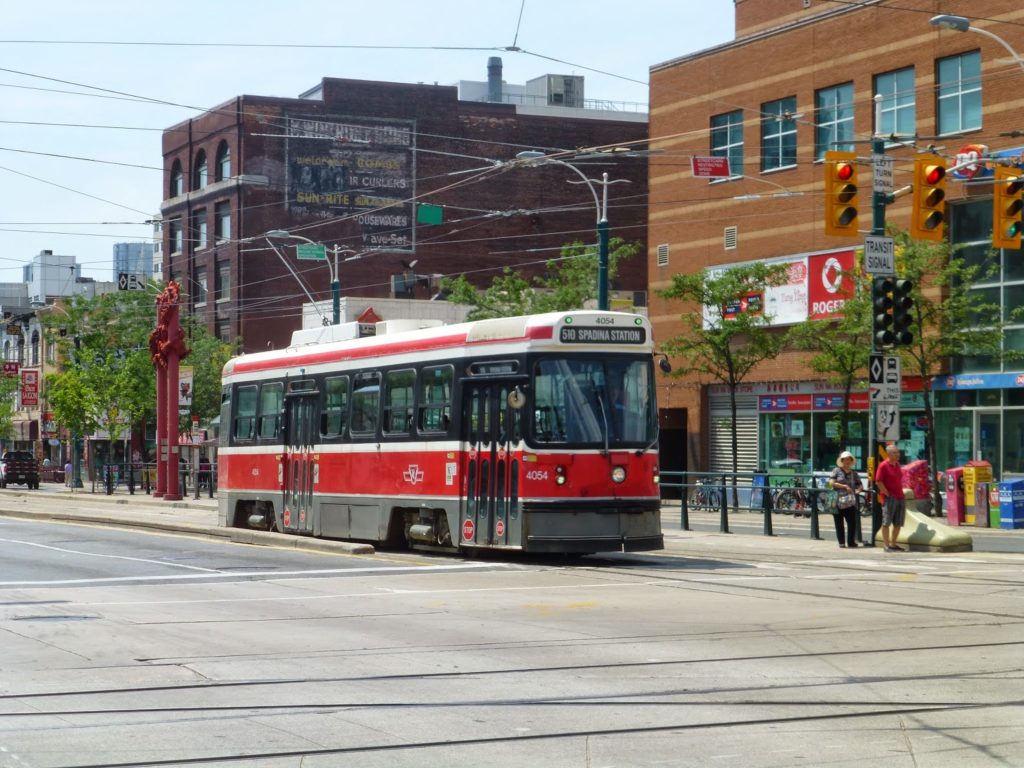 Not bad, considering I was running.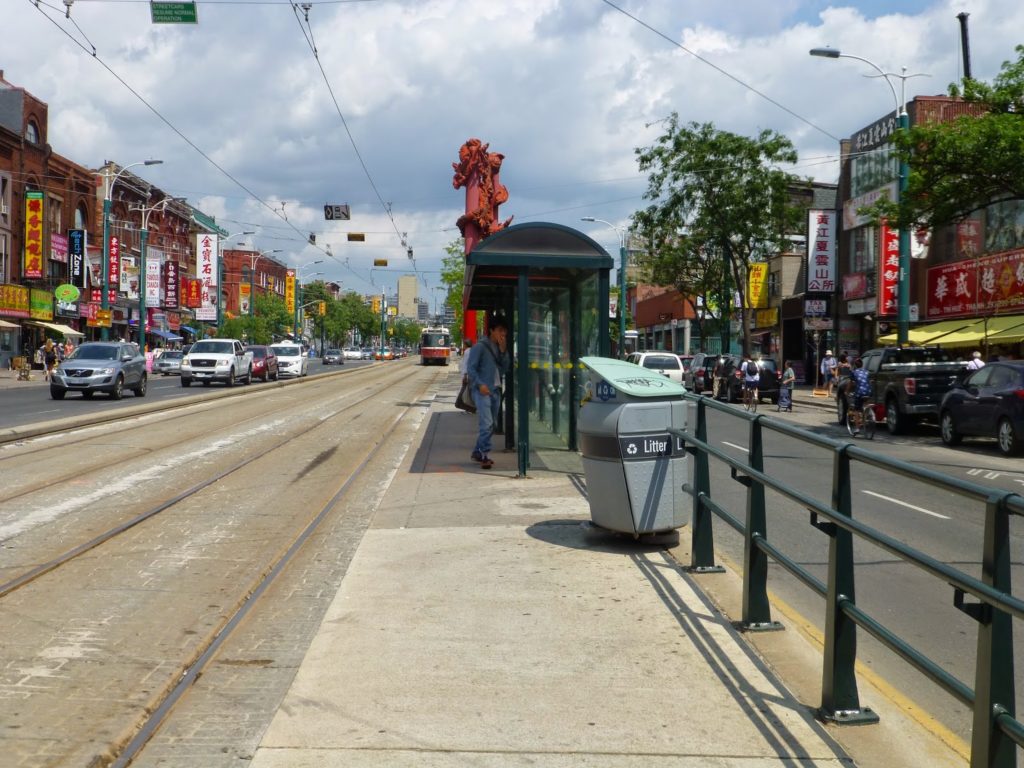 So there aren't that many trees here, but it gets better.
We sped up through Chinatown, which mostly runs up Spadina, but once we got to College the business names turned English again. Soon after College the street split up into a rotary around a big church-like building that may or may not be a church. It could also be a University of Toronto building, as we were running alongside the university during this next stretch.
There was a tall building, uncharacteristic for the neighborhood, just before the tunnel portal. In the tunnel, I could hear a lot of screeching from the streetcar. Looking on the map now, it looks like it does make some sharp curves to get into the station. There was a bit of a wait just before because of boarding streetcars, then we came in and everyone got off to go to the subway.
A streetcar going through the tunnel.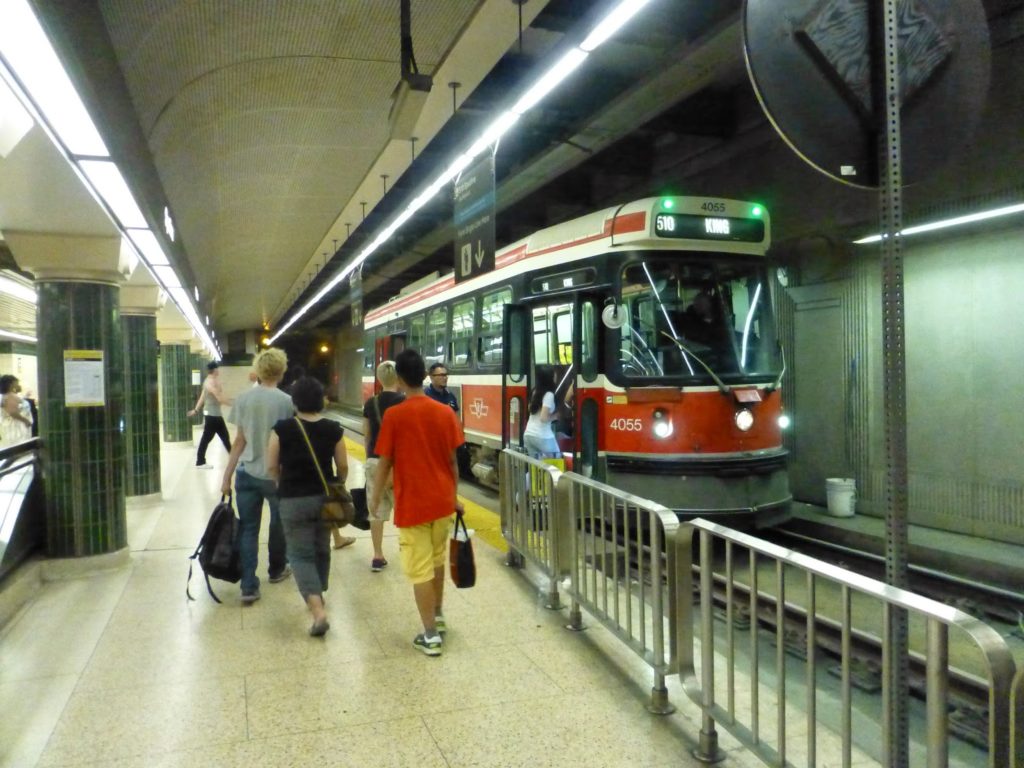 A streetcar at the station.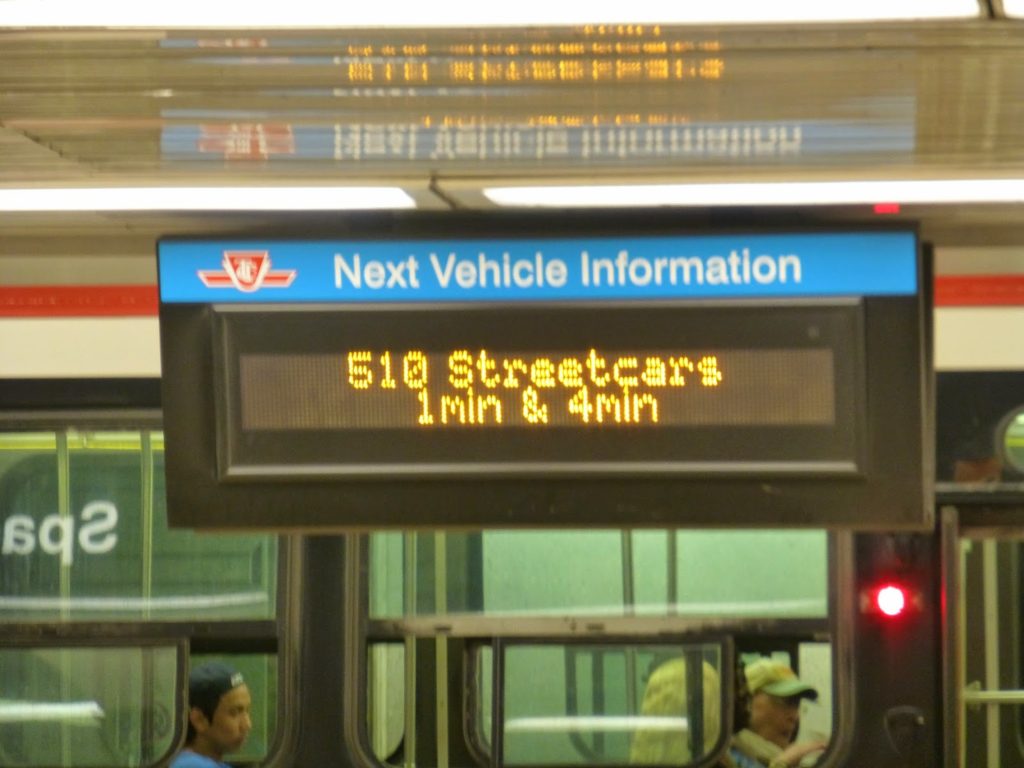 They do have countdown clocks here.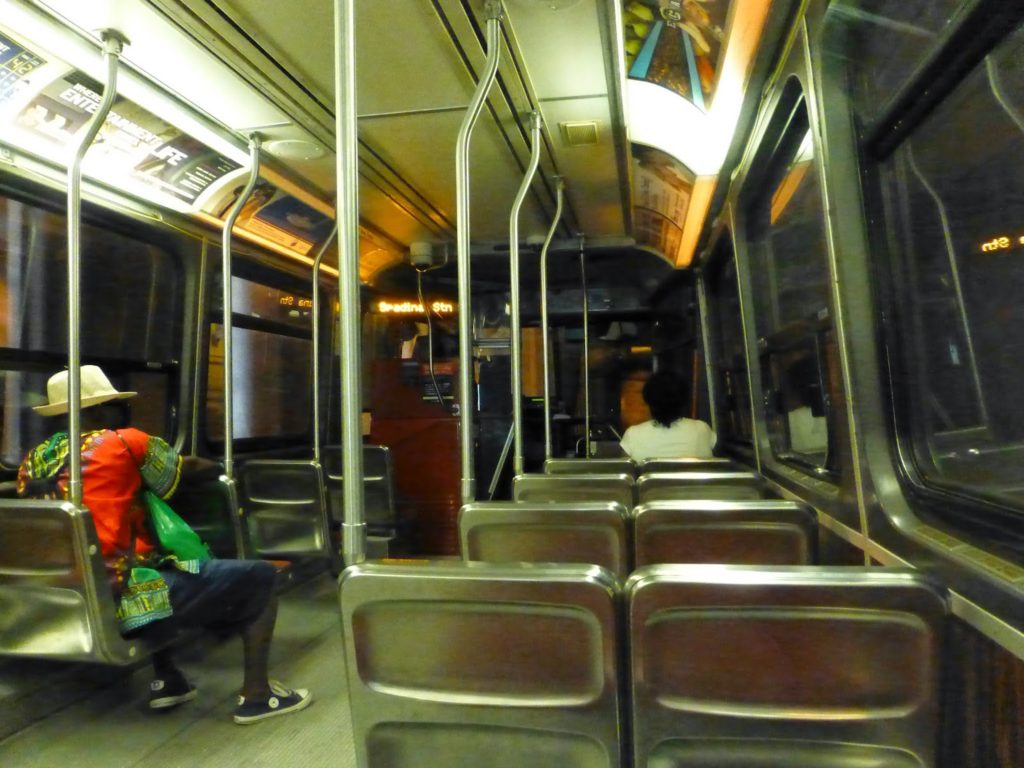 It's so dark!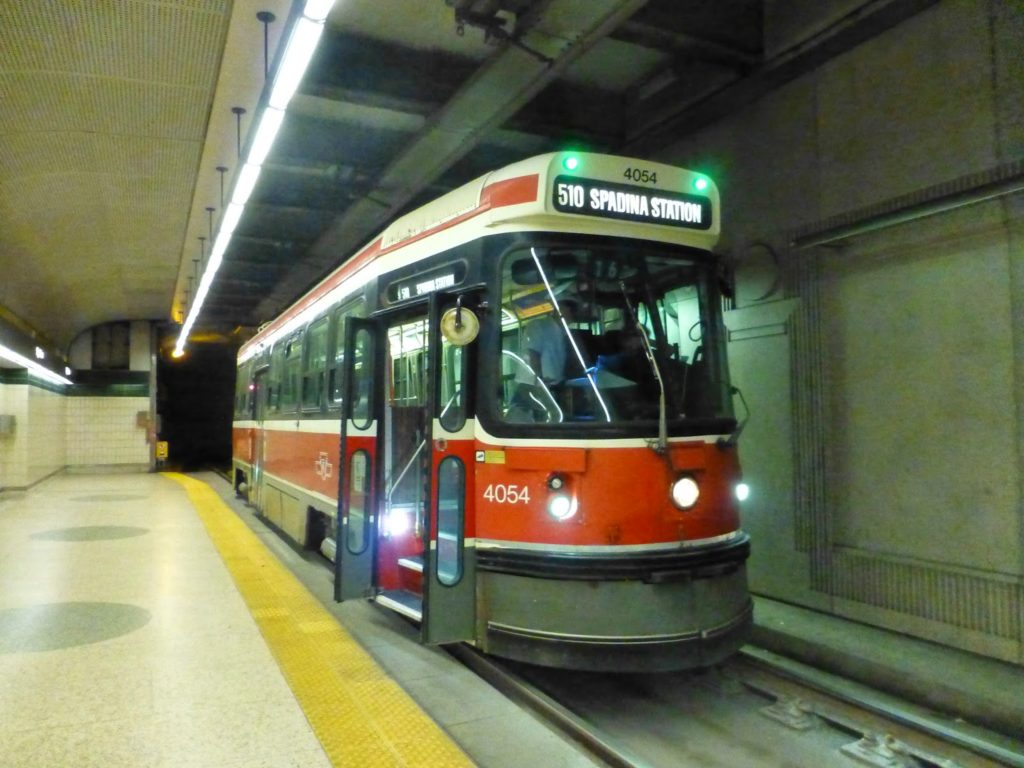 This was the streetcar that we took.
Replacement buses: you gotta love them. Turns out that part of the 511 Bathurst streetcar was being replaced by buses when we rode. We were waiting at the King Street stop for quite a while until finally a bus showed up. Everyone piled in (and I mean piled in), and the bus went up Bathurst at a glacial pace. The driver seemed both astonished and amused at how crowded her vehicle was.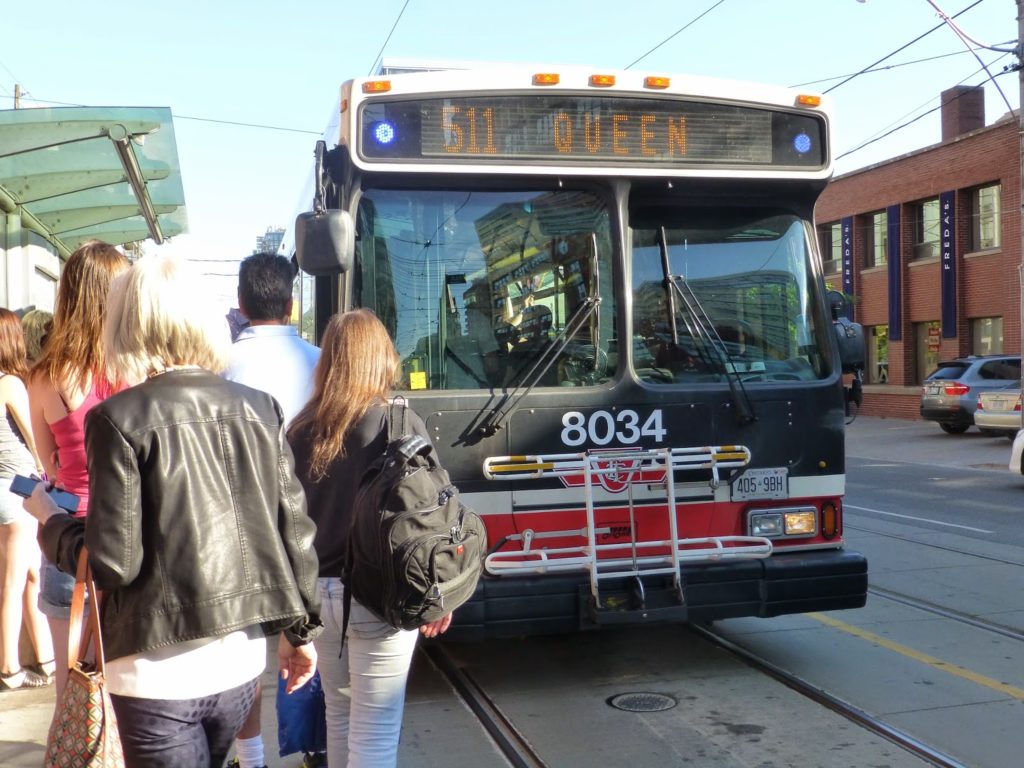 I was not happy to see this.
After what seemed like a million years, we finally arrived at Queen Street where passengers could get off and grab the streetcar. We waited at the Queen Street stop for another million years, until we found out that it was boarding on a side street. Really? Ever heard of signage?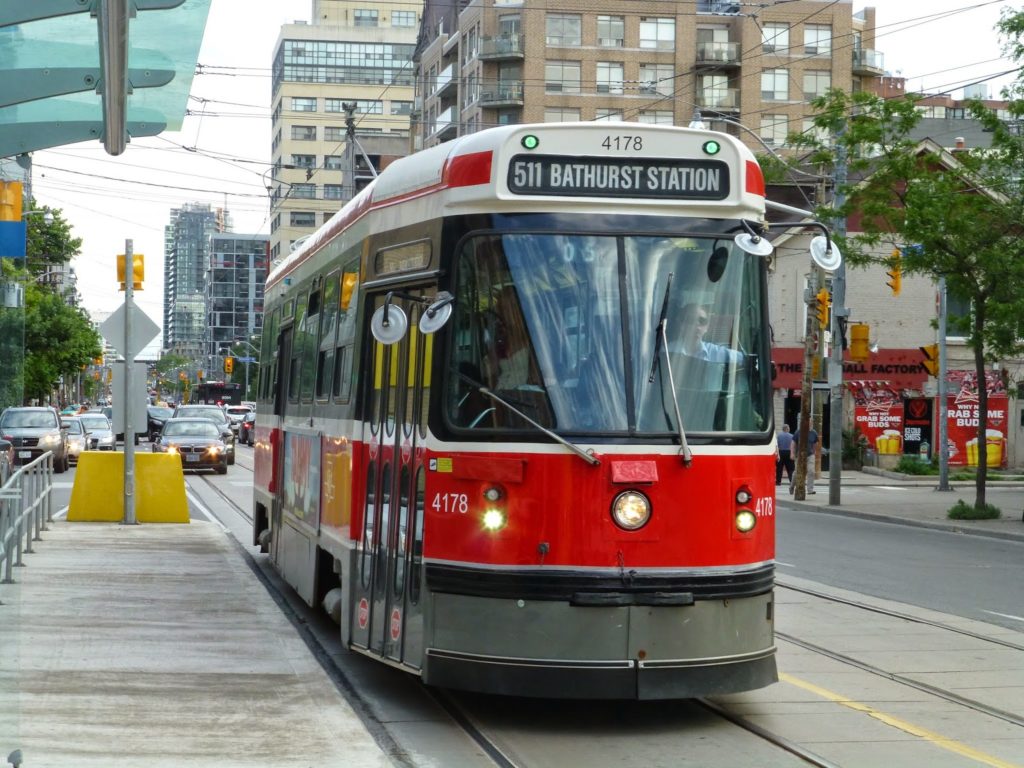 I don't have any pictures from the bus experience, so here's another 511 we took at the normal Queen stop.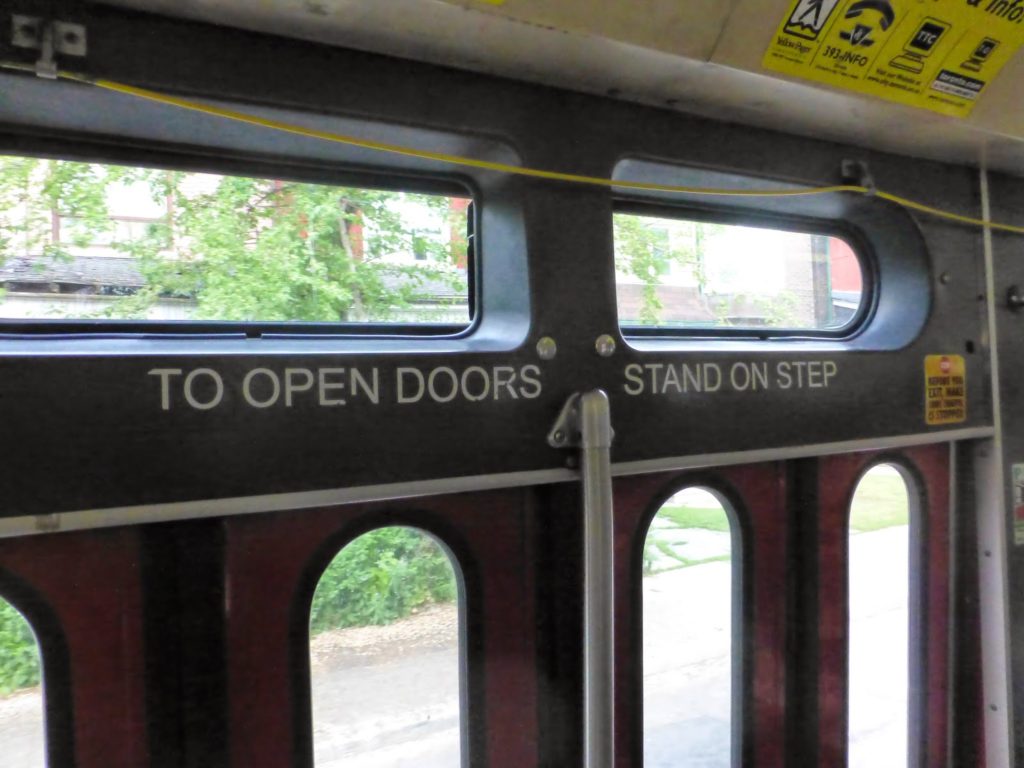 A very cool feature about all of the TTC streetcars.
There were some businesses after Queen but soon it changed to amazingly cute British style flats. After going by a park, we crossed Dundas and went by a huge hospital. There were some businesses up until College, then it was just the flats on both sides. We went by a track and field, then pulled the cord (so much better than the buttons here) and got off at Lennox Street to go see a play.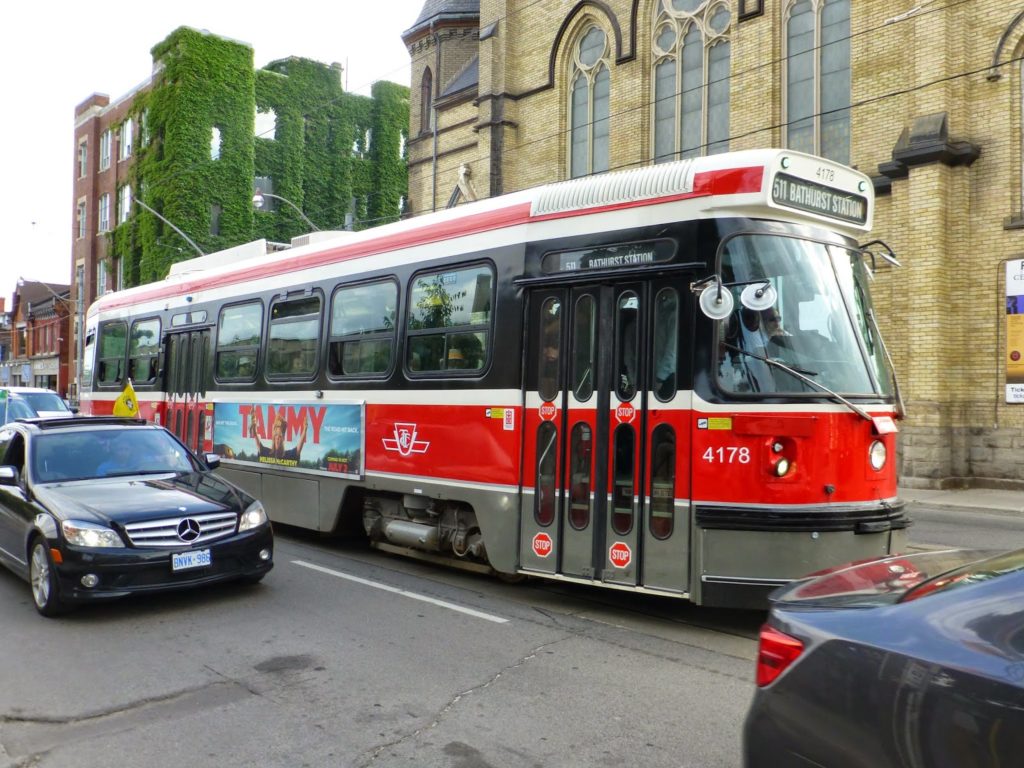 What a charming neighborhood and a great ride. It almost makes the bus ride worth it…