I always figured the 72 was a pretty bad bus. Looking at the map, you can see that the route is absolutely tiny and most of it is within walking distance of another route. But it ran with trackless trolleys, making it a good route in my book. But then they stopped running trackless trolleys on it (despite keeping the wires up) – now we can see how bad it actually is. Good thing this won't be a biased review, I suppose.
Starting in the Harvard Bus Tunnel, we left with seven people (incredible ridership!), including a guy who wouldn't stop saying "Yeah." We snaked around to Garden Street, going by the Cambridge Common, and picked up two more people at the next stop. We headed up Garden Street, then went onto Concord Ave. There were mostly apartments dotting the road, with houses in between.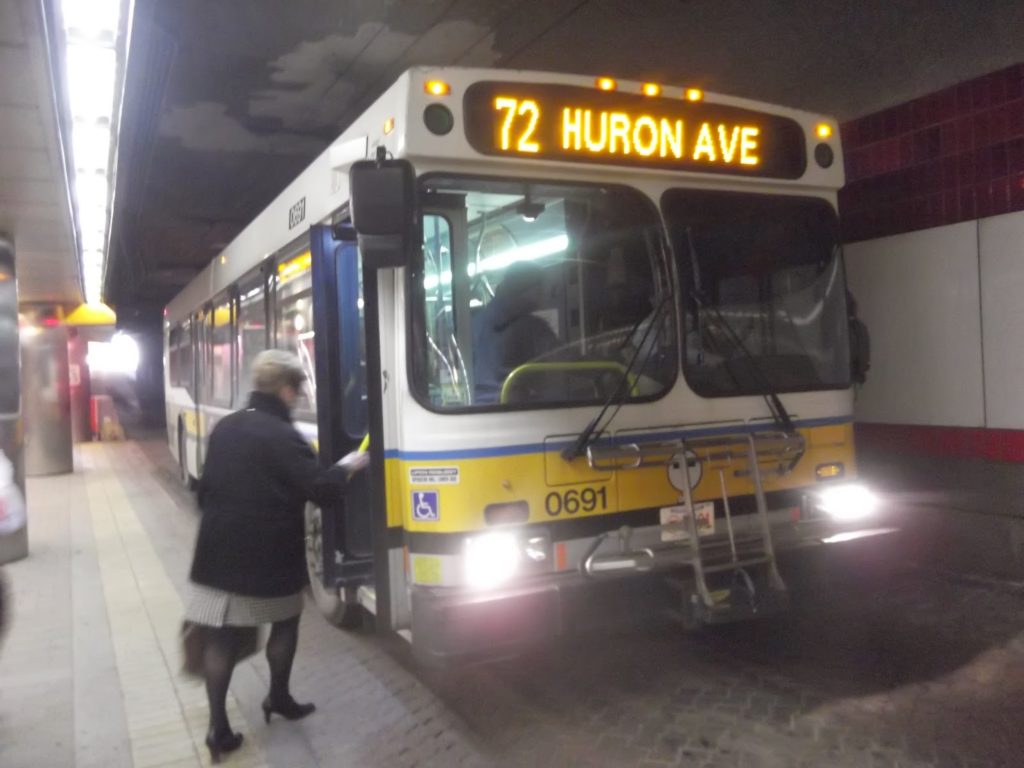 Looks a bit gloomy, actually.
There were some businesses and a gas station at the intersection of Concord and Huron Aves. We turned onto Huron, leaving the other three routes that run on Concord Ave. Huron Ave was mostly little houses, but there were also some apartments. Later some businesses popped up, including a cool old-fashioned street clock.
From there it was houses again. The bus crossed Fresh Pond Parkway, which was in total gridlock, then there was a nice view through the trees of the Parkway's namesake. The bus then turned down Aberdeen Ave, and by now there was only one person on the bus aside from me. I actually love Aberdeen Ave – it's a mostly residential street with a large, grassy median. In the summer, the median has lovely trees growing from it, though they were all dead when I rode.
The unique thing about Aberdeen Ave would unfortunately only apply if the route was still using trackless trolleys. The poles for the wires are actually on the median, as well as the stops. So I believe when this route ran with the trolleys the left hand doors were used on this stretch. But again, it's running with diesel buses now, which don't have left hand doors, so the driver awkwardly let the remaining rider off in the middle of the street. I got off at the next and last stop, which was at Mount Auburn Street. The bus just did a u-turn back down Aberdeen Ave, and I got a 71 back to Harvard, which was actually a trackless trolley. Ha.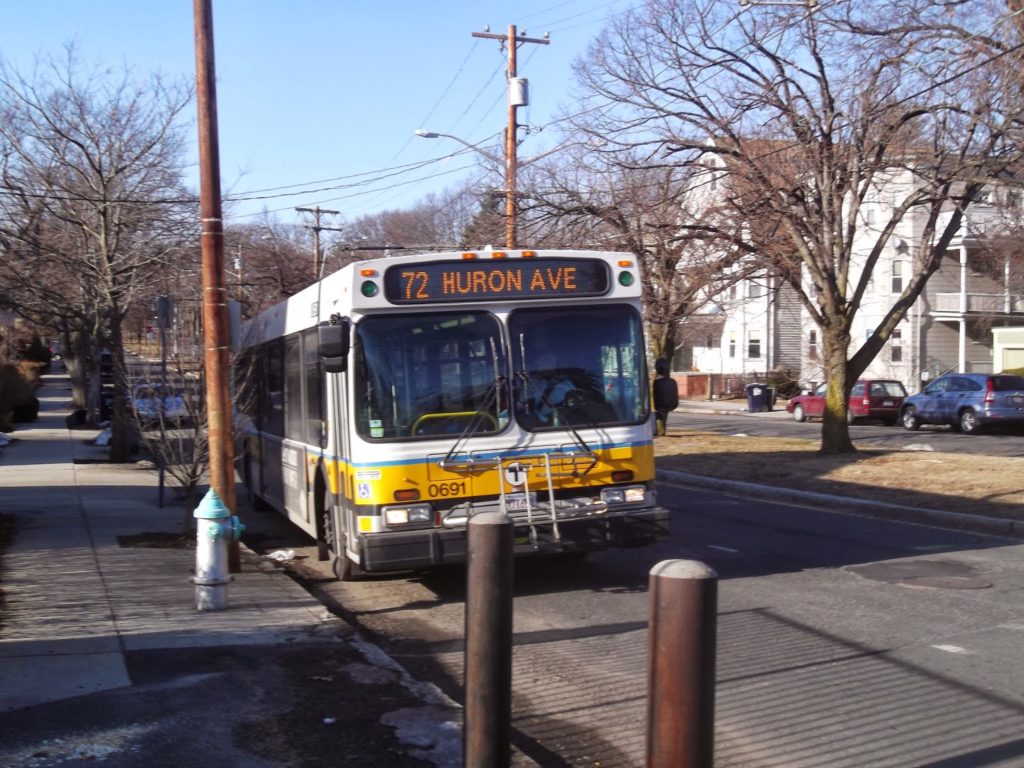 This is kind of the total opposite of the first picture.
Route: 72 (Huron Ave – Harvard Station via Concord Ave)
Ridership: 9 people in total rode this bus, and a few got off on Concord Ave and could've used a different bus. Not the best ridership ever.
Pros: The schedule is admittedly decent – every 20 minutes rush hour, and every 30 minutes weekdays, nights, and Saturdays. On Saturday nights and Sundays, this route and the 75 are replaced by the every 40 minute 72/75 route (more on that later).
Cons: First of all, the route is very short. It's only about 2 miles, and the whole trip only takes about 10 minutes. But there's really no point in taking this from beginning to end – if you live on Aberdeen Ave, the 71 or 73 will get you there in a more direct way (though it would be more crowded, I suppose). And the section on Concord Ave, which makes up about half the route, is served by three other buses, making it a "whatever comes first" situation. Therefore, the section on Huron Ave is the only part of the route that's "exclusive." But this bus has also committed the heinous crime of formerly running trackless trolleys but now running diesel buses, despite the fact that the wires are still up there. I saw no construction that would force this to happen. Unless there's a logical reason for this (leave a comment if you know), the route is horrible. There, I said it.
Nearby and Noteworthy: I really like Aberdeen Ave, personally. And there's a nice little library on there, too.
Final Verdict: 3/10
I never had high hopes for this one. The ridership was horrible, the route's really short, and only about half of it is worth using the route for, specifically. I do like how on weekends the 72 and 75 are merged into one route to Belmont Center via Huron Ave. I think this should actually happen full time, as the 72/75 covers almost all of each route – the only parts omitted are the sections of the 75 on Concord Ave and Fresh Pond Parkway (but the former has two other buses servicing it, and the latter has no stops, anyway), and the Aberdeen Avenue section of the 72 (which is in walking distance of the 72/75). And to my understanding, the 75 also has low ridership (at least, based on the schedule – I'll have to ride it for myself at some point), so it would work out perfectly! But currently, the 72 is pretty horrible, and since it's not a trackless trolley when it should be, I should probably subtract 47 points from the above score.
Latest MBTA News: Service Updates
I don't have anything of note to report right now.