I've never really wanted a Twitter account. The whole 140 character thing just irritates me, and I've never seen the need to get one. The only reason I got an account was that one day, I got a surprising amount of views on my blog, all of whom were looking at one particular post. I checked to see where they were coming from, but it was from Twitter and it wouldn't let me see the link. I tried going onto Twitter to search "MBTA" to see if I could find it, but I had to get an account to do it. So, although I didn't want to, I did.
I just named the account "Miles on the MBTA," but figured I wouldn't revisit it. I searched "MBTA" now that I could, and found a post written by Adam Gaffin. He's the founder of the popular local news site, Universal Hub. I had been featured on the site once before, with my account of the trip with Adham Fisher. This time, though, it was a Random Photos post about someone scratching out the "U" and the "R" in "Watch your step." (Watch yo step) I was so happy to have been featured on such a popular Twitter page, but I don't believe I ever thanked Adam in any posts.
Well, a few days ago Adam featured me once again, this time both on Twitter and on Universal Hub proper. It was my tirade about the MBTA's online subway map, and aside from that post rocketing up to the top five most viewed of all time, I also got the largest number of views in a day: 1500. So thank you Adam, as well as all the new readers coming from Universal Hub.
So what does this have to do with the new Miles on the MBTA Twitter page? Well, the Twitter posts from Adam, as well as one too many emails telling me to return to the site, inspired me to revisit my page. I added some photos and made it look nicer overall. Keep in mind that this will probably be like my Facebook page – there won't be any live updates or anything while I'm riding the bus, simply because I don't have a smartphone. I'll probably just "Tweet" every time there's a new post on the main blog, with possibly the occasional quip about the MBTA. But you should still follow, anyway – it's free, right?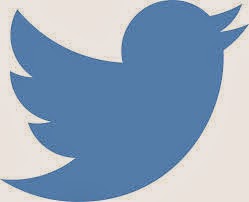 I wasn't sure what to put here, so I just did a generic Twitter logo.
Image Source