Back in Boston! This is a free shuttle bus from Kendall/MIT Station to the CambridgeSide Galleria shopping mall. It makes no stops except for one on Binney Street, and it runs every 20 minutes, every day. The hours of service coincide with the opening and closing times for the mall, so Sunday service starts at 12 P.M. I hadn't even heard of this until my friend told me about it. I had no intentions of taking it, but when my father had to go to the CambridgeSide, I looked at the directory map and saw that the shuttle was marked on the map. "Why not?" I thought.
Finding the shuttle proved to be quite hard, though. There was no signage outside, and no benches to suggest a bus stop. We had to ask someone working at a tour company to find out where the stop was. We got the location right, it turned out, but the only benches were in a park rather set back from the road. After what felt like a very long wait, a bus finally came. It wasn't like an MBTA bus, more like a mini school bus of sorts.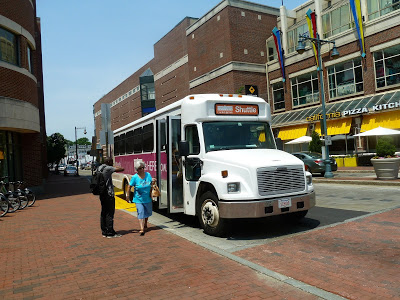 Signage, anyone?
A few people got off, but there was only one person who got on besides my father and I. The bus had big comfy seats, which is always a plus. But as the bus started moving, I noticed a small lever down below the seat. When I pulled it, I found out the absolute best thing about this bus: the seats reclined. I brought it way down and relaxed.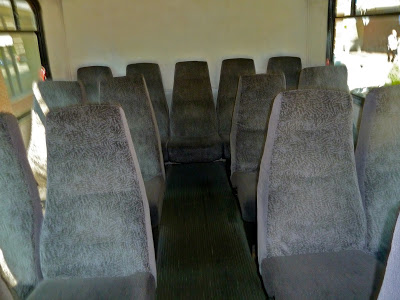 It actually kind of looks like a prison bus from here.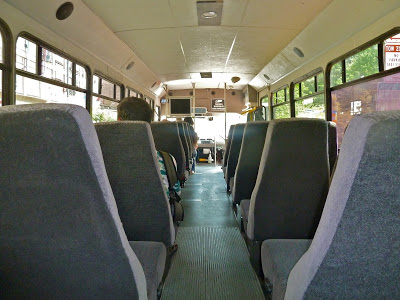 Looking up front.
The bus makes its way to Binney Street, which is pretty industrial. There was a point when the bus driver opened the doors for about a second, but nobody got on or off. This must've been the Binney Street stop. The bus eventually turns onto Broadway and enters Kendall Square proper, with its large buildings. It makes the same loop around the Marriott that MBTA buses do. At the Kendall Square busway, the bus opened its doors and we all got out (all three of us). Here at Kendall, the bus actually has a little signage, so presumably more people use it to get to the mall than come from it.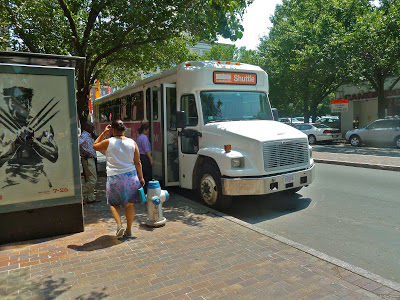 The bus at Kendall.
I will be in Vermont (again) until Monday, and next time there should be a regular bus review (unless I take any buses at the "Trapp Family Lodge," which is unlikely).