It took some self-persuasion to go to Science Park (not always referred to as "West End"). After spending some time at the Museum of Science, I wanted to walk to Lechmere to experience the great Green Line ride. However, if I did that, I wouldn't have a new station to post about. Instead, I decided to walk to Science Park, but take the train toward Lechmere. Then I would transfer to a train towards Boston and come back.
Before 2011, Science Park was painfully dated. It was a big, green, ugly elevated structure, there was ivy growing on the bridge pillar leading up to it, and it wasn't wheelchair accessible. Because of this, the MBTA shut down the station (and Lechmere) for a six month rehabilitation project. The station reopened with a modern look and accessibility. And I have to say, it looks really good.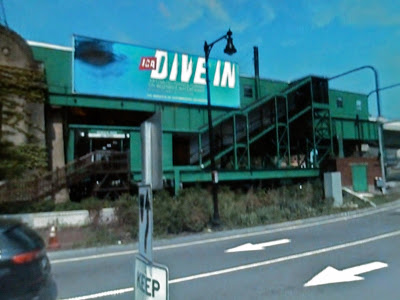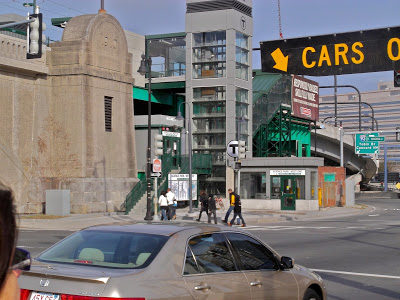 The old Science Park compared with the new. I couldn't find any pictures of the old Science Park on the internet, so I'm lucky Google hasn't updated Street View of the location yet.
Anyway, the station has four entrances: two stairs and two elevators, one on each side of the station. I wanted to experience the elevator ride, so I went into that entrance. I found myself in a tiny room with two other people. It was extremely cramped as I went through the single fare gate. The elevators have voices in them that tell you what floor you're on ("lobby," "mezzanine," or "platform"). They're also glass, so you get a good view of the street and surrounding areas on the ride up.
I got off at the mezzanine to see what that entrance was like. This one is also small, with a narrow passage leading to another single fare gate. Since I was going to Lechmere, I had to take a separate elevator on the other side of the station. This one had the same voice, and it provided great views of the Zakim Bridge. Going up to the platform, there was one other person waiting. That actually surprised me, since Lechmere's only one stop away. There was a decent crowd on the Boston-bound side, however.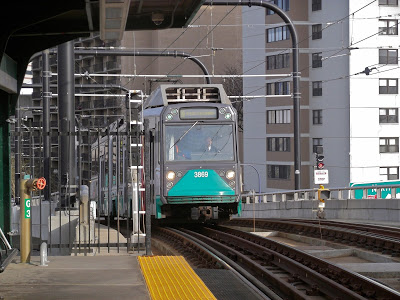 I just love this picture. I don't entirely know why, but I do.
Station: Science Park/West End
Ridership: This is a very touristy (actually a word; you learn something new every day) kind of station. Obviously, people use this to get to the Museum of Science.
Pros: This station is one of the newest (if not the newest) station on the MBTA because of its rehab in 2011. This gives it a very modern feel. It also has a nice, simple layout. Plus, who doesn't love elevated stations?
Cons: It's just so cramped in this station. Even with only three people in the elevator entrance, I could barely move a muscle. The signage could also be improved; as my train back to Boston was leaving the station, I saw two tourists step out with a map of the system. I assumed they probably wanted to take the B, C, or D lines. The MBTA should really make it more clear that only the E line goes to Science Park (and Lechmere). Finally, it doesn't have any MBTA bus connection, though Lechmere is in walking distance.
Nearby and Noteworthy: The Museum of Science… duh.
Final Verdict: 7
The modernity of this station is something I really like. Being the oldest subway in America, some stations are just too old fashioned. However, going to this station makes you miss out on one of the best views on the system. It's also way too tight. I guess there's just not much room to add more space to the station. Though this can't really be helped, the station is relatively hard to get to, since it's an island in the middle of the street. The signage thing can easily be fixed though. Make note of that, MBTA…
Latest MBTA News: Shuttle buses are operating between JFK/UMASS and Ashmont stations on April 20-21 from start to end of service. There are also a LOT of bus route diversions. Just look at the list on the MBTA website.