One thing I'll always give SEPTA praise for is the connectivity of its suburban network. It's obviously not perfect, but there are very few routes that end in places where no direct connections can be made. Today, though, we'll be checking out one of the exceptions: the 24 begins at the busy Frankford Transportation Center, but by the time it gets to its terminus in Southampton, that's it – you're the only bus around. It runs up that far pretty regularly on weekdays, but on Saturdays, it only goes up there three times a day (with no service that far on Sundays) – can you guess what day of the week I rode the 24?
We started out on Pratt Street, which was mostly rowhouses and a few small businesses. Greenery became more common the further we got from Frankford, though, including a big field occupying one side of the road for a bit. We crossed Roosevelt Boulevard (making stops on both sides of the monstrosity, of course) and turned onto Summerdale Ave soon after. More rowhouses and businesses along here!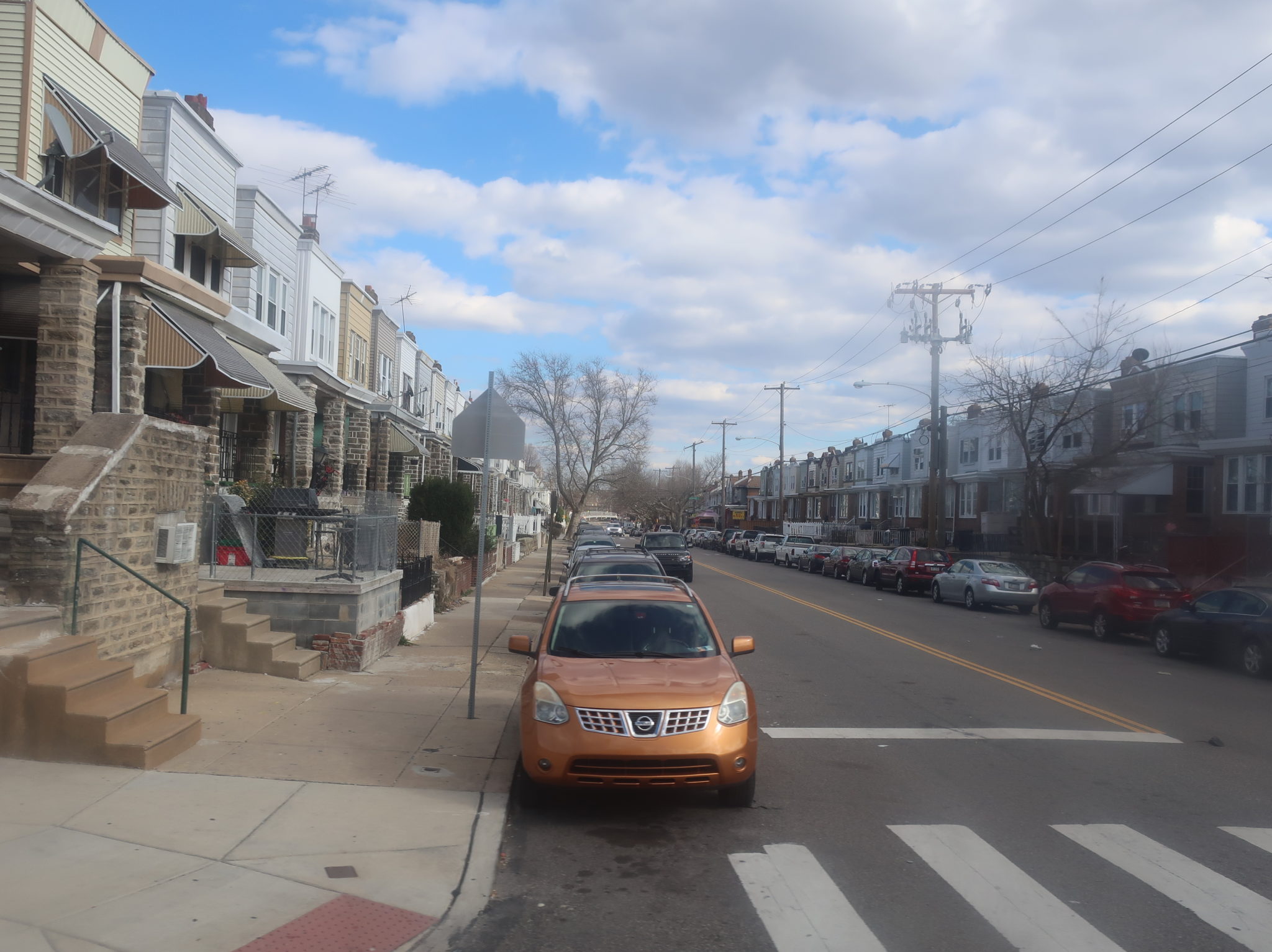 We hooked a left onto Oxford Ave eventually: because this road went diagonally through the grid, it had an awkward alignment where one side was a cemetery and the other side was vacant land between it and the housing project that adhered to the grid. A huge Naval center generated a lot of industry around it, but as we continued onto Martins Mill Row, it was back to leafy rowhouses.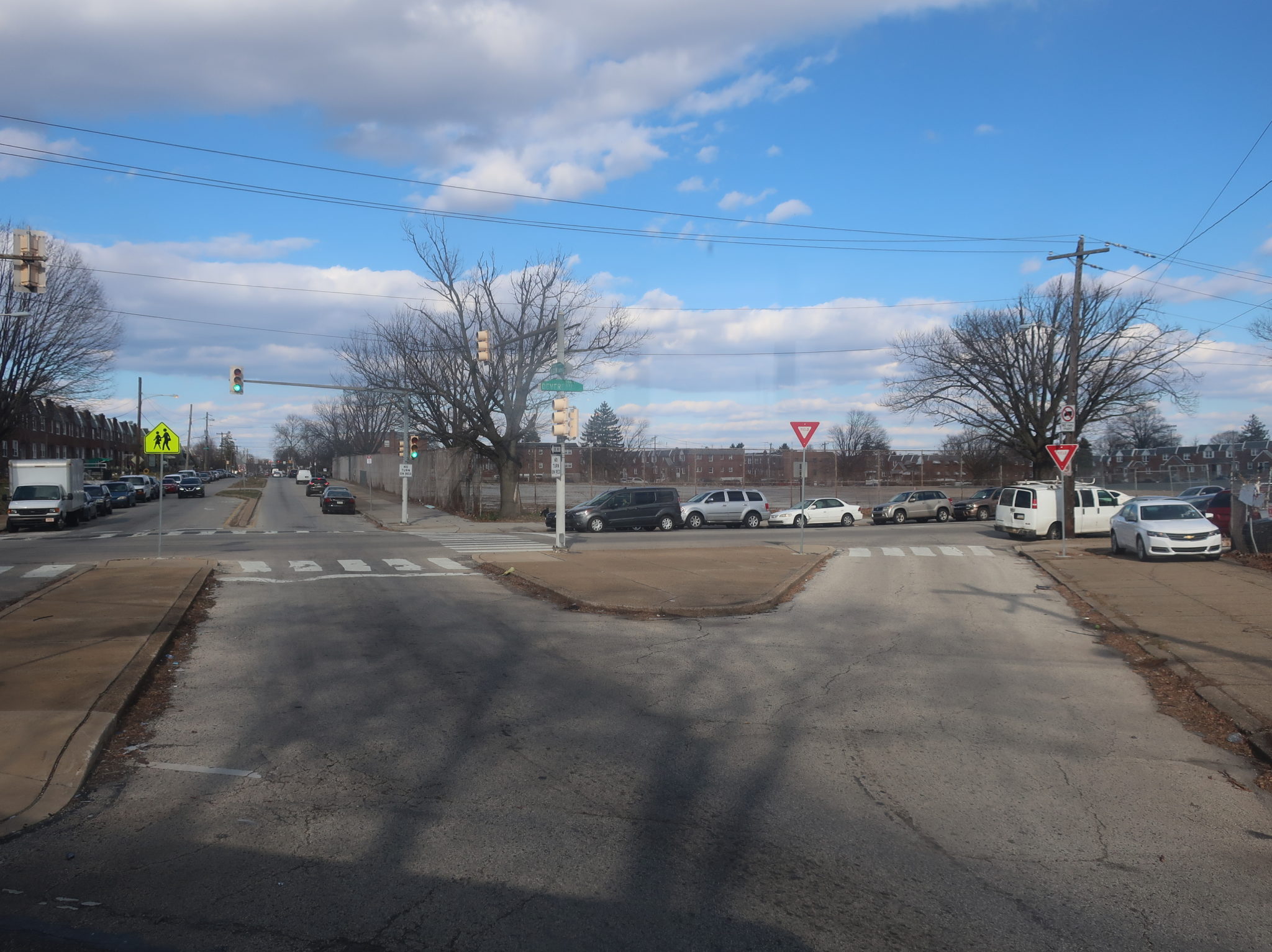 The narrow street went by a retirement home, and soon after that we made a right onto Rising Sun Ave. There was a ton along here: businesses, industry, and housing were all mixed in together. We were running with the 18 here, which continues along Rising Sun Ave to Fox Chase – the 24 goes to Fox Chase too, but it takes a left onto Cottman Ave and goes up a different way. This street passed Ryers Station before we turned onto Central Ave.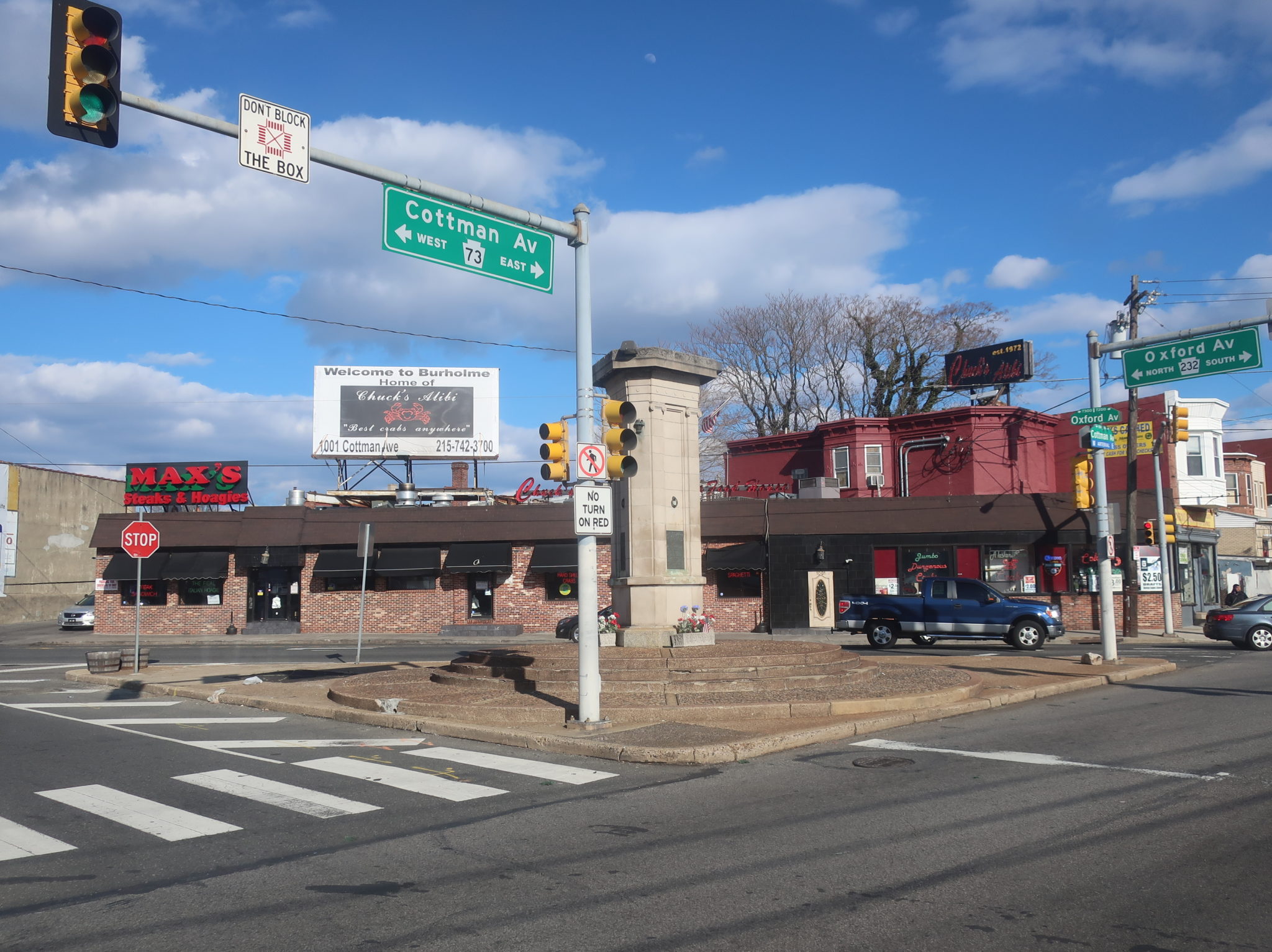 Central Ave was suburban, with Burholme Park occupying its entire western side, while the eastern side was home to a bunch of duplex houses all in a row. Also on that western side of the road was a massive Temple University Hospital complex, and the Ryerss Museum and Library, which always throws me off with its second "s" but is apparently amazing! Eventually we merged back into Oxford Ave, rejoining the 18 and running with it for its last stretch to the commercial intersection next to Fox Chase.
Fox Chase is situated right on the Philadelphia border, and it got more suburban once we crossed that line. Also, while we had gotten decent ridership further south, just three people remained on the bus now, and that was after someone who had literally told his friend over the phone that he was riding for fun with no purpose got off. The road we were on was called Huntingdon Pike, but it wasn't quite wide or fast enough to be a "proper" "pike". Little suburban businesses and shopping plazas lined the street.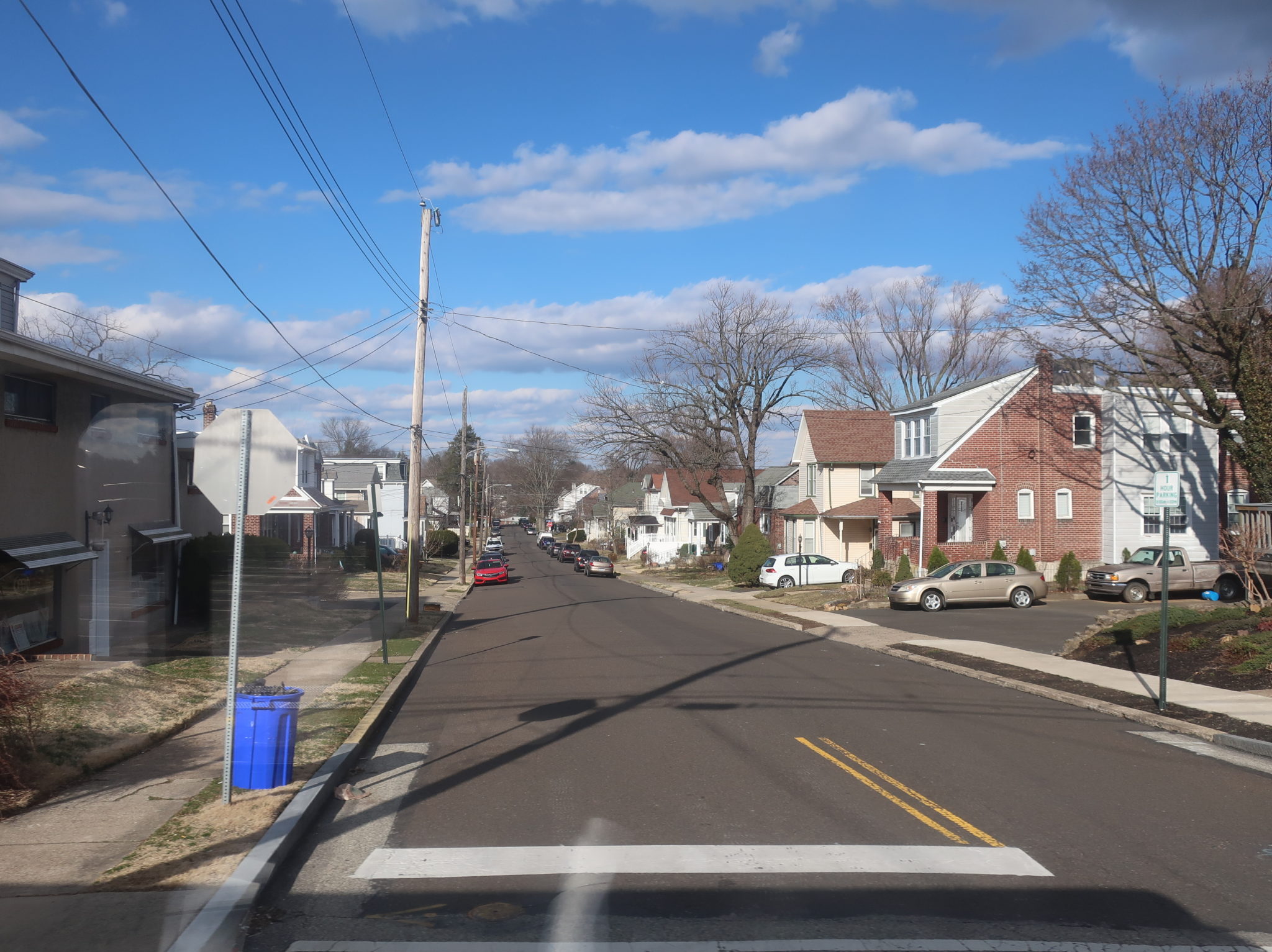 The Huntingdon Valley Shopping Center was the most major shopping plaza we had come across, while there was kind of an odd residential neighborhood on the other side of the road where every street was named after a California locale: Los Angeles Ave, Berkeley Ave, Pasadena Ave, etc. The shopping center was also the last breath of civilization for a bit (it's no wonder many trips end here) – the road got super leafy and fast-moving, and the houses that weren't completely hidden away were now farther apart from their neighbors. Non-house attractions included an elementary school and several churches.
Given the fairly rural nature of this road, you can imagine how the giant Holy Redeemer Hospital came as a bit of a surprise. For whatever reason, the hospital attracted a ton of development, too: no fewer than three housing developments surrounded it. We went up onto a high bridge after that, crossing both Pennypack Creek and its parallel trail before returning to ground level to sail past Bethayres Station.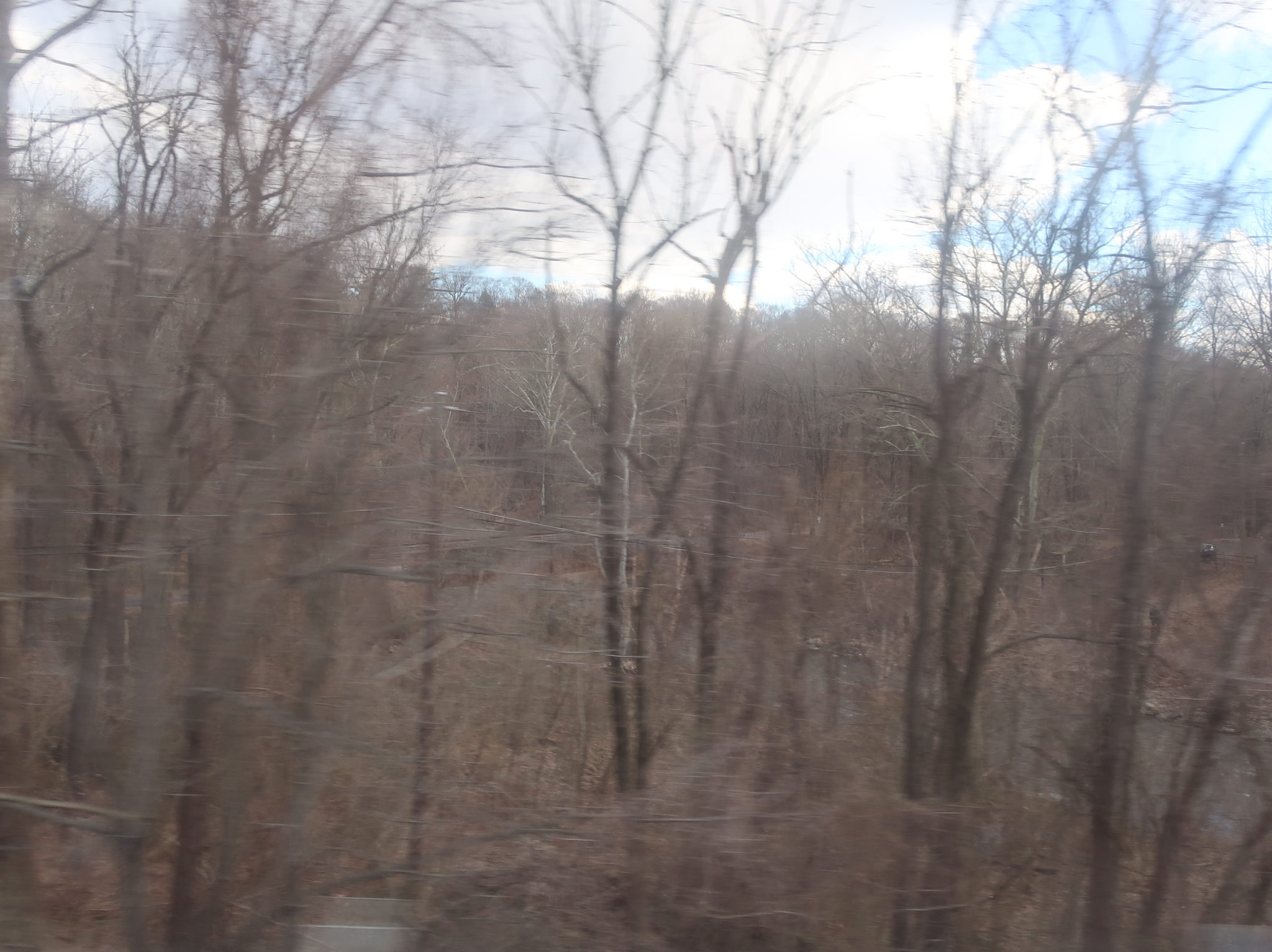 A clump of suburban businesses occupied the intersection north of Bethayres. It was here that we took a left onto Welsh Road to perform the route's double-deviation: one to Gloria Dei Manor and one to Gloria Dei Towers. The one to the Manor went well, and with a note of the "deer crossing" sign on the woodsy driveway, we looped around the retirement home. The one to the Towers, though…uhh, it just didn't happen. We just headed back down Welsh Road to get back onto Huntingdon Pike. Oh well…
It is past here that the thrice-a-day Saturday service begins (with all other trips this far terminating at Gloria Dei Manor), and given that the bus was completely empty, that low frequency seemed to make sense. While semi-dense houses and businesses lined the road for a bit, they dropped away suddenly when we passed through the bucolic campus of Bryn Athyn College. There are actually some fields that come up next to the road, but you can't see them super well behind the curtain of trees.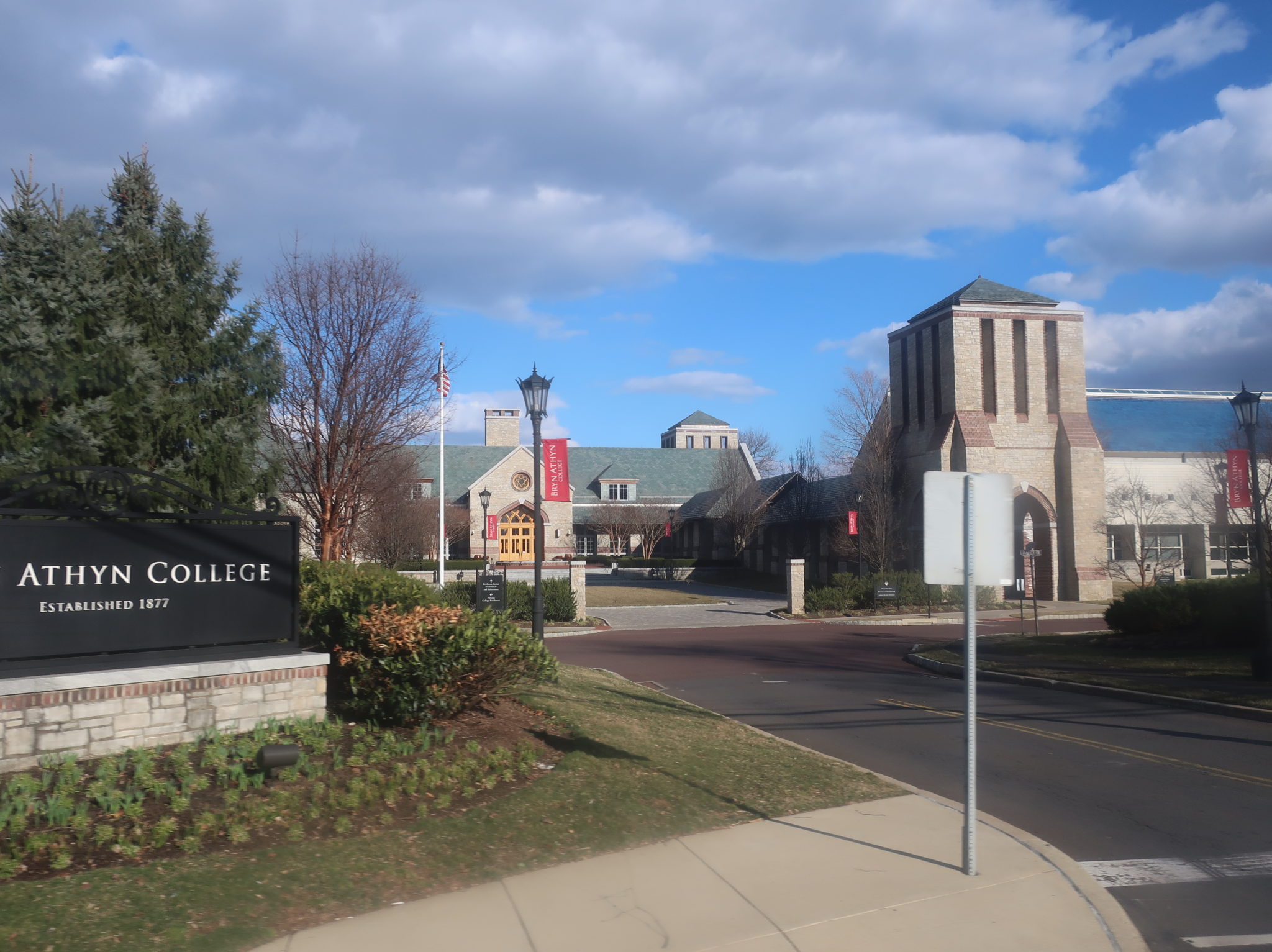 Suburbia did return once we left the reach of the college, but everything was hidden behind fences – Huntingdon Pike itself had pretty much nothing abutting it aside from a church, a gas station, and a nursing home at the intersection with Welsh Road. It was then pretty much nothing until a few businesses at County Line Road (spelled "Coutny Line Road" on SEPTA's route map – multiple times), onto which we took a left. Conveniently forming the border between Montgomery County and Bucks County, we took this over I-276 into an industrial area before going further into Bucks by turning north onto James Way.
Offices and industries continued as we took a right onto Jaymor Road, but once we headed back onto Huntingdon Pike (now called 2nd Street Pike for some reason – not like there are any other numbered streets around here!), it was mostly suburban shopping plazas. We passed Southampton Station on the abandoned Newtown Line (aw…) before turning onto Street Road, which threw in some other buildings besides the suburban businesses: houses, a modern fire station, and a church, among others. Nailing a sharp right onto Knowles Ave, this industrial road led us back to the intersection with 2nd Street Pike, completing our terminating loop.
Route: 24 (Southampton and Rockledge to Frankford Transportation Center)
Ridership: 2,716 riders per weekday, a number that's pretty expectedly low. Also unsurprisingly, based on data from both my ride and the route's load profile, the 24's ridership is mostly concentrated on the inner section south of Fox Chase, where it actually kinda functions like a real bus route (my trip got around 30 riders during that roughly 25-minute first stretch). Especially beyond the second main terminus at Gloria Dei Manor, ridership gets much lower, with the busiest buses carrying reverse commuters to the industrial areas that way.
Pros: Like I said, the inner route especially is decent – it covers some relatively dense areas, and while a lot of it is duplicative, it acts as a "fill in the gaps" route to grab some of the underserved areas between the more frequent lines. Understandably, frequencies get lower the further out on the route you go, as it starts to act as more of a lifeline service for lower-density areas: the inner portion is half-hourly seven days a week (hourly at night), while Gloria Dei Manor gets hourly service that stops earlier in the evening (peak service on weekdays is also more frequent, with a particular focus on school travel). Given that the inner part of the 24 is really just trying to fill in gaps, I think these frequencies make sense, and I appreciate the consistency of running the same headways seven days a week.
Cons: So, I don't think there's anything wrong with the way the route is set up: it makes sense for something this far-flung to have a number of termini to balance frequency and ridership. The problem is that it's darn confusing! This mostly happens on weekdays – while a twice-a-day variant to serve a school makes sense, the fact that full Southampton trips tend to operate at inconsistent times (usually every two hours, but with more frequent service during the peak and a larger gap in the afternoon), combined with the fact that some deviate to Gloria Dei Manor and others don't leads to a frustrating schedule. It's certainly not the worst SEPTA's done, but it's a problem regardless. I'm also iffy on the thrice-a-day Southampton service on Saturdays, especially given that my bus was empty up there, but the driver assured me that seniors and shoppers tend to reverse-commute up there and his inbound would get more people. If that's the case, though, three times a day is super hard to rely on – it's a barebones coverage service if I ever saw one!
Nearby and Noteworthy: Given that most of the route is residential or suburbia, there didn't seem to be a ton to write home about beyond Fox Chase. That being said, I'm definitely gonna shout out the Ryerss Museum again – this is the closest route that serves it, and how can you beat a free art museum housed in an old mansion? Definitely seems like a good place to check out once we're out of quarantine!
Final Verdict: 7/10
Oh wow, am I really about to stick up for the 24 of all things? Geez…I must be in a good mood or something. Here's my reasoning: the 24 isn't trying to be this super busy route or anything. It's either duplicative of more frequent routes, or running to far-flung areas that don't need a ton of service to begin with. And while the schedule definitely has annoying quirks, I feel like overall the frequencies match the ridership pretty well!
Latest SEPTA News: Service Updates