I'm sure SEPTA had plenty of reason for each route they chose to operate their COVID-19 "lifeline service", but I find it odd that the J, an infrequent crosstown route sandwiched between two more frequent ones, gets precedent over, say, the 54 (or, like, the 33 or 48? Hello? Why did we get rid of these, SEPTA?). Although then again…why is the J so infrequent? It would seem that not all North Philadelphia crosstown routes are created equal… (also no, I did not ride this during COVID times, don't worry)
But the J starts not in North Philadelphia, but in Germantown: the layover point at Chelten and Wissahickon Aves is home to a ton of big brick apartment buildings. Once the bus actually set off, though, it made its way onto School House Lane, which had a totally different setting of single-family and duplex houses. We crossed over the Chestnut Hill West Line and used Pulaski Ave to get back onto Chelten. This commercial road took us past rows of businesses up to Germantown Ave.
North of Germantown Ave, there was more retail, along with Germantown Station. Just after crossing those Chestnut Hill East Line tracks, though, we turned off onto Baynton Street, a meandering road that curved its way down to the tracks. It felt like a forgotten road: the side the tracks were on was mostly trees, while a lot of the rowhouses on the other side were in pretty bad shape. They got into better condition once we curved back up again on Belfield Ave.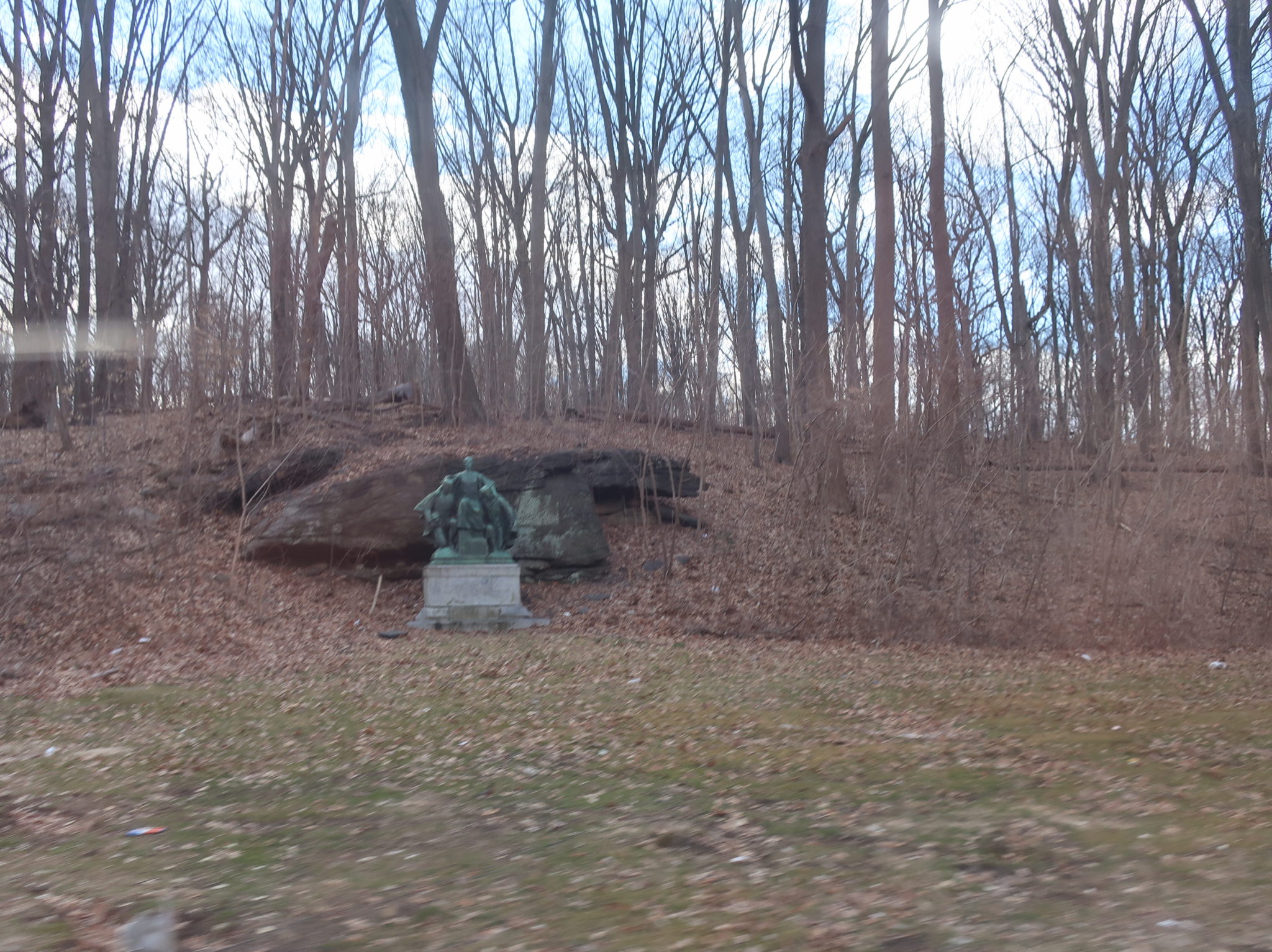 We passed Wister Station (again on the Chestnut Hill East Line) during a short industrial stretch, then Belfield Ave entered Wister Woods Park. It made a wide curve south and we sped our way through the forest around La Salle University, but right when we came to the edge of civilization, it was an instant left onto Lindley Ave. There were some rowhouses on the south side of this street, but the north side was still occupied by the park for a few blocks.
More rowhouses (now on both sides) led us to Broad Street, where Logan Station on the Broad Street Line is located directly underneath the SEPTA Main Line, which passes nonstop overhead. There were a few businesses here, but Logan has always struck me as being one of the less urban-feeling stations on the BSL. Continuing onward, Lindley Ave was full of trees, with some pretty charming rowhouse constructions.
The trees died off eventually, but aside from a school, a few industrial buildings, and a park (located above the road so it couldn't be seen!), it was pretty much all residential, plus a few corner businesses. 5th Street was a huge retail corridor that we crossed, though. Because of some weird street layouts here, we had to turn north onto 2nd Street, a road with auto shops on one side and rowhouses on the other.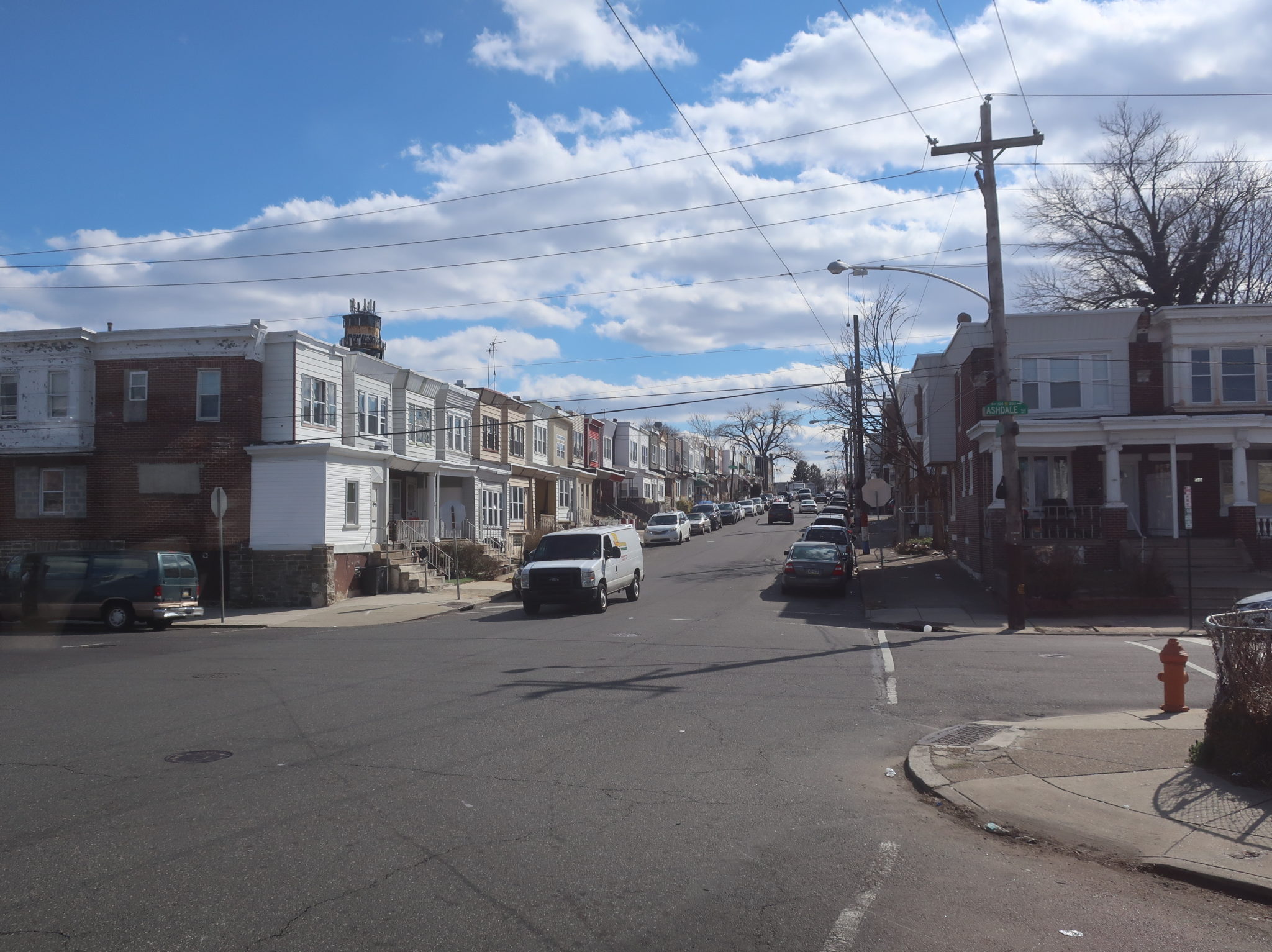 We headed onto Fisher Ave next, taking it to the retail-lined Rising Sun Ave. At that point, it turned into C Street and curved south, with one exceptionally tree-filled block lined with charming rowhouses and one block completely absent of trees and lined with much less charming rowhouses. Of course, any semblance of charm goes out the window when Roosevelt Boulevard is involved on your trip, and sure enough, we turned onto that twelve-lane behemoth once we intersected with it.
The Boulevard took us over Frankford Creek and the greenery surrounding it, then (surprisingly pretty) rowhouses morphed into suburban shopping plazas and Friends Hospital. Past the hospital was a cemetery, and at that point we merged onto Adams Ave, taking it down to Orthodox Street. Aside from some initial industry, this normal-sized street (thank goodness) took us through a duplex-heavy residential area.
We crossed beneath the El a block away from Arrott Transportation Center, but the J isn't content with ending there: it has to continue down to Bridesburg! While Frankford Ave had lots of retail under the El, it was residential on the other side of it, with rowhouses and some vacant land. The intersection with Torresdale Ave had a few more businesses, and vacant land between houses was all but eradicated once we crossed the Northeast Corridor. Industry was clustered around I-95, which we went under, and it was just a few more residential blocks until the end of the line at Orthodox and Richmond.
Route: J (Chelten-Wissahickon to Richmond-Orthodox)
Ridership: Given how infrequent it is, the J's ridership isn't the worst thing ever? 2,811 riders per weekday seems okay…it's 45 minutes from end to end, and it averages around 33 people per trip. Yeah, that's not so bad! Also peak ridership has around the same productivity as off-peak ridership, so maybe the infrequent midday service is justified?
Pros: This is one of those cases where I feel like the only pro I can give is a participation trophy: it's nice that the J operates where it does. I'm glad we have a route running along Lindley Ave.
Cons: So firstly, because the streets in this part of North Philadelphia are a bit crazy, the J can't be a straight crosstown. It has to traverse the odd segment on Belfield Ave plus the required deviation to Fisher Ave to get anywhere. The Bridesburg section feels kinda redundant to the 25 from Frankford, too – I'm not as down on this, though, since there's probably not enough space at Arrott to have another route lay over. Of course, we also have to tackle the frequency: while the (kinda) every 20 minutes at rush hour is decent and the (sorta) every 30 minutes midday seems to work okay, the hourly night and weekend schedule is atrocious!
Nearby and Noteworthy: Definitely Germantown, but also Wister Woods Park (the one Belfield Ave passes through) seems like a cool secluded place next to La Salle University.
Final Verdict: 4/10
You know, throughout my childhood I played soccer, a sport I had very little actual skill in. One time, someone kicked the ball toward our side of the field. I, a defender, likely not paying attention at the time, inadvertently knocked the ball back toward the other side because it happened to hit me in the stomach. "Way to be there, Miles!" the coach yelled from the sideline, which was probably the most accurate compliment that could've been given to the situation. So I feel the J deserves the same hapless praise: Way to be there, J!
Latest SEPTA News: Service Updates