"R" you "R"eady for a "R"ollicking "R"omp down "R"oosevelt "R"oad? I su"R"e am! Ahoy, mateys: "Rrrrrrrrrrrrrr"!!!!!!!!!!!!!!
Hi, everyone from the Inquirer article. I swear I'm not always like this. Just…most of the time. Welcome!
The R is a diagonal-crosstown-type thing that runs southwest from Frankford Transportation Center. On weekdays, it has two branches: one to Wissahickon Transportation Center, and one to Henry-Midvale via the Bakers Centre shopping plaza. On weekends, though, all trips run to Wissahickon, while every other departure goes via Bakers Centre and Henry-Midvale, then on to Wissahickon via a weekend-only routing. Of course I made sure to take the R on a Saturday, then!
We left the terminal on Pratt Street, a fairly normal-sized two-lane road lined with rowhouses with porches. There were a few businesses, some churches, and a park along here, too. It just felt like a real neighborhood, you know? Anyway, then we turned onto Roosevelt Boulevard, completely shattering any concept of neighborhood, urban planning, and sanity.
And yet somehow, this three-median 12-lane monstrosity had semi-detached and even some single-family houses along it! Of course, it wouldn't be Roosevelt Boulevard without awful suburban shopping centers, and the Northeast Tower Center filled that void nicely. Good luck getting there if you're coming from a bus on the other side of the boulevard.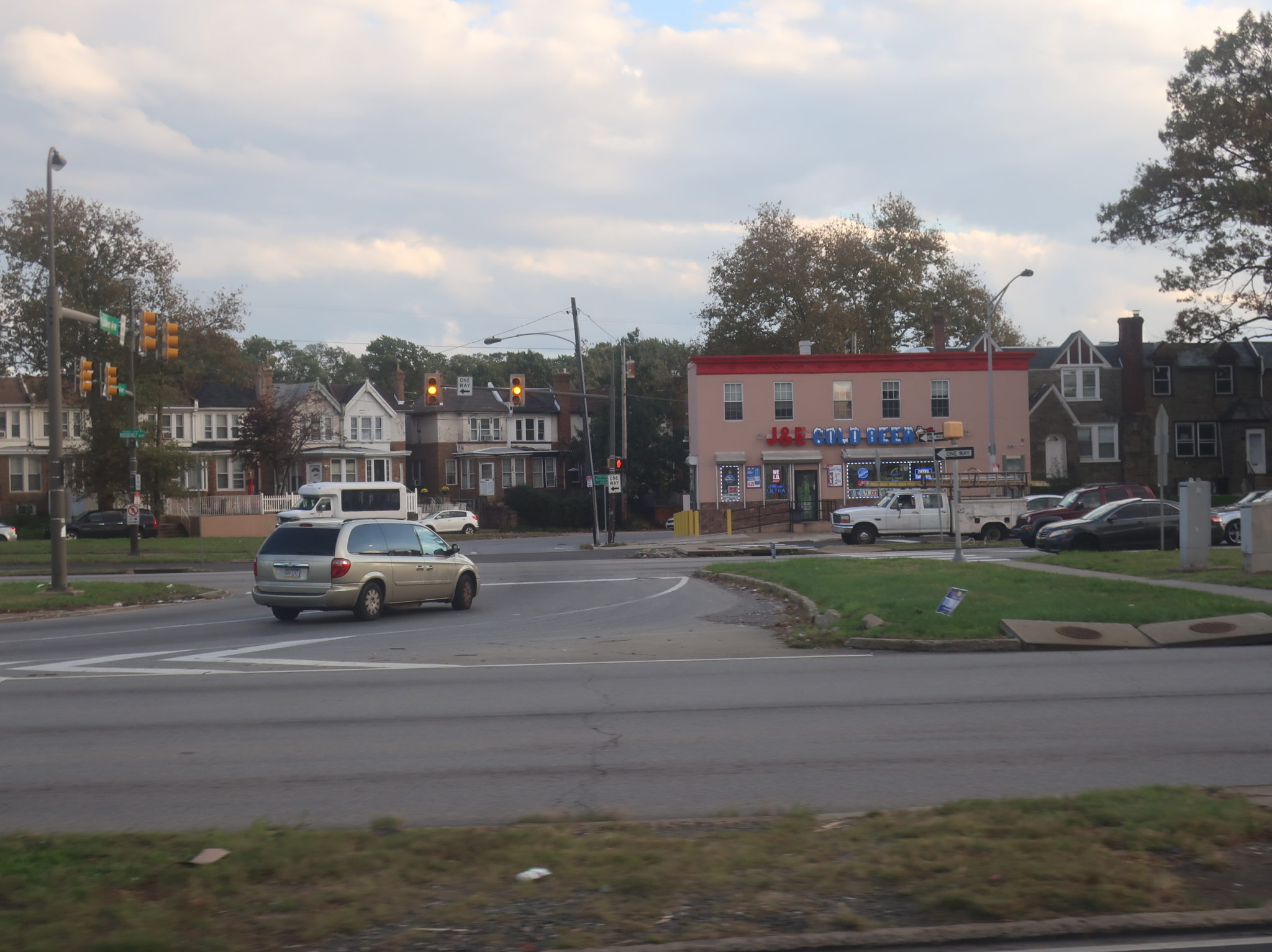 As it turned out, that section with single-family houses was very brief, and we got into a more regular pattern of rowhouses after the Northeast Tower Center. A few auto shops appeared just before we went over Tacony Creek, but the road was mostly residential after that. The north side of the road became occupied by the multi-block wasteland of the Logan Triangle (really interesting story there), then the boulevard ran straight through the northwestern side of Hunting Park.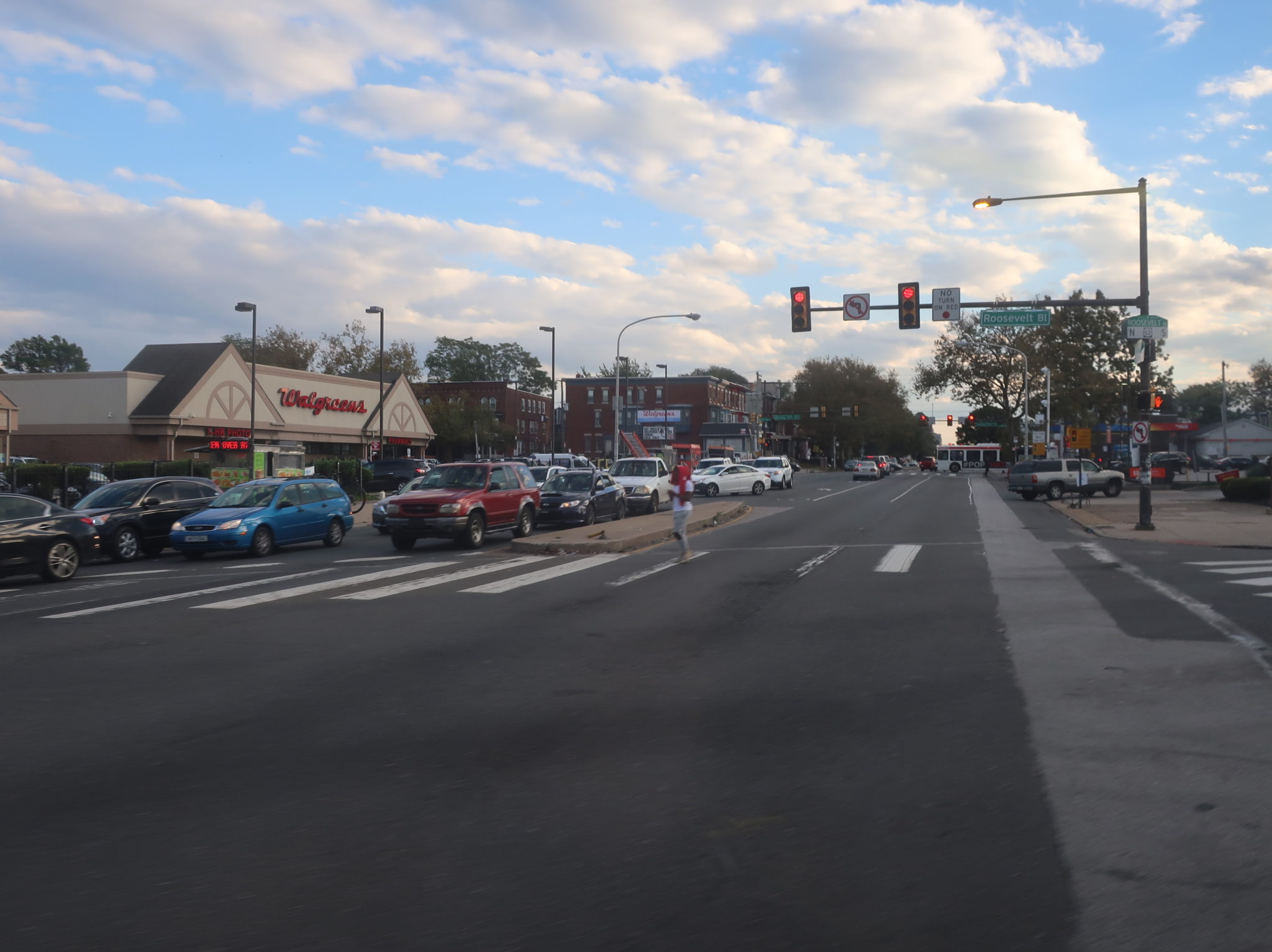 It was at this point that Roosevelt Boulevard became Roosevelt Expressway, and here, we finally left it (thank goodness) to travel on Hunting Park Ave instead. The street was still called Roosevelt Boulevard until we intersected with Hunting Park just after Broad (where we served Hunting Park's Broad Street Line station, of course). Once it crossed a rogue rail line, the road had a ton of different buildings along it, from a big apartment tower to a high school to a clinic to the ubiquitous rowhouses.
The street went under the SEPTA main line; some of the stuff on the other side included a police/fire station and a huge abandoned factory. Once we crossed beneath the Chestnut Hill West Line, we reached the intersection where the two branches of the R split off: some trips stay on Hunting Park to Allegheny, while others, including ours, turn onto Fox Street. This took us over a rail line, after which we turned directly into the Bakers Centre.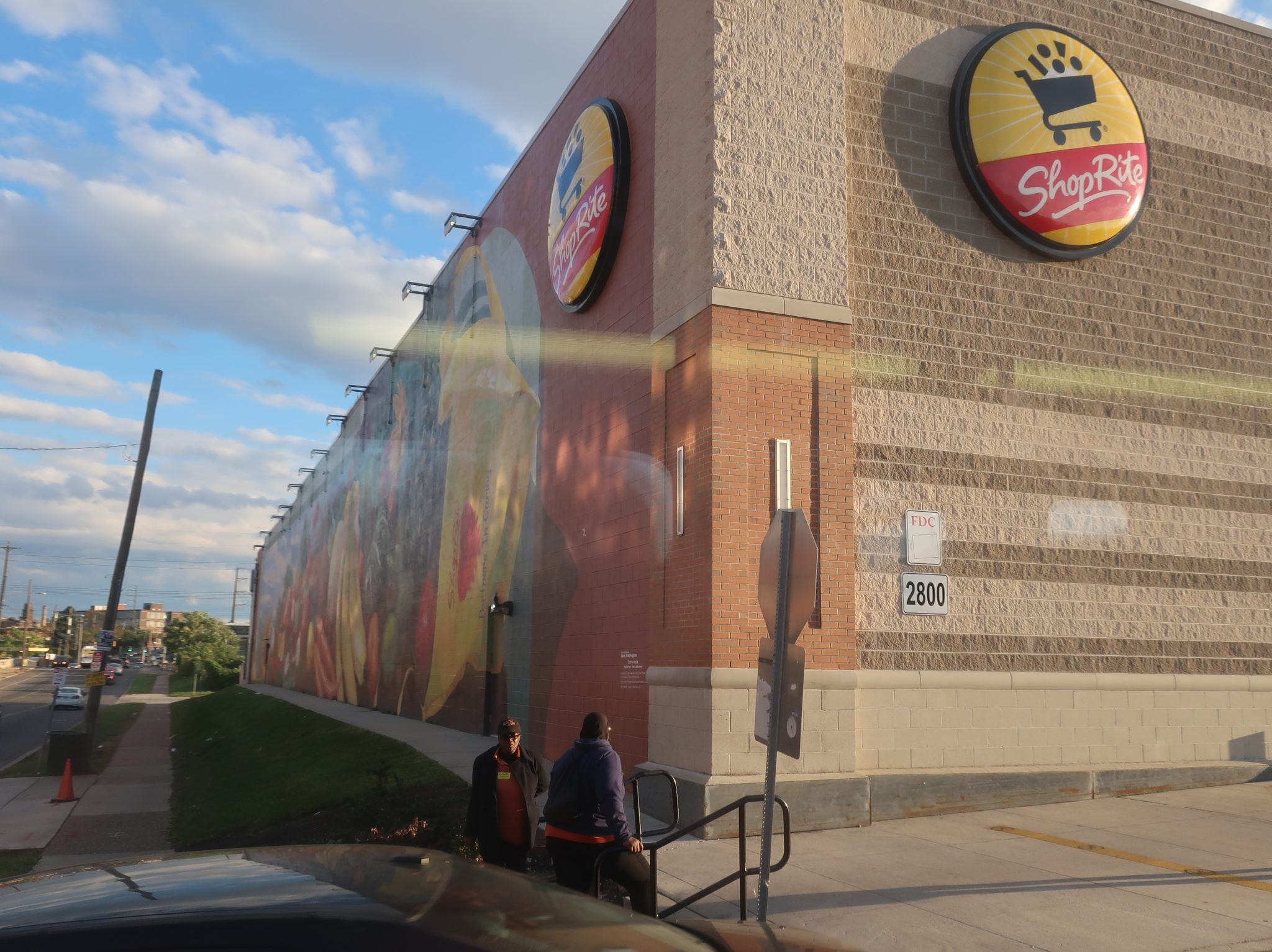 We turned onto Roberts Ave, then Henry Ave, running around a really awkwardly-designed apartment development in the middle of the large block. Crossing the Roosevelt Expressway, the road had the elevated Queen Lane Reservoir on one side, then we were in a leafy residential neighborhood. Henry-Midvale is where weekday trips end, but here, we turned onto Midvale, joining the K's route for the weekend-only section.
This road was gorgeous, lined with ornate rowhouses and decorated with huge looming trees as it coasted downhill. After a beautiful library in a church-like building, we passed some suburban businesses with a lot less character before going under the Norristown Line at East Falls Station. There was lots of retail where we turned onto Ridge Ave, joining up with the other branch of the R. We didn't have much further to go, though – Ridge entered the woods, with only a few stray buildings showing up here and there. Once we crossed over Wissahickon Creek, we had made it to the eponymous transportation center.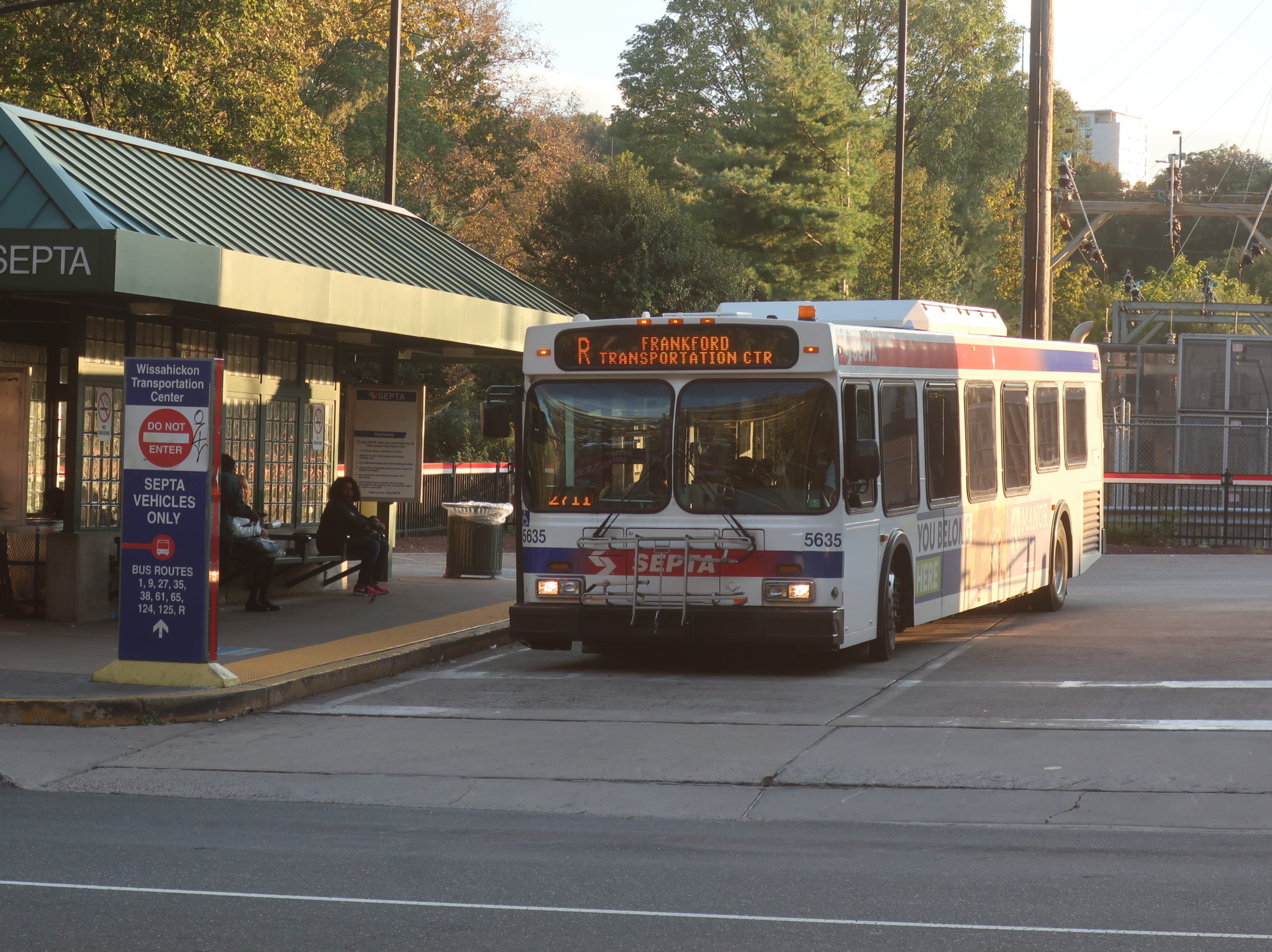 Route: R (Henry-Midvale and Wissahickon Transportation Center to Frankford Transportation Center)
Ridership: The R ranks 23rd on the SEPTA system, getting 9,575 riders per weekday. That evens out to 42 passengers per trip, which is actually much less than what I saw on a Saturday afternoon: 65 passengers in total.
Pros: This route falls into SEPTA's 15-15-5 designation, meaning that it has a great schedule on weekdays. Headways on the trunk (with the branches getting half the service) are every 7-10 minutes at rush hour and every 15 minutes midday (aside from one 16 minute gap from 9:40 to 9:56 – for shame). There's also Owl service all night every 30 minutes. The trunk of the R is a nice straight shot down Roosevelt Boulevard and Hunting Park Ave, and the treatment of the branches on weekdays is pretty effective. It's not too long for SEPTA standards, which probably helps it get a surprisingly decent on-time performance of 79% (could be better, but definitely not bad considering Roosevelt Boulevard's traffic and the refusal to convert just two of those twelve lanes into bus lanes).
Cons: Although service is every 15 minutes for about 3 midday hours on Saturday, the R is mostly every 20 minutes on weekends. It takes forever to pick up to that, too, running less frequently (every 25-30 minutes) until 9 AM on Saturdays and 10:30 on Sundays; plus, on Sundays, it starts going every half hour again at 6 PM. Not to mention the whole business with the weekend-only routing, which I guess is to ensure that Wissahickon gets decent service (it ends up being better than on weekdays!), but it wreaks havoc with the schedule. Not only does it give passengers an extra variant to keep track of, but it also forces buses to stagger their departures slightly from Wissahickon, since it takes longer to go via Henry-Midvale. So yeah, TL;DR: the weekend schedule leaves a lot to be desired. The route is also less productive at rush hour than it is middays, and the load profile confirms that aside from a few outliers, rush hour trips don't generally get more crowded than midday ones.
Nearby and Noteworthy: Roosevelt Boulevard sucks the life out of everything along it, but there are a number of good-looking Hispanic restaurants a few blocks away from the terrible, horrible, no good, very bad road. East Falls also has a nice downtown, although it's probably better-reached by the 61 or the Norristown Line.
Final Verdict: 6/10
The R cuts a big, important swath through North Philadelphia along some of its most major roads, running frequent weekday service down a mostly direct routing. Yes, weekend service has its problems, but I can't dock too many points – every 20 minutes is still better than a lot of other routes, especially on Sundays. The best thing that could be done for the R is creating bus lanes on Roosevelt Boulevard; second-best thing would be a new limited-stop Direct line like further north, but stop consolidation on the R plus bus lanes would probably give an equivalent if not better speed boost.
Latest SEPTA News: Service Updates