A crosstown route across North Philadelphia from Strawberry Mansion to Olde Richmond? Alright, the 39 sounds pretty good to me! Wait…why does the route have a four-block jog in the eastbound direction only? Ohhhh noooooooo…
We headed straight down Dauphin from the loop at 33rd, entering a mostly residential neighborhood. There were large gaps of vacant land between the rowhouses, which themselves were in varying conditions. We also went by Strawberry Mansion High School and a suburban shopping plaza at the intersection with 29th Street.
The road went underneath the Northeast Corridor, and the scenery on the other side was pretty similar. 21st Street heading north was almost completely abandoned, but other buildings along Dauphin were in fantastic shape. The street was still mostly residential aside from the occasional corner store.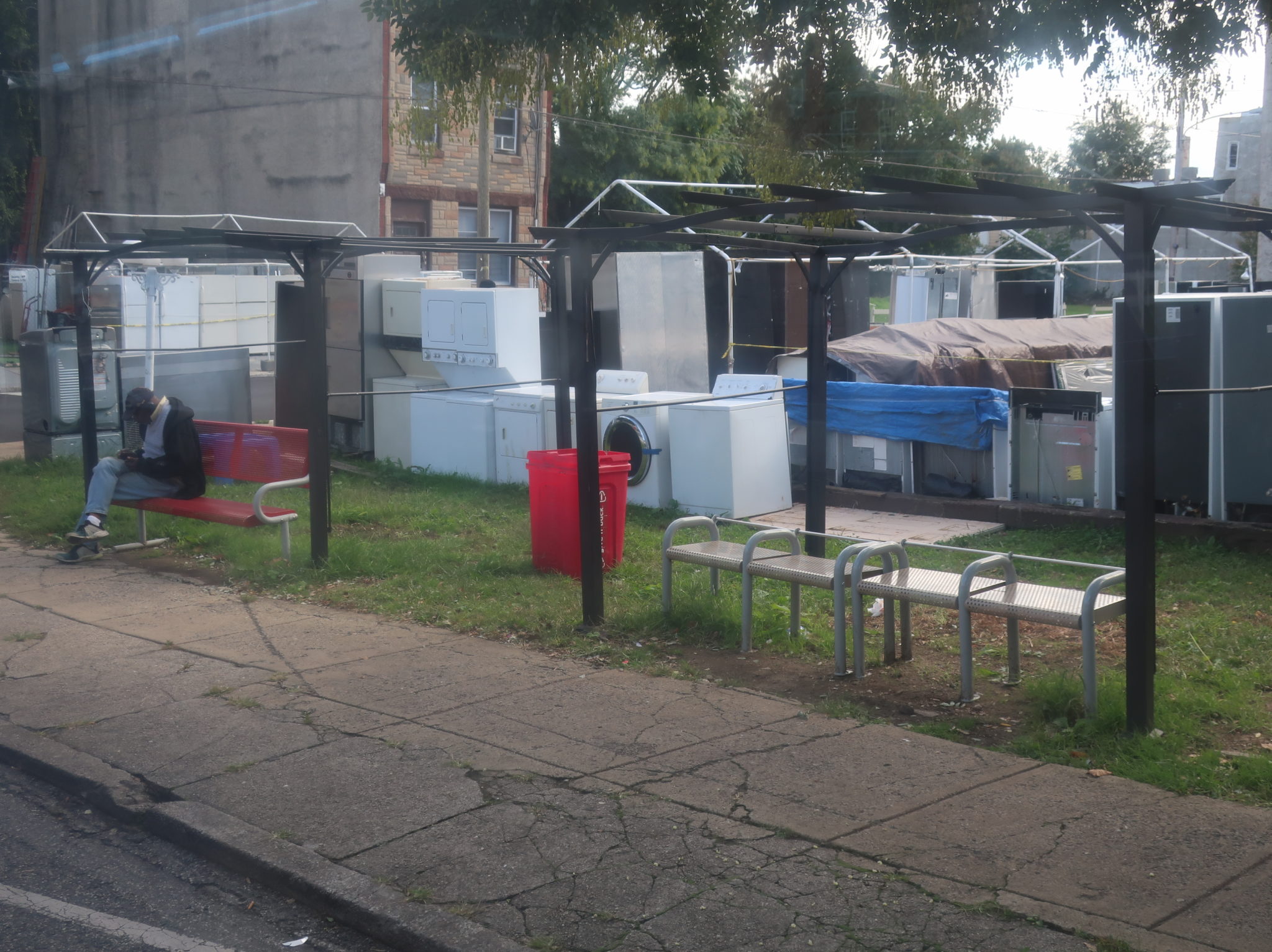 Eventually we hit the behemoth of a road known as Broad Street, which was lined with a ton of different businesses. Like with every crosstown route, there was a big exchange of riders here, with people transferring from the bus to the Broad Street Line at Susquehanna-Dauphin Station. East of Broad, the rowhouses continued, with a brief interlude for a suburban-style housing development exclusively on 13th Street.
Soon after crossing under the Reading Main Line, there was a block of industry between 8th and 9th Streets, while later on, we plowed through a monstrous six-way intersection with 7th Street and Germantown Ave. 5th Street was the moment I was really looking forward to: here, we made a left, beginning the bizarre eastbound-only four-block jog. It was mostly still rowhouses along here, and this certainly didn't seem special enough to justify serving it.
We made it up to Lehigh Ave, which has another crosstown from 33rd-Dauphin, the 54. Turning onto this wide road, it definitely was a commercial corridor, but again, nothing seemed substantial enough to justify the deviation. As it turns out, the bus is forced to do this jog because Dauphin Street doesn't exist for a block due to a park being in the way. Shoot, that's annoying.
We used the also-wide American Street to get back down to Dauphin. This was a mix of industry (much of it abandoned) and huge amounts of vacant land; it continued for a bit when we turned onto Dauphin again, but it very quickly turned back to dense rowhouses and corner stores. That lasted until Front Street, which had a ton of businesses underneath the El – almost everyone remaining got off here for York-Dauphin Station.
We turned onto Jasper Street past the El, which was a street in transition: tracts of no man's land were being developed on, and even an old factory had been converted to apartments. Taking a right onto Cumberland Street, it was a similar story, with a few remaining abandoned lots, but a lot of new rowhouses between the older ones. We passed Kensington High School, then we intersected with the 5 at Frankford Ave.
A pretty sure sign that we were now in the Kingdom of the Hipsters was when we passed a "taproom" on Memphis Street. Most of that stuff was on other roads, though – Cumberland remained mostly residential. That was until we went by a garden center (taking up a whole block!) and then the hellscape of suburban shopping plazas along Aramingo Ave. Because of construction on I-95, we didn't run all the way down to Richmond Street like the route is supposed to, instead turning onto Thompson Street. I got off at Huntingdon.
Route: 39 (Richmond-Cumberland to 33rd-Dauphin)
Ridership: The ridership sounds low – it's an average of 2,478 riders per weekday. Giving the route the benefit of the doubt, it is pretty short, making the 22-ish riders per trip seem a little more palatable. I still can't help comparing it to something like the 79, though, which gets more people on a shorter crosstown journey. Then again, that route isn't infrequent and it actually makes logical sense, but we'll get to that…
Pros: It serves as an east-west element in the Philadelphia bus grid where one is needed. The route is short, and so it ends up with a decent 83% on-time rate.
Cons: I usually can at least give a SEPTA route credit for the weekday schedule, but even that is pretty bad for an urban crosstown. The 39 is only every 20 minutes during the day, and even though that becomes every 15 minutes at rush hour, the route's productivity is virtually the same – according to the load profile, no trips ever go above seated capacity. On weekends, it's every half hour, making it even more useless as an element in a bus grid. The route itself, meanwhile, is super twisty, although admittedly for good reason: the eastbound deviation can't be helped (as annoying as it is), while the westbound has to dart down to Susquehanna Ave to serve the Broad Street Line station. Finally, like every SEPTA route, the 39 has stops every block, although a decent amount of them are skipped thanks to the lower ridership.
Nearby and Noteworthy: I know I mentioned it already, but Centro Musical on Lehigh Ave looks like an awesome music shop with a ton of character. Sure, you could go via the 54 and save some time, but, uhhh…well, you'd be using the 39's deviation to go somewhere, I suppose. Also, I'm sure I'll bring this up again when I review Susquehanna-Dauphin Station, but the Philadelphia Doll Museum looks awesome. It's the only museum in the United States dedicated to collecting black dolls, and I hope to check it out someday. Preferably via the Broad Street Line rather than this subpar route (see below).
Final Verdict: 4/10
I feel bad that the route's relative indirectness isn't its fault, but I still gotta mark it down for it. Compared to a straight and simple route like the 54 a few blocks north (which gets triple the riders), the wiggly and relatively infrequent 39 looks really bad. I think that's reflected in the route's ridership, and it's also reflected in my score.
Latest SEPTA News: Service Updates