Today was the grand opening of the Trolley Portal Gardens, so it's a perfect time to do our review of the 40th Street Portal trolley station! I attended the opening ceremony on behalf of the SEPTA Youth Advisory Council, and it was a great time. Among the speakers were the Mayor of Philadelphia and the General Manager of SEPTA, and there was a proper ribbon cutting with big novelty scissors! After the ribbon cutting, the Trolley Car Diner offered free food and a SEPTA booth had some fantastic swag.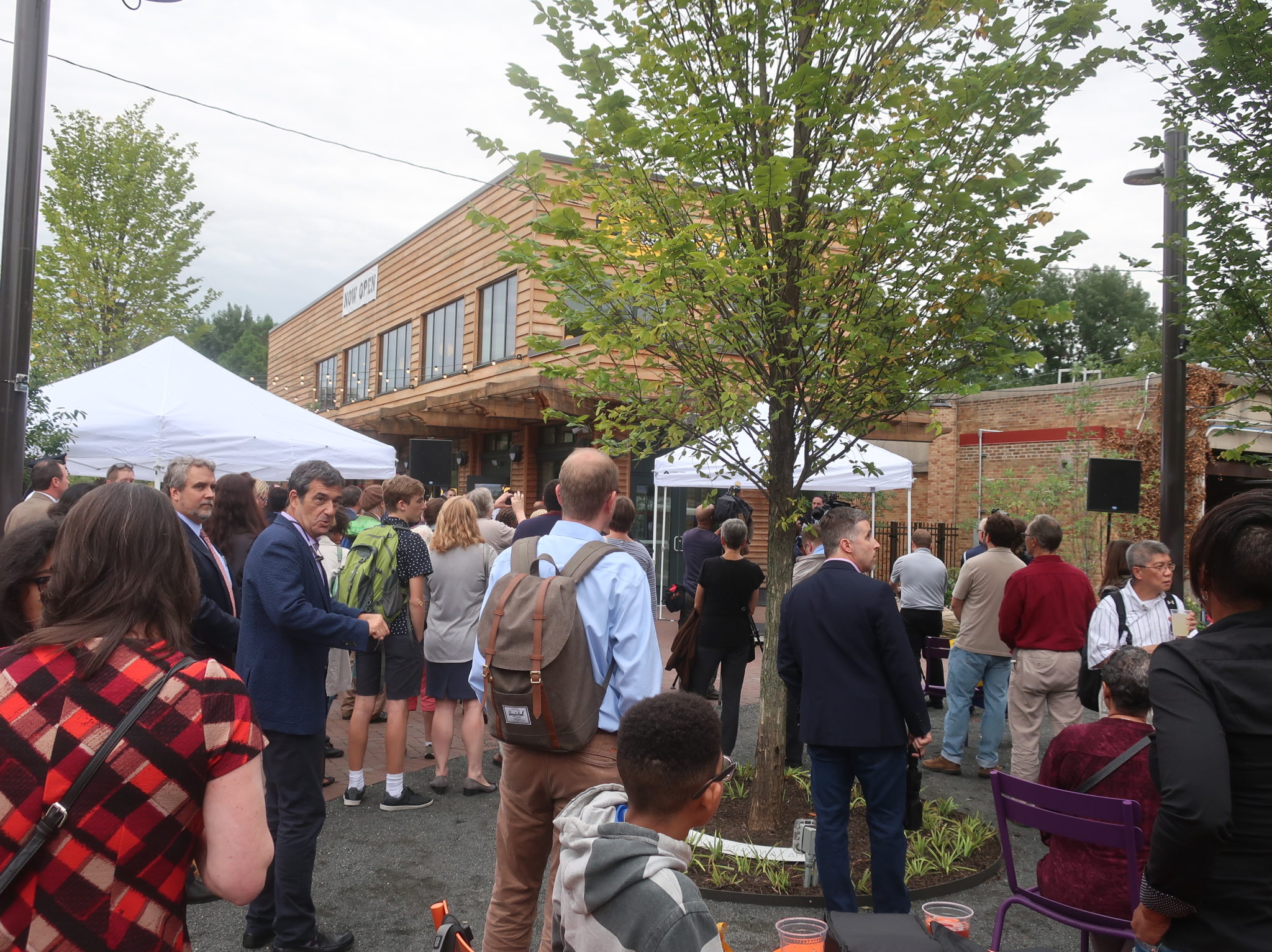 So what's new here at 40th Street? Basically, over the course of almost eight years, a number of collaborating city groups have taken a space that looked like this and transformed it into a really nice public garden. There are multicolored seats, a bunch of different trees, and even a restaurant – let's talk about that first.
I don't know if the Trolley Car Station restaurant really counts as part of the review or not, but it played a big role in this event, so why not? First of all, the atmosphere both inside and outside is fantastic: the outside has nice couches and tables where people can sit, the first floor consists of a long high table and a bar, and the upper floor has booth style seating and an awesome mural. The menu is a little weird for my tastes, but I'm sure a ton of people will like this place. Plus, it has great transit access, obviously!
Okay, but I'm Miles in Transit – I care about the station. The gardens have extended into the station itself, and it's beautiful. The layout here is slightly wonky, but not too hard to figure out: basically, the outbound 34 stops at the northern shelter, the outbound 11, 13, and 36 stop at the next shelter, and all the inbounds stop at the southernmost platform. I love that all the inbounds stop at the same place, so you don't have to play the guessing game of which route will come first.
Okay, here's something annoying: the most direct path to the inbound platform is technically illegal to walk on; a big sign tells you not to do it. Here's the problem with that: the real path is more roundabout, and though it's nice walking through the garden on this charming twisty path, I just want to catch the train. Needless to say, I have seen many people just use the illegal way, and honestly, no one seems to care. Just look to make sure a trolley isn't coming.
As for the places where you actually get the train, they're quite good! There isn't much to each shelter, but there doesn't have to be – each one has a long concrete bench, a wastebasket, an LED sign that doesn't tell you anything important, and some maps and information. Each one also has the dreaded blue light, signalling that trolleys are doing their Sunday night diversion to 40th and Market.
I'll briefly talk about the entrances, although there isn't too much to say. The south side is just a staircase and a level path, but all that's down there is a cemetery and a bus connection to the 30 (the route is ridiculously infrequent, so it doesn't really matter that the stop is just a few signs). The north side is only a path, but it also has a bunch of bike racks, a nice touch. I have to say, though, that the crosswalk across Baltimore Ave up here can be treacherous at rush hour. I kinda wish the intersection had "beg lights" that stop all traffic, because otherwise it feels like there's never a safe time to cross.
Okay. For some reason, this station's GTFS feed (the data that goes into transit applications like Google Maps) only has an entrance to the south. That means that if you're trying to get directions from the north (i.e. the only section of station coverage that's not occupied by a cemetery, i.e. the place where people actually live), Google Maps will not tell you to use this station. It will direct you to the next stop on the respective branches out of here. This is such mindblowingly bad implementation of GTFS, and it means that for most people using Google Maps to figure out how to get somewhere, this station will not be used. Wonderful.
Station: 40th Street Portal (Trolleys)
Ridership: SEPTA doesn't care about its Subway-Surface Trolley stations, so I'm forced to rely on just my own two eyes for this one. It's about as busy as you would expect for a trolley station – usually there's at least one other person who gets off with me here (this being my home station), and there are often people going both outbound and inbound from here.
Pros: They've really done a great job with the gardens. The whole station is beautiful, the Trolley Car Station restaurant is a fantastic way to increase visitors here, and the actual waiting areas are pretty darn good. It's a peaceful place to catch the trolley.
Cons: The pathways through here are an issue, but the GTFS is my biggest problem with this place. What better way to discourage ridership than to actively prevent Google Maps from being able to recommend its usage to people??
Nearby and Noteworthy: Most attractions on 40th Street are slightly closer to the El station a few blocks north, but places closer to the trolley station include Allegro Pizza and the charming House of Our Own bookstore. Also, the cemetery to the south looks like a nice place to walk around. At least Google Maps will actually tell you to use this station if you want to go there.
Final Verdict: 7/10
I really do like this station, and I commend everyone involved with its renovation for sticking out the eight years it took to plan and build everything. But man…that GTFS thing just kills it for me. It's just so insane that Google Maps just won't tell you to use this station, even if you're coming from across the street from it. Sure, most people will see it and know to use it, but this blunder is only hurting ridership. It's just so freaking stupid, and all it would take to fix is adding another entrance in the code. But SEPTA doesn't do that for any station in its feed, so I guess that's a non-starter. Really, though, other than that, I like this station quite a lot.
UPDATE 10/29/18: Does SEPTA read my blog? The GTFS error has been fixed! You can now "get" to the station from the north! Alright, let's update the score to an 8/10, then!

Latest MBTA News: Service Updates